We are doing it again!  That's right, you can win a brand new hot dog cart from HotDogCartStore.com!!!  Last years winner was Fila McFadalittle, from the Cleveland McFadalittles'.   She won the Build Your Cart cart we did for the video training series.
This picture is of the 2011 model and the new Cash Cow Hot Dog Cart includes a dual burner system.  The winner will receive the Cash Cow Hot Dog Cart fully assembled and with required sinks for the state they are going to operate in.
FEATURES:
2012 Cash Cow
Towable
DOT approved
Custom trailer frame with standard hitch
Dual Burner System
Pressurized Water System with on-demand pump
On-demand continuous flow hot water heater
Pans and lids
9 foot market umbrella
How to qualify:
"Like" Ben's Facebook Page Here 
 Subscribe to LearnHotDogs.com Newsletter ———–>
 Earn and redeem your points for an entry.  (rewards box ———->)
That's it!  Simple!

Drawing will be held December 2012 and winner can pick up after the drawing.  We will announce the winner live on HDVR – Hot Dog Vendor Radio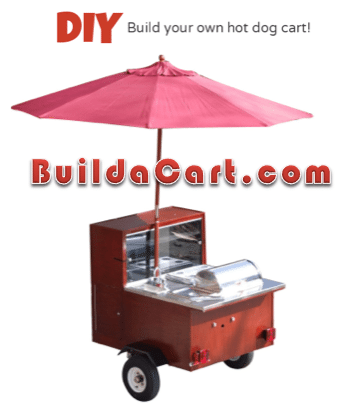 Get Ben's Course: Hot Dogs Saved My Life!  It's jam packed with everything you need to become a successful vendor.