This hot dog vendor is marketing 24-7. As in, without working, his marketing is always running. He paid once and it's constantly working for him. Jim explains all the logic of Wrapping A Hot Dog Cart.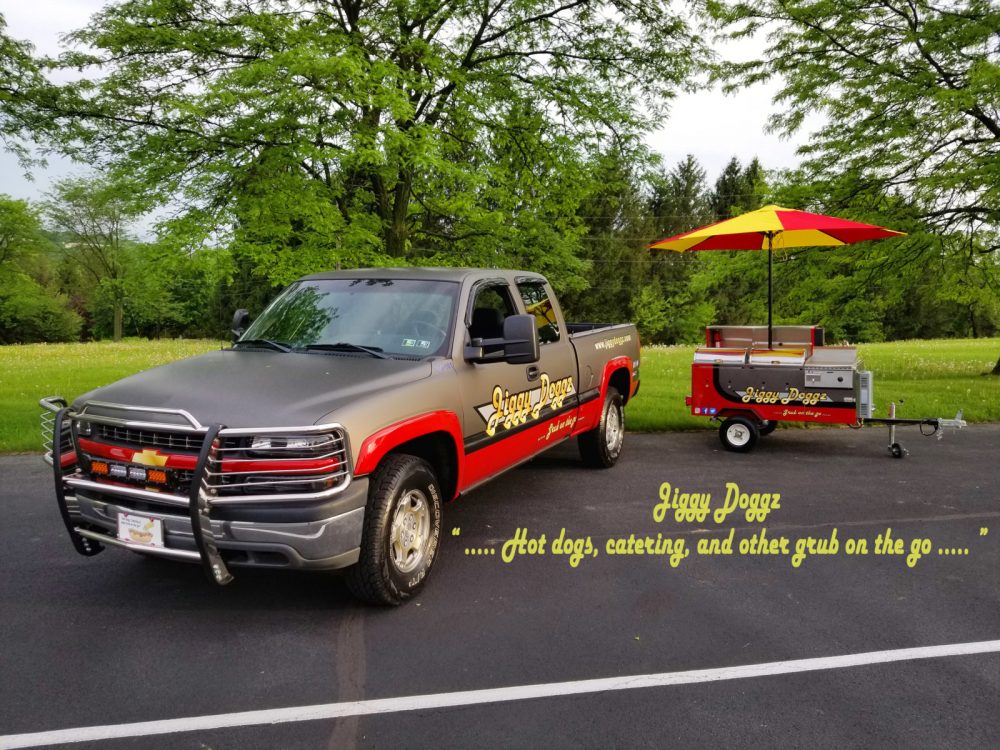 If you've ever seen those sexy vinyl wraps… then you're gonna love this. Fortunately, Jim allowed me to share all this to help you. He even wrote out an explanation of everything that helped him with his decision.
IN HIS OWN WORDS
Do I Really Need to Wrap My Hotdog Cart and Truck?
I mean, like people say, it's just a hotdog cart, right?  Well to me, it's my business, my passion, and my hard work.  But can't I just have some cool decorated tent over my cart and save the money?  Well, I can't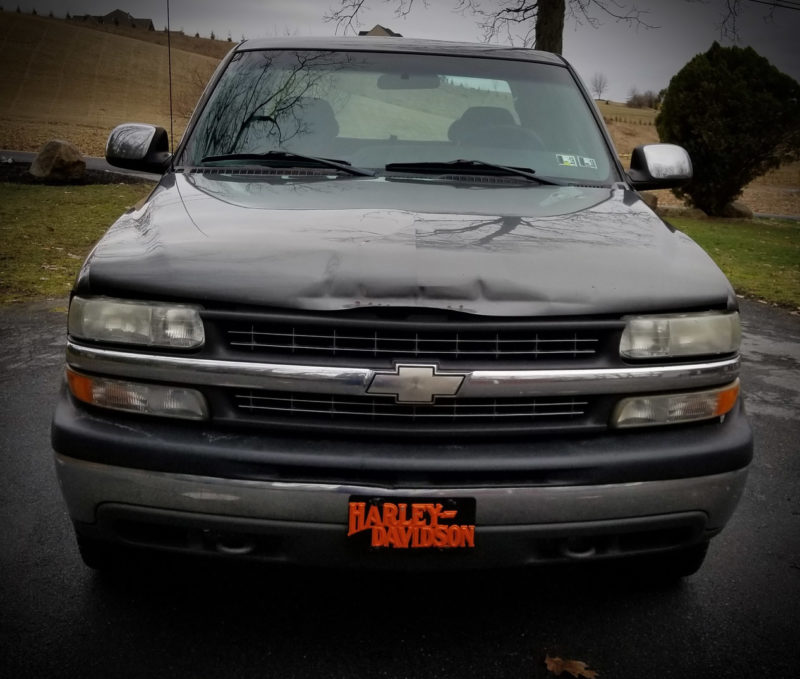 drive the tent down the road, I can't use it to run errands and pick up supplies, and I can't use the tent to impress potential clients when I drive up.  I want my little hotdog cart business to stand out, to be different, and to be the one people remember.  I have great products, I just want to back it up with great curb appeal.
I'm putting a lot of money into starting this venture up, more than the average person doing this really.  I have big plans for it all and I am biting the bullet and doing some things in the beginning that are more aimed at the future.  For instance, both my truck and the cart have vehicle numbers.  Why?  Because when I have 6 different carts and 3 vehicles, and I need to have someone take a cart to the garage for trailer inspection, they need to know which one to take.  Same for the truck.  Am I going to be as big as UPS some day?  I highly doubt that, however there is no rule that says I can't act as if I might.

Wrapping A Hot Dog Cart
OK, So What About the Truck, New or Used?
I'm Pennsylvania Dutch, from Amish country…..that means I'm cheap!!  LOL, not really, but I'm not stupid either.  For my first vehicle I wanted a truck, something that can pick up large quantities of supplies, haul a cooler or freezer if needed, or even put a cart up inside if there is a problem that I can't tow it.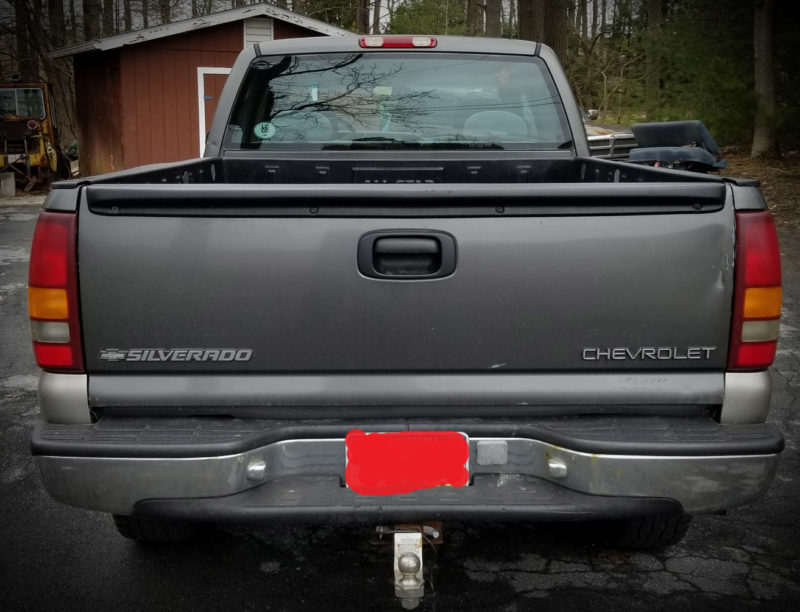 I bought my brother-in-law's 2001 Chevrolet Silverado 4×4 extended cab truck.  It has 205,000 miles, runs like a champ, makes cold A/C, had new tires, brakes, brake lines and fuel lines just 3 months ago.
It has the typical Chevy rust under the doors and over the rear tires.  I got the truck for $1000.  I took it to my repair shop and paid 1 hour labor ($95) to have a "pre-sale inspection" done.  They said they were surprised how good the condition is for the miles and saw no reason why it won't last at least 2 years.  In my mind I wanted a vehicle that would last me 2 years before I had to think about a replacement.
I knew what I wanted for a logo (or at least thought I did, until I talked to my wrap guy who changed my mind, and I'm glad he did!).  I got a price for my wrap, basically about $2400 initially, and talked to him about the condition of the truck.  Was this even possible with a truck that had some body issues?  In fact, when I first met him, I told him we were going to "Polish a turd".  Mission accomplished by the way.
He basically told me that any imperfections will show through, rust is a no-no, and the finish needs to be the equivalent of 1500 grit sandpaper.  Luckily, I had the skills and tools to tackle this.  I decided to take the shot…..go with the old truck, fix it, wrap it, add some bling and run it.  I could have spent $10,000 and found a used truck somewhere, but I knew this truck, it was in the family.  I had the skills and I KNEW I could do this.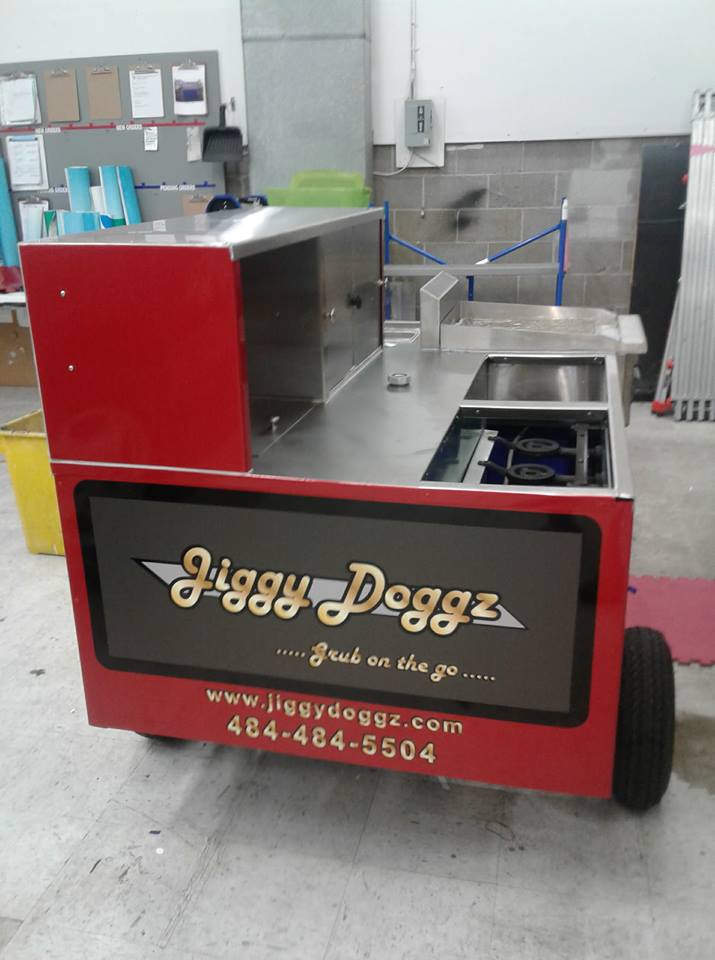 In short, I bought a junkyard hood, cut out the rust on the rear panels and treated the bare metal, fiber glassed over top knowing that I was buying the Chevrolet fenderettes that some of the trucks came with, replaced the outer rockers under the doors but didn't need to blend them perfect because I bought Bushwacker rocker covers to hide the bodywork, and removed all of the body moldings.  After the wrap I was adding a chrome front grille guard for show with some LED lights, window vents, side steps, rear work lights, and bed tie-downs.
Inside I added a mounted fire extinguisher, first aid kit, rechargeable flashlight, GPS, and a few other little doodads to spice up the truck.  Not including the wrap, total investment in the truck is $986 plus the $1000 purchase.  So, I took a 17-year-old truck, threw $1000 of bling and repairs at it and $2400 in a wrap and turned it into what I would consider a $7500 truck.
But here is the best part…..everywhere I go people's heads are turning, I mean everywhere!  Wasn't that the purpose in the first place?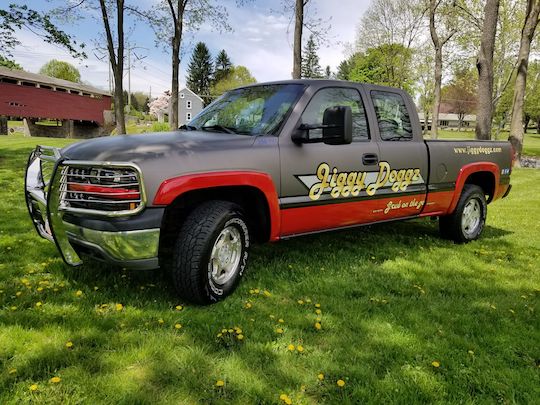 What Should I Put on the Side of the Truck/Cart…..and What Goes On the Rear?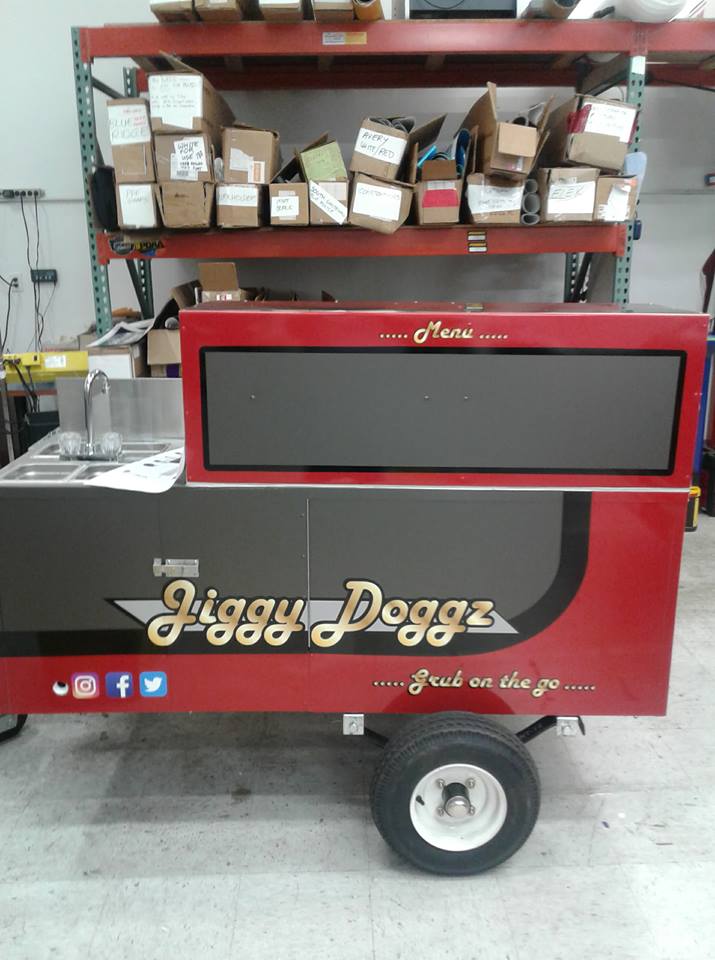 I had drawn up this great design, chosen my colors, fonts, all of it.  I was doing my due diligence, checking out wrap places, and learning.  I narrowed it down to 3 places and visited each one, but after talking to the representative at the one I ultimately chose, I knew I had the right place.  For the record, I chose ID Wraps in Slatington, PA.
I had met with Malcolm Gieske who really interacted with me, and not just worked up a proposal for my design.  I asked for advice and boy did he have it!  In short, I had way too much stuff on the side.  A car driving by me at 40mph while I was also going 40mph is passing me at 80mph.
A person can't read your rolling billboard at that speed.  Therefore, on the side should really be the company name and an easy contact point, usually website.  It is far easier to remember a website name over a phone number.  Especially knowing I had a unique and memorable name with matching website address.
We saved the phone number for the back.  Someone following me can take a pic of the tailgate if needed.  The cart pretty much matches the truck.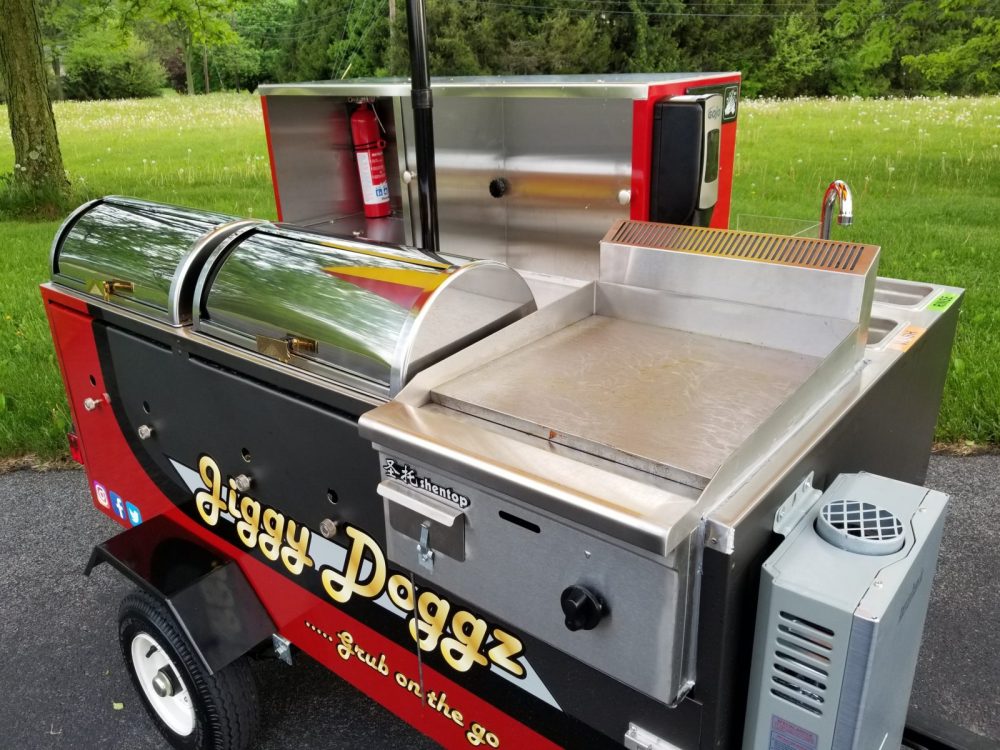 Malcolm knew basically what I was going for but had some great insight about my design and in the end, I changed it entirely.  I AM SO GLAD I DID!  I told him how I wanted to make a bold statement…..I want to show that even a little hotdog cart can play with the big boys.
After seeing the cart, I went out and bought new chrome wheel covers to match the truck.  The large blank area where the breadbox reads "Menu" will be receiving vinyl removable menu items and pricing.  The printer does them up on basically the same stuff that the sports "FatHeads" were printed on and I can change items or remove as needed.  A standing A-frame sign will display specials and other messages for now, but a digital board concept is being worked on at the moment.
Lastly, the business is technically "Jiggy Doggz" however the slogan as printed on all shirts and media is "Jiggy Doggz hotdogs, catering, and other grub on the go".  So why doesn't the cart and truck say that?
Well, there could be an argument both ways, however where would I fit all of that and still not have the sides too busy?  Therefore, the tent and canopy have the full slogan prominently displayed on all sides and the cart is classy but simple to make the name Jiggy Doggz stick in your head.  The overall business plan is to be operating 6 carts in total and working towards a brick-and-mortar place.  Hotdogs won't be the only item we sell, not by far…..but it will always be the core product (at this point anyway).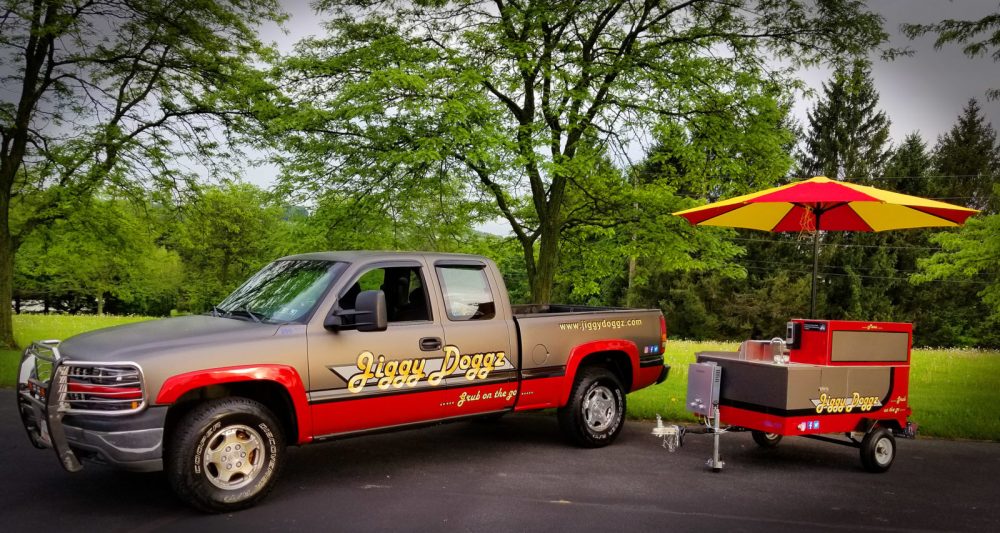 A Big Thanks To Jim!
Thank you Jim! Thank you for sharing not only the pics of your beautiful marketing wraps but for teaching us all some of the logic behind going the extra mile in wrapping a hot dog cart. I can assure everyone – this is 24/7 marketing and will work while you sleep.