Food trucks are popular around the country, and Ben recently talked with two determined entrepreneurs about their brand new Casa Grande Arizona food truck festival. Meet George and Ken, who have been working in the summer heat to prepare for La Cocina Food Truck Festival, which is opening this weekend.
Arizona Food Truck Festival Preparations
Food Truck Festival Features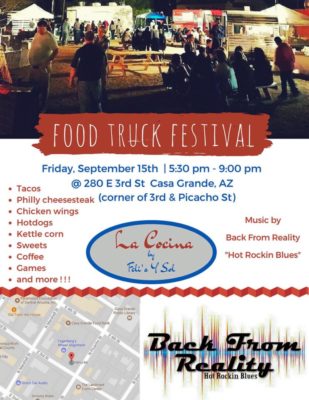 George and Ken have been working with a variety of the best food vendors in their area to put together the festival. Not only will they have plenty of high quality food, they are also featuring art and music at the event. The food offerings will include:
Tacos
Philly cheesesteak
Chicken wings
Hot dogs
Iced coffee
Kettle corn
And to make the food truck gathering even more festive, there will be live music at the event. Wow!
We wish George and Ken a fantastic kickoff this weekend, and hope all of the vendors have an amazing event! Wish we could be there!
---
Does your town have a food truck event? Interested in starting your own food truck business? Read this post by food truck rock star, Jason Brown: How to Start a Food Truck