After selling these wonderful all beef hot dogs from our carts for years now, Sam's Club has discontinued this popular hot dog. I've been offering these dogs and promoting this brand for years now and it's listed in multiple training videos including the #1 Hot Dog Vendor Course manual – "Hot Dogs Saved My Life".
There are several reasons for my recommendation of this particular hot dog:
Delicious all beef with a very minimal seasoning which allowed us to customize our flavors better
Held up well in steam or water baths (boiling).  Grilling was great too.
Inexpensive, at about $22 for 80 hot dogs per case
Found nationwide in Sam's Club
Absorbs flavor well and allowed vendors to create their "own" hot dog
Customer: What brand do you sell?  Willies Weiners: Oh, this is a Willies Weiners hot dog!
Scrambling To Find The BEST Replacement
For the last week or so we've been trying to find the best replacement.  Jason Brown of Love Hot Dog Co. has a suggestion (listen above or play below).  Other vendors like Randy in Tennessee also made suggestions. For me, for the forceable future, it will be Oscar Mayer – All Beef Hot Dogs and I'm working currently on getting a discount directly or find a distributor that will offer Hot Dog Mafia Members discounts or POP / Merchandising.
I'm waiting on word from Kraft Foods, Oscar Mayer corporate and will update you once I know more.  Oscar Mayer is a MAJOR brand and no one will miss the name.  This photo is the driver of the Wienermobile holding  up a cutout of the BensCarts logo and a copy of "Hot Dogs Saved My Life" the course book.  Thanks to a fellow vendor who grabbed this shot while at a gas station.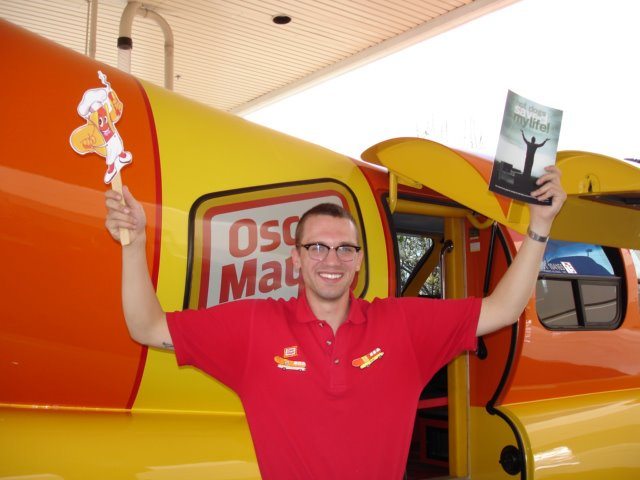 During the show I also reminded folks on how I already am receiving a 10% discount on my Oscar Mayer hot dogs from my local grocery store.  You can do the same!
MORE HOT DOG VENDOR QUESTIONS ANSWERED
Vendors wrote in on Facebook and emailed me with some other questions and we managed to take them all on.  From events to consistency and we got advice and updates from Cory Lawrence of O'Doggy's Hot Dogs along with some great ADVICE from Michael Wood of Duggs Doggs.  (YOU DON'T WANT TO MISS THAT)
Jason and Cory have both promised a recipe and updates on a tip, so stay tuned for more there.
Vendor Wins A Brand New Logo
BensCarts.com and LearnHotDogs.com decided to give away a custom logo to a vendor and the first to respond on Facebook got it during the live show.  You can watch the progress of the logo by staying tuned on our Facebook page.
ENCLOSED CART / CONCESSION TRAILER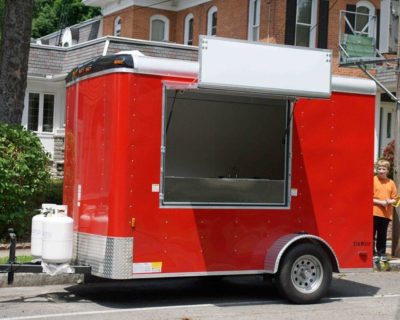 Is there an enclosed hot dog cart or concession trailer in your future?  BensCarts – HotDogCartStore.com has the best price nationwide on an enclosed concession trailer.  Not too small, not too big and the price is just right.  But you'll have to act soon – prices are going up due to material costs and we will still have the most cart for the money!  Period!
Concession Trailer for sale under $11,000  Check it out here: THE STAND KING 
Vendor Shares His Marketing Letter
Ho Ho Ho. Please allow us the opportunity to introduce ourselves at this time.
We are Robert and Mary Pangborn.  We own and operate Sleigh Dogs.
Sleigh Dogs Sleigh is Licensed by the State of Florida DBPR Board.  We are located in Haines City, FL.  Our primary menu is Hot Dogs, Sausages and Fresh Squeezed Lemonade.   
At Events and Festivals our Menu is allowed to be expanded to many possibilities.  Our Sleigh is a bright and eye catching vehicle that draws people's attention when it is seen.  Great joy is had by all involved.
We also are Santa and Mrs. Claus Hence the Christmas theme colors on the Sleigh. 
We are interested in participating in events sponsored by your office.  Can you please send us an application and add us to your e-mail notification list of current and future events.
We are also available for local Charity groups to assist in their needs when possible.
Thank you for your time.
Merry Christmas,
Santa and Mrs. Claus
Haines City, FL 33844