One of the top questions I get every year has to do with getting a commissary letter. Once you find a commissary, you have to come to an agreement with the owner or manager of the kitchen, and put that into writing. If you don't know how to write a commissary letter, you can download one of these free examples and customize it. Boom! Letter accomplished!
Choose Your Download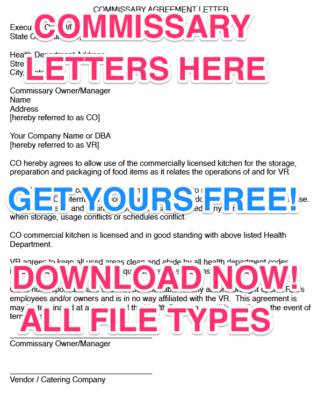 You can choose the best format for your needs. We have free commissary letters in text, Word, and pdf formats. Click on the one you want and save it to your computer. Then you can edit or re-write it so it suits your own location and business.
Commissary agreement letter (txt)
Commissary agreement letter (pdf)
Commissary agreement letter (Word doc)
Commissary agreement letter (Pages)
Bonus version: Commissary agreement letter (pdf)
How to Find a Commissary
Need help finding a commissary? If you don't have one yet, check out these helpful posts! It's not as complicated as it may seem, so don't be discouraged.
How to find a commissary
How to ask to use a commissary