Share/Like To Help Others
Success stories are the best! I love hearing from folks that are out there working for themselves and making it happen. I got an email from Bob and he shared photos of his custom cart.
Not only did he built it according to his specific needs, he gave it an amazing green paint job that sure as heck stands out from the rest. Take a look at Roma Hot Dogs & Catering cart.
Here are Bob's notes from his email. He gave me permission to share so it can help inspire others to get started.
Bob's Custom Cart…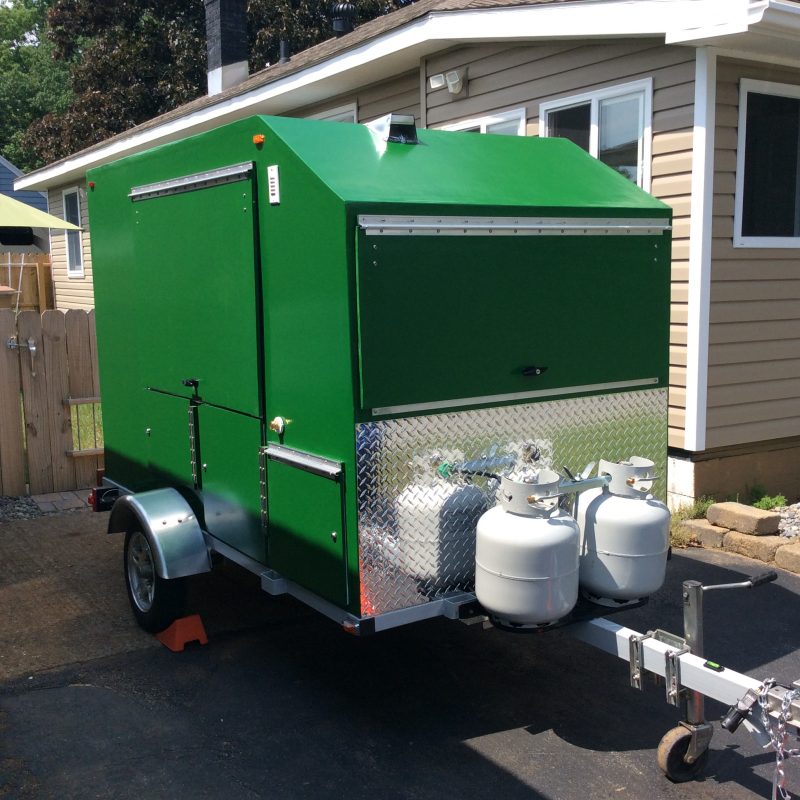 Hi Ben,

I wanted to share some pictures of my custom cart that I built. I have been doing research on your site for several months. Must say that you have been an inspiration and the reason I finally went ahead with this project…

Please feel free to share. I hope it will inspire someone to go into vending. Will be making a video soon. I would like to get a few events under my belt to prove out my design before giving anyone inaccurate info.

One thing to note, my steam table is a commercially manufactured one. Somewhere in one of your videos there was a discussion about the lack of recovery time due to the small burners. Hopefully I have remedied that by replacing the "turbo" burner in the center bay. I installed a 6″ double ring cast iron burner. In testing I can maintain a rolling boil and recovery is almost instant. I want to prove this out when we get to real world use. I'll let you know.

Thanks again for your quick and personal response, that's why you have my highest respect and trust.

Bob M. (Roma Hot Dogs & Catering)
Bob, thank you so much for sharing your pictures and kind words. I can't wait to hear how your cart does out in the world. Keep in touch and let us know how it goes!
If you're thinking about what you could do with a mobile kitchen like this, check out my instructions on how to build your own custom cart here: BuildACart.com
Share/Like to help others...
Share/Like To Help Others