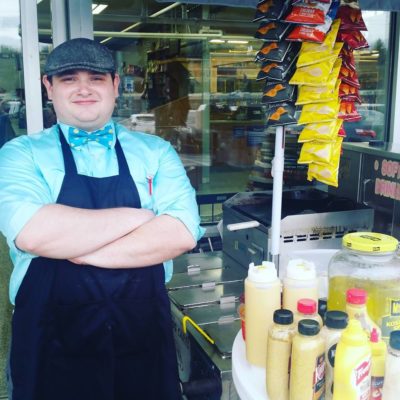 Ben's on the road again, and he got to watch Matt's food cart live in action during a weekday lunch shift! If you're not familiar with Matt of Bow Tie Street Food and Catering, you should check him out! Besides selling hot dogs from his cart, he also does tacos, quesadillas, homemade pico de gallo, and fresh squeezed lemonade. Plus, he's a caterer!
Food Cart Live: Tacos and More
Taco Combo, Taco Salad, and Quesadillas on the menu. Here you can see Matt working during lunch. He chats with the customers, takes orders, prepares food, accepts payments, and serves up his meals with chips and salsa.
Check out that chicken quesadilla right at the beginning. Using his griddle, Matt puts down a flour tortilla, and sprinkles it with shredded cheese and tomatoes. He puts the meat down on the griddle to get it hot, adds it to the tortilla, and folds it over. He presses it to crisp the tortilla, and serves it up. Looks delicious! You can hear the sizzle.
Food Cart Live: 360 Degree Taco Cart Lunch
Ben's trying out his new 360 camera, so you can click and drag this video to look around the scene. What do you think?

---
Think you have a great idea for a food cart business? You could start your own street food business and it's not as expensive or difficult as you may think.