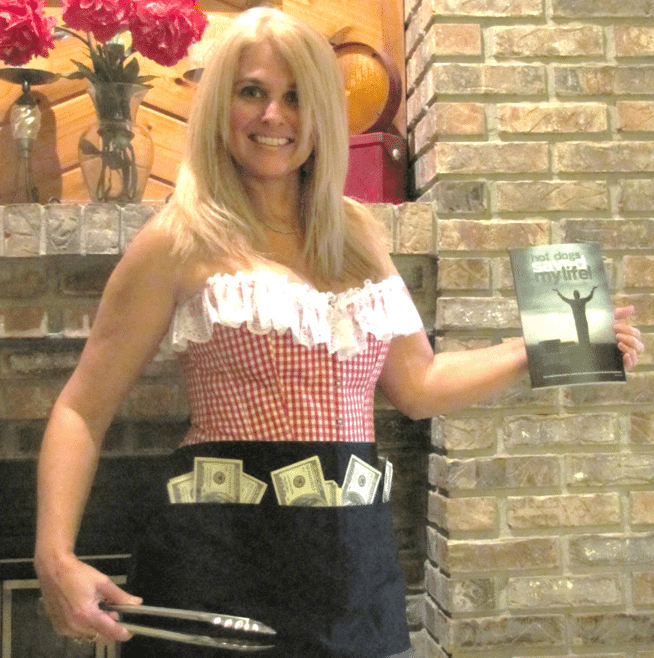 Another way to make hot dog cart cash without vending is using your cart as a rental. It's an entire 'nother income and all without touching the hot dog cart. Vendors with multiple carts but never spend one second vending, yet… make money.
Yes! Rent your cart. (hear me out)
I don't even know if you can call them vendors (in the traditional sense of the word). But they are. They are vending time with their hot dog carts. They are renting out carts. One vendor recently purchased his 5th cart from me. He's never used any of the other four for vending – EVER.
DIVERSIFYING YOUR BUSINESS
I've done private trainings and hosted webinars on this subject many times and while there are a lot of ways to diversify your hot dog stand business I'm not going to break all these down now.
Using sub contractors to run carts
Hiring employees to run carts
Profit sharing a hot dog cart and the locations
Providing soon to be vendors carts
Long term leasing carts
The list goes on, but today… I'm talking about rentals. Short term rentals of your hot dog cart equipment. However, if you're looking for something along the other ways to expand, I've done a live training webinar recently for a group of successful vendors who were looking to expand their hot dog cart businesses. You can watch that here.
RENTING A HOT DOG CART or A REAL DOG!?!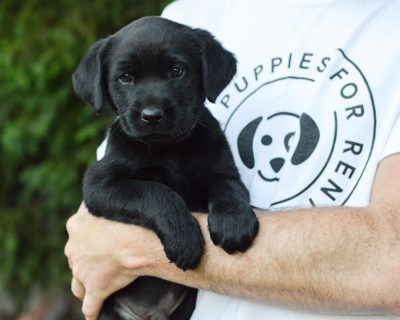 I'm sure you've seen them. Tool and equipment rental companies. Even party rentals. You can rent a popup tent, you can rent a track-hoe, a chainsaw, a bulldozer and much, much more. Recently I rented an asphalt cutter.
They should rent them for free seeing as how operating one is a whole lot like work. Hard work.
Anyway, these companies exist because I have no need to own a $1700.00 asphalt cutter. Instead, I can rent one for $140 for the day. My job gets done, I don't have to maintenance the tool, I don't have to replace the blade and I don't have to ever see it again.
Today you can rent about anything, from cars, trucks, trailers, bulldozers, tools, party supplies and more. YOU CAN RENT BLUE JEANS. You can rent a plane, a boat, a parking space, your furniture, your T.V. and the list is virtually endless.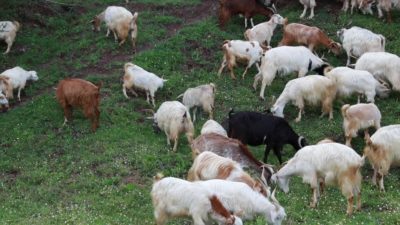 The coolest thing I saw recently is renting a cute puppy dog. Feeling bad, rent a puppy for a couple hours or even a day. You can rent a crowd for a funeral for that loved one that was kind of an asshole, you can rent a platonic (no sex) partner to cuddle with and you can even rent a goat.
Speaking of goat rentals. I have a friend who rents his goats to the state to keep the steep embankments "mowed" down and goats are safer than tractors on a steep hillside.
SO WHY NOT A HOT DOG CART?
There's no reason why not to rent your cart for hot dog cart cash in your pocket. But before I explain the best ways to get started, you first need to know something important…
ITS NOT JUST A
HOT DOG

CART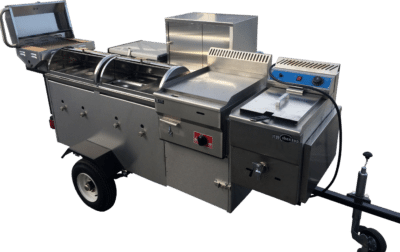 A hot dog cart isn't just a cart. It's a mobile kitchen. It's a brilliant piece of equipment that allows you to steam, boil, grill and cook about anything. From soups, pastas, bbq, burgers, tacos and of course hot dogs.
Most come with a sink and water system. Most have onboard coolers and most all have a nice sized lp powered steam table. Our Cater Pro cart can be obtained with about anything.
You can even deep fry foods or use the fryer with water and boil pasta.
I know vendors advertising their hot dog carts for rent and they haven't even thought about it as a mobile commercial kitchen. This opens the doors to tons more business.

HOT DOG CART CASH
If companies can make it by renting blue jeans, goats and funeral crowds for Uncle Asshole, then you can make hot dog cart cash by renting / leasing your hot dog cart. Thing is, without all these others as proof, we already have vendors doing it.
It's working and as I said before, some have never even worked a hot dog cart to this day, yet make a steady living by renting them out.
MORE HOT DOG CART CASH
Most hot dog entrepreneurs haven't even considered this and some that have are doing it all wrong. They list it as a hot dog cart only. (see above: not just a hot dog cart)
A smart business owner is taking advantage of everything that a cart can do and is subsequently marketing it that way. They even educate the consumer. Others who've done private consults with me or have taken the course, they know. They don't even market it as a hot dog cart but as a mini mobile kitchen.
Some offer their carts to party rental companies for even more gigs. I've rented carts to folks who were…
camping in the mountains
family reunions
restaurants for catering gigs
gatherings in the State and National parks local to me
office parties
events and more
HOW MUCH HOT DOG CART CASH?
This depends on many variables, like how many carts you have to offer, are you too lazy to get off the couch and others. Things we street food pro's do like use free local marketing techniques, tips and tricks.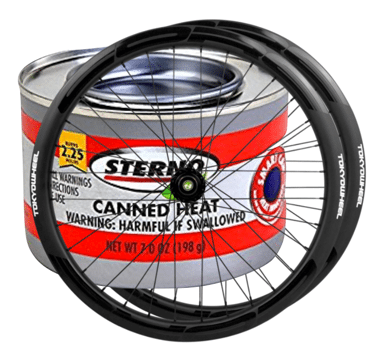 I know of companies like this one who is renting – basically what amounts to a glorified sterno can on wheels with two half size pans in it. It CAN'T COOK and barely has the ability to warm foods and keep them at a safe temp.
THEY CHARGE $125 FOR THE DAY.
This doesn't count the hidden fees like delivery, pickup, cleaning fees, insurance, etc.
$125 for the day. Wow!
That's a great price but for a mobile "sterno" can cart, it seems high. With your hot dog cart (mini mobile kitchen) you can offer more and make more. We have vendors who have 2 day minimums and charge more on the weekends.
Some have made this the only thing they do with their cart(s). They rent.
BUT THERE IS MORE – WAY MORE
I've hammered the heads of vendors about catering for years now. Many are doing it and doing phenomenal. Each week we do a live private vendors united meeting where we discuss the best secrets and tricks of the trade.
Ways to to make incredible incomes, increasing, expanding, working less but making more… etc… ad infinitum.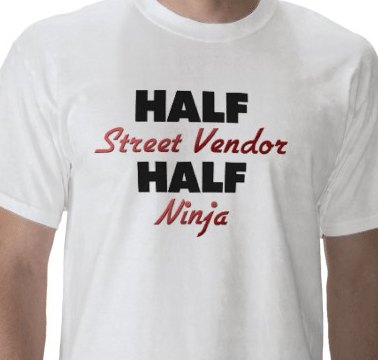 Gathered together are old pros to newbies to even some that haven't even begun yet. We're all helping, sharing, growing and learning together.
You won't find a better group of vendors on the planet with more combined experience and who are making the highest incomes.
This Monday, we are going to be exploring this topic and the many ways vendors are making a killing at it. Like Skip who rents out his carts only on the days he's not using them.
Or Terry who uses a cool technique to get the highest paying catering gigs through rentals.
Even if you can't come, or it's too late and you missed it… when you join Vendors United, you have instant access to all the past private shows, tips, tricks and vendor entrepreneur hacks. So there is no rush…
Don't do it yet. Wait till you're ready. Spend some time here on the LearnHotDogs.com blog and gather as much info as you wish. It's free.
HOW VENDORS DO THIS WITHOUT TOUCHING THE CART
Sounds crazy right and because I've already droned on so long. I'll keep this short. I'll actually use my exact method used for never even seeing the cart.
Marketed cart online for free
Booked gigs using Google's free forms
Thank you page was a video of how to operate the cart
Had location where they picked up cart that wasn't mine (lady I hired – see 5)
Had lady who would pick up / deliver carts and cleaned them after each use
Bottom line: I RENTED A CART FOR A YEAR THAT I NEVER EVEN SAW
Other vendors are doing it too. There are some other methods for automating the system down to collecting the funds online and even charging for add ons like delivery and pick up.
DID YOU KNOW YOU CAN PULL A CART FOR PERSONAL USE RIGHT INSIDE A STATE OR NATIONAL PARK AND USE IT FOR YOURSELF (YOUR PARTY) WITHOUT ANY PROBLEMS AT ALL?
ITS JUST LIKE TAKING YOUR OWN CHARCOAL AND GRILL.