Success Story from Dogs N Hogs
I recently got a message from Chewy, who started with a Big Dog cart a couple of years ago, and has since moved up to a food truck. He started listening to my free podcasts, got a cart, and worked so much that the business outgrew the cart! Now he runs a shiny red food truck in Indiana, and shared a great business success story and update with me. He said I could share it with you, so here you go…
Started With a Hot Dog Cart
Hey there Ben! I'm not sure if you remember me, but my name is Chewy from Dogs N Hogs in northwest Indiana. I was searching the internet keeping an eye on where my website comes up on a Google search, and I stumbled on an article you wrote featuring us. I thought it was cool how you used our opening day success to inspire others.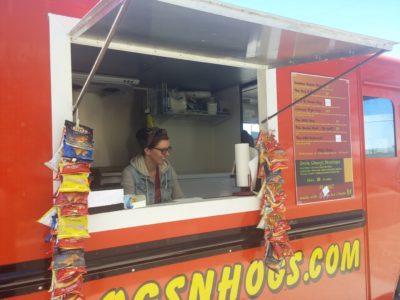 As I looked it made me think back to the beginning and how much work it was to get started. I remember listening to your Sunday podcasts trying to learn as much as I can. I thought why not send you an update after 2 years.
Food Truck Success Story – Business Outgrew Cart!
I'm sad to say we haven't used our Big Dog cart all season. This is mostly due to our new Food Truck! We were so successful last season that we actually were selling our food faster than the cart could cook it! Don't get me wrong — I love that cart, and I'm kind of sad that it hasn't been in use. I actually sit around trying to find ways to get it out there, but the business keeps me so busy, I don't have much time any more.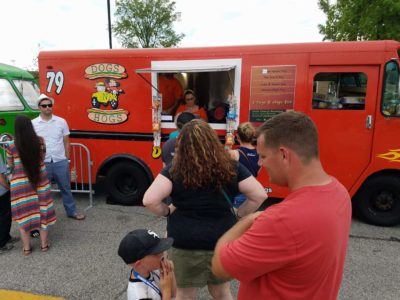 We have been able to expand our menu tremendously, we're doing our own root-beer and lemonade. We added pulled pork sandwiches, bacon cheddar melts, lo-carb boats, Amish slaw and other stuff.
Everyday we get calls and e-mails for work and most of it I have to turn down. Anyway its been a great year, I'll attach some photos and please tell Keith I really appreciate his help with the burner setup on my custom made steam steam table.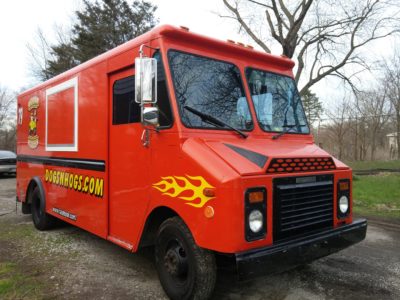 Chewy
www.dogsnhogs.com
Success Story Inspires Others
Thank you to Chewy for sharing this update! It makes me happy to see people start a business and succeed like he has. If you are tired of working for somebody else, take a minute and check out my book on how to start a food business from scratch.