Share/Like To Help Others
When looking into the hot dog vending business one of the first things we want to know is just how much profit is in a hot dog. BEWARE: Many sites give inaccurate or incomplete data in effort to sell carts.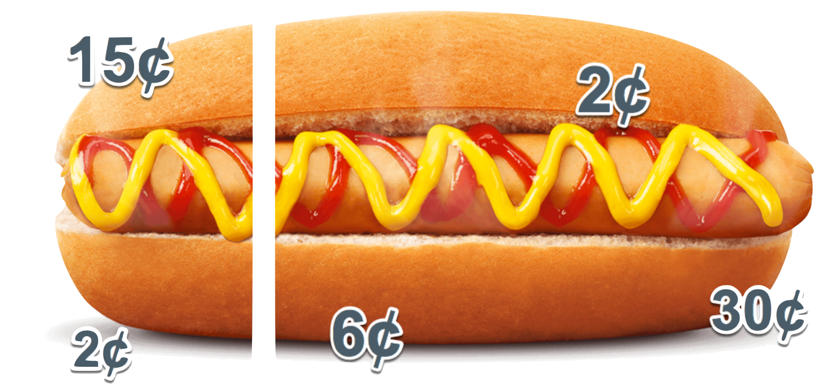 There are those, these sellers of hot dog carts who love to catch the unsuspecting future vendor by surprise and tempt them with website calculators and pre-filled forms showing erroneous and misleading costs. You're always better off doing the math yourself.
When someone says a hot dog cost 9¢, most likely they're lying and at very least not telling you the whole truth. And can you imagine what a 9¢ hot dog tastes like? Yuck.
There Is More Than Just A Hot Dog
Of course there is the bun, the condiments and the hot dog, but if you're wanting accurate estimates of how much profit is in a hot dog, then there are MORE that we MUST consider.
How are you going to cook that hot dog? Then I bet there is some propane used.
Are you handing them the hot dog on foil, wax paper or boat? Those items aren't free.
How are you keeping condiments cold? I bet there is some ice costs.
I'm sure you get the point. There are peripheral items that cost money, that aren't sold but make it possible for you to sell hot dogs. All these items must be included in the cost for you to determine the true and real profit from each hot dog sold.
Getting 90% Profit The Other Way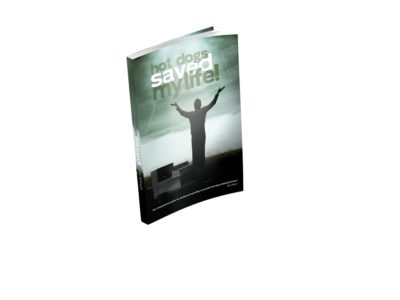 You can get 90% profits but it's from the other end of the equation. If your total and real costs are $1.00 per dog, then you'd have to sell that hot dog for $10.00 – (good luck).
COGS – Cost Of Goods Sold
Some will say that your factor your profits per hot dog by subtracting the cost of goods sold, but again, this ignores the real costs, the additional items used to make the sell possible. We need, we want the actual numbers, the actual costs to make that hot dog.
REAL COSTS
All-beef hot dogs (Sam's Club), 8:1's, 10lb. box, 80 hot dogs. $23.98 or 30¢ each
Hot dog buns (Sam's Club) 24ct. bag, $3.68 or 15¢ each
Relish (Sam's Club) Mt. Olive brand, 128oz. $4.98 or 4¢ a serving
Fresh onions (Sam's Club) 10lb. bag, $4.98 or 2¢ a serving
Ketchup (Sam's Club) 114oz. jug, $3.83 or 2¢ a serving
Mustard (Sam's Club) French's brand, 105oz., $3.88 or 2¢ a serving
Frito-Lay brand chips (Sam's Club) Variety Pak, 50ct. $10.98 or 22¢ a bag
Soda (Sam's Club) *but check your local stores for sales – Coke 32 cans $10.18 or 29¢ a can – I now average 27¢ a can by shopping the deals (Pepsi or Coke products)
Bottled Water (Sam's Club) 16.9oz bottles 40 for 2.98 or 7¢ each
Napkins (Sam's Club) Marathon brand, 4500ct. $19.87 or 1¢ per 2 napkins
Foil sheets (Sam's Club) 500ct. $5.92 or 1¢ each
Ice (I use ice packs and gel packs to line my cooler and only use ice in coolers with drinks. My ice cost currently is less than ½ a cent per serving averaged
Propane is about $22 per 20lb. tank refill. I get mine at $17. At $22 your per serving cost would be about 6¢ per serving
Chili (Sam's Club) 108oz. can $6.98 or 7¢ a serving
Cheese (Sam's Club) 106oz. can $6.98 or 7¢ a serving
Coleslaw (Sam's Club) 5lb. tub $4.98 or 6¢ a serving
*serving sizes are based on averages measured and tested by real vendors
REAL PROFITS
HOT DOG A: ONE HOT DOG WITH AVERAGE CONDIMENTS = .40¢ Cost
HOT DOG B: ONE LOADED HOT DOG = .77¢ Cost
Average selling price of 8:1 hot dog = $2.00
To get your profit percentage, we need to do a little math. I like to to my math the easy way… https://percentagecalculator.net/
PERCENTAGES:
HOT DOG A: 80% PROFIT / 20% COST
HOT DOG B: 61.5% PROFIT / 38.5% COST (hot dog B could be sold at $3.00 with these results…)
$3 HOT DOG B: 74% PROFIT / 26% COST
You want to keep your costs down around the 30% mark but this doesn't mean buying cheap crap. It means pricing competitively while buying smart. I share tips on this in the course book, HOT DOGS SAVED MY LIFE. It's about finding that perfect medium. Sourcing products correctly and pricing your menu for your demographic.
THERE'S MORE!
You have other costs in selling that hot dog. These include the annualized or use cost of your cart, cart maintenance, your OWN TIME, your travel to and from the location and others. These costs are inherent and are typically factored over time and not per "hot dog" sold.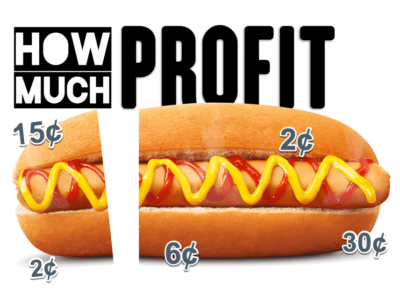 In my course book, HDSML, I break this down further… I show you how the "value meal" at a discount creates more income and how the items like bottled water, soda, chips and cookies increase your profit margins by leaps and bounds.
I'll give one more example here real quick.
Most people will eat two 8:1 hot dogs. In a value meal, with a soda, bag of chips and the 2 hot dogs, you will encourage more sales while making much better profit margins. A $5.00 value meal will net you in real profit about 66% but with premium toppings it will net you 75%. Take in account that the most sold drink on a cart is water and your profit goes up even more.
You can learn all this and more, including my tips on making over $400 daily by visiting my awesome wizard helper (he helps anyone who wants to make more vending). CLICK HERE and I'll give you something awesome just for looking.
Share/Like to help others...
Share/Like To Help Others