Every new street food vendor has to choose a name for the business. It's an important step in starting a business, but you don't have to agonize over it. Here are some tips for choosing a good business name for your hot dog cart, food truck, or catering business.
Choose a Name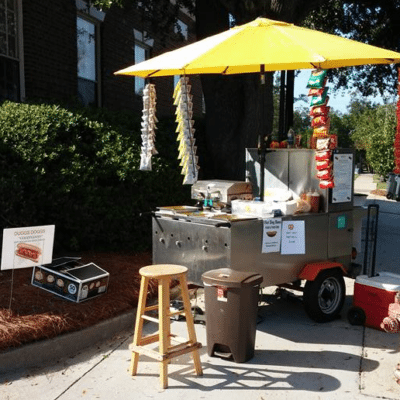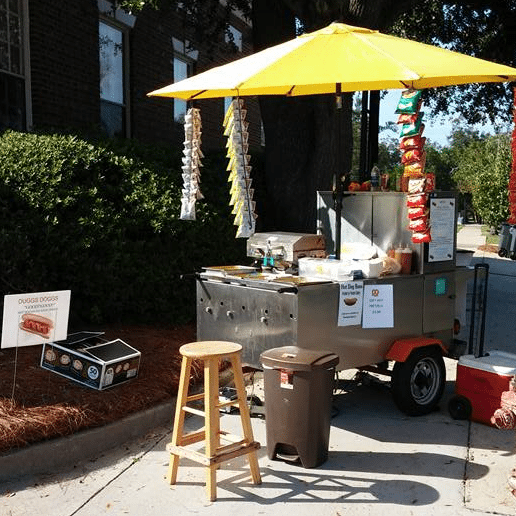 1. Keep it Simple
You may be tempted to make your name really complicated and unique. It's good to stand out and choose a business name that distinguishes you from your competitors. But don't get too clever for your own good. If you choose a name that is hard to pronounce or too long or hard to remember, people might not tell their friends about you! So choose a business name that gets right to the point.
2. Include "Catering"
Even if you are starting a hot dog cart business or a lemonade stand, don't lock yourself into too narrow a box. You might start out selling hot dogs and choose Hillbilly Hot Dogs, but down the road you will want to expand into catering or other types of food, and then you'll want to change your name. It's not impossible to change your business name and re-brand, but it's good to think ahead a bit.
Start off by including "catering" in your name, like Hillbilly Hot Dogs and Catering, or Street Food and Catering, etc. That way, you're not going to be pigeonholed into just hot dogs. Also, people tend to think a little more highly of caterers than hot dog vendors. It might not be fair, but it's the way it is.
3. Make it Quirky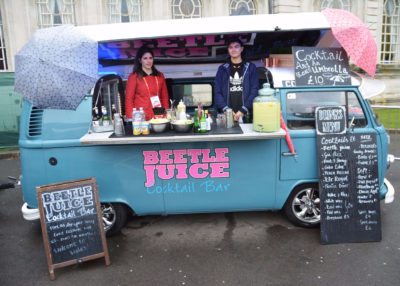 This isn't an absolute requirement, but think about the names of some businesses that stand out in your mind. Chances are, they're extremely simple (like Apple, McDonald's) or kind of funny or quirky. For example, Google, Zappos, Lululemon, and Yahoo have a certain unusual or nonsense kind of feel. They might not make sense, but they're fun to say, short, and easy to remember.
Also, people enjoy hearing the story behind your business name. So if you have a fun story or an interesting nickname, you might think about including that in your business name. It can help people remember you if there's a story to go with your name.
4. Look it Up
You will want to set up a Facebook page (mine's Ben's Hot Dog Carts on Facebook) and other kinds of profiles for your business. So after you have some ideas of business names, do some searching to see if they're available. You should also check on a domain name registrar like GoDaddy, to see if there is a good version of your name available. It's usually hard to find the exact name you want, so be prepared to make some adjustments when you're choosing a domain name.
5. Register Your Business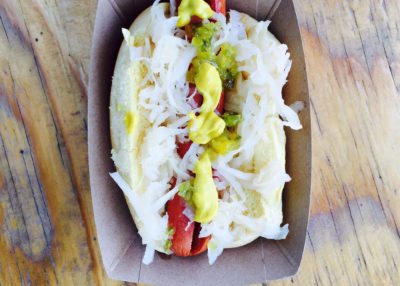 After you've brainstormed, tried out some variations, checked Facebook, Twitter, and found a good domain name, it's time to make it all official. You will want to decide what type of business you will operate, and get the paperwork taken care of. You might go with an LLC, or you could start out as a sole proprietor with a DBA (Doing Business As) name for your business (About business types for street food vendors). I'm not an attorney, so you should check with a pro for all the details on that stuff. The cost of registering your business depends on your local fees.
Don't forget to get your Federal EIN. You can do this online for free right here: https://www.irs.gov/businesses/small-businesses-self-employed/apply-for-an-employer-identification-number-ein-online This is basically like a social security number for your business. There are sites that will try to charge you to set this up for you, but don't fall for it.
---
Ready to get started? Check out the book!