In this video, Michael Wood of Duggs Doggs fame shows us all how to replace a sink or faucet on a hot dog cart. In literally just minutes you can swap out a sink, make a repair or change the faucet on your hot dog cart.
How To Replace A Sink Or Faucet On A Hot Dog Cart
score under sink edge with utility knife or razor
carefully lift sink out of hole and remove any lines
detach water lines
hand loosen plastic sink security nuts (plastic in most cases)
lift faucet out and replace with new faucet
hand tighten sink security nuts
tighten water lines
test for leaks now
put aluminum or silver silicone bead around lip of sink
place heavy object in sink bottom and let sit 24 hours
score off excess caulk with razor
lift cart and re-attach drain lines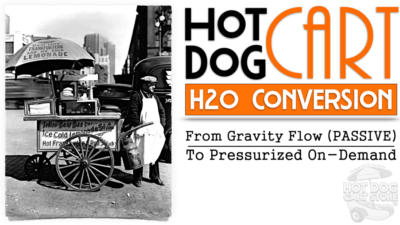 Hot Dog Cart Parts
You can find great deals on sinks at https://hotdogcartstore.com and https://store.benscarts.com
Hot Dog Mafia Members get the Mafia pricing for life and if you're a Vendors United member, you'll receive an additional discount coupon inside the Vendors United group.
For more information please click: www.learnhotdogs.com/join & Vendors United members get the Lifetime Membership at the best price on the planet.
Hot Dog Cart Sinks / Kits / Faucets
This Video & More
Michael Wood is a Vendors United Street Food Pro. This video and others are posted inside the Vendors United® group along with other videos from vendors all over the world. Learn about Vendors United and what it can do for you by watching this video.