I probably should of been a Mexican. My love for their food is certainly not common for a TN hillbilly. In these videos – Mexican street food vendors make some amazing dishes right from their carts. And it might just be worth adding one of these to your hot dog cart.
Elote – Meet – Elotitos
With or without the chips – these are easily made and served from a hot dog cart. Some in our Vendors United group already do the Mexican Street Corn (Elotes) – but a couple more ingredients and you've got Elotitos and more profits in your pocket.
Did I Say Mexican?
Of course, it's all the Latin foods. And this next one is no exception. You won't find basic here.
It's eye candy and tastes even better.
Mexican Vendors Do Frito-Pie Like This
Like a Walking Taco but completely different.
Warning! Don't Try This In The U.S. – Or Could Ya?
The U.S. has some strict codes on what you can serve from an open cart but did you know that about anything goes if you're operating as a caterer? Talk about heaven. Did I just die?
Look at these scrumptious authentic Mexican street food vendor's selections and you can probably figure out a way to "legally" add your own version from your cart.
IDEA FERTILIZER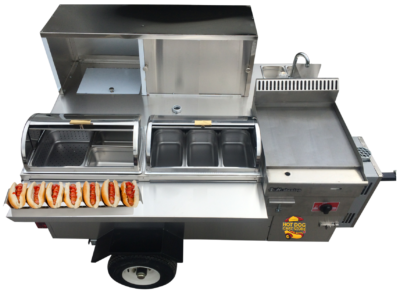 I hope these videos get that grey matter sparking new ideas for the menu on your cart.
Remember, don't over do it. Try something and see how it does before adding more.
Always make sure you are allowed to serve the foods you want to add and again – remember, you can get away with so much more under the catering "umbrella".
CATERING MEXICAN STREET FOOD
I've done more on catering and how you can add that service to your business. Most VU members are doing catering and some don't even have street side locations anymore. Learn More Here .
Thanks to Gio for the idea for this post.