Hot dog carts can do much more than heat and serve hot dogs, and as summer turns to fall, a Coffee Cart is another idea for customizing your mobile food business.
You can add coffee to your regular menu or style your cart into a specialty mobile café. If you look at Instagram or Pinterest, you'll see a bajillion photos of coffee.
People love coffee! So if you want to expand your vending business or even get started without a big investment, coffee is a great idea.
How to Turn a Hot Dog Cart into a Coffee Cart
Here are some coffee cart ideas to help you get started. As an example, check out my idea board showing the Lil Dog with the basics that would take it from serving hot dogs to a mobile café.
You can borrow elements of these to create a style that reflects your own personality, menu, and locale. Just make sure the coffee is hot and fresh!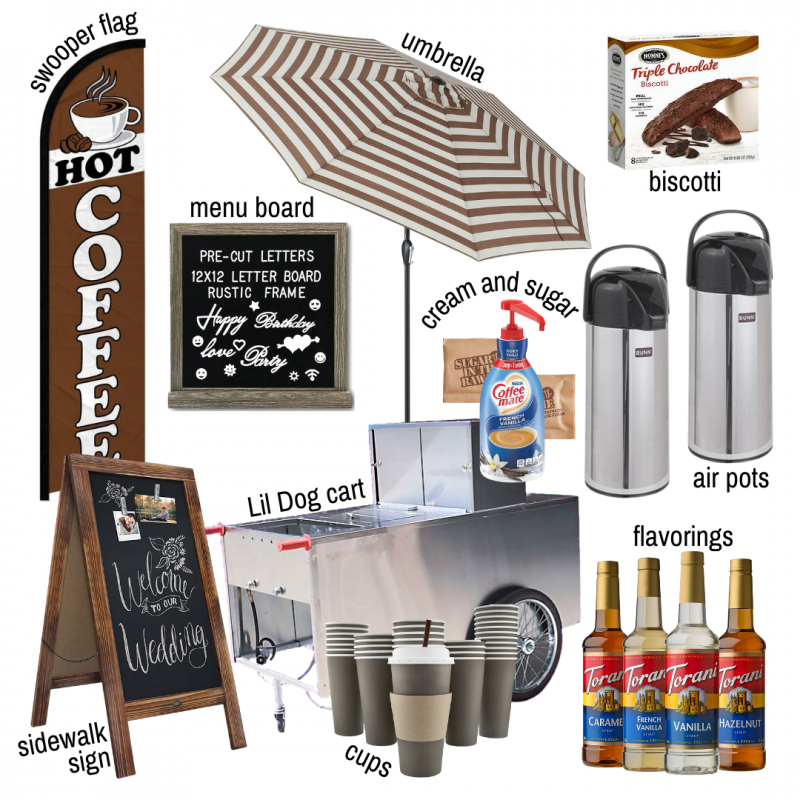 Get Some Coffee Signs
People are more likely to buy your products if they know what you're selling. So make sure you have signs on your Coffee Cart that are large and easy to read. Having a gigantic sign with tiny letters is not helpful.
You will need a sign or banner (like a "swooper flag") that can be read from across the street to bring people in. Then you will need additional signs listing your menu and prices.
For extra style points, match your brand logo and color to your signs. If you have a black and white motif going, like coffee and cream, you could use a chalkboard style sign.
Lots of cafes use this approach because it's easy to fold away when you're done. After you get the hang of things, you might want to invest in some fancier, more durable printed signs.
Air Pots Keep the Coffee Hot
Unless you are doing iced coffee in the summer, you will need to keep your coffee hot and fresh. The easiest way to start is by brewing the coffee ahead of time and keeping it ready in air pots.
These maintain the temperature of the coffee without burning it, so it doesn't get that old flavor. Plus, you don't need to plug the air pots in, so that gives you more flexibility in terms of your location.
Sure, you could set up your Coffee Cart with a whole brewing station with machines to make the coffee on demand, but this is just one way to start quickly and easily without too much new equipment.
Start your own street food business with a small investment –
[CLICK HERE]
Add Syrups for Special Coffee Flavors
Besides the convenience, fun flavors make on-the-go coffee extra special. You can elevate your menu by offering flavored syrups like vanilla, hazelnut, and salted caramel.
Some flavors even come in sugar-free versions, and you can change your flavors for the seasons. Get some pumpkin spice syrup for fall, and offer chocolate and peppermint for a wintery mocha combination.
Don't forget the basics like sugar, sweetener, and creamer. Buy metered pumps to attach to the bottles for easy measuring and dispensing into your drinks.
Use Disposable Coffee Cups with Lids and Sleeves
Sure, you could serve hot coffee in a little styrofoam cup, but folks will pay more for a product that looks high-end. Check around for to-go hot drink cups with lids and sleeves.
They don't need to be huge, insulated mugs, but they should be big enough to hold a good sized dose of coffee, plus an ounce of syrup or creamer, etc.
For comparison, the popular coffee chain sells a "Tall" (which is more like their small) which is 12 ounces. If you want to make the most money from your Coffee Cart , it helps for the cups to look nice.
Offer Snacks Like Biscotti
Depending on your location, rules, and customers, you might want to add some food to your mobile café menu. Things like muffins and coffee cake are great with coffee.
If you want to make it super simple, get some prepared and individually wrapped items like biscotti.
Get an Umbrella For Your Coffee Cart
If you plan to sell coffee regularly, you might consider swapping out your hot dog umbrella for something more coffee-like.
Rather than the ketchup and mustard shades of red and yellow, look for a soothing beige or maybe cream colored market umbrella.
Black umbrellas look sleek and sexy, but if you're out in the sun you might find they don't keep you cool enough. This isn't a problem during the chilly morning hours, or if you're doing hot coffee in the winter.
If you want to make a statement, you could go with something bold and bright like pink or purple. If your brand is colorful, go for it!
Get More Information on Starting a Coffee Cart
These are just some ideas to help you start brainstorming. You can start selling coffee even without a cart. If you have questions or are ready to begin, get in touch with us at Vendors United!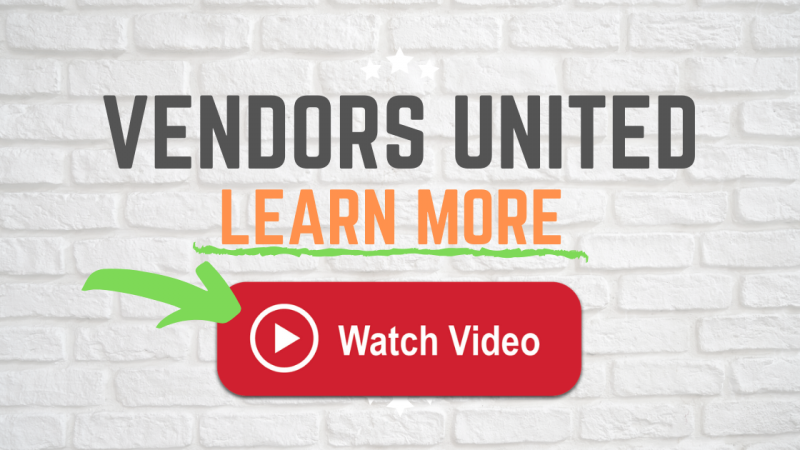 You can ask questions and talk to people who are already selling coffee, and avoid the most common pitfalls on your way to running a successful business.