Is it possible to have just one – hot dog vending location? And could this location be so dang good that you wouldn't need a Facebook business page, nor an Instagram?
SHE HAS ONE HOT DOG VENDING LOCATION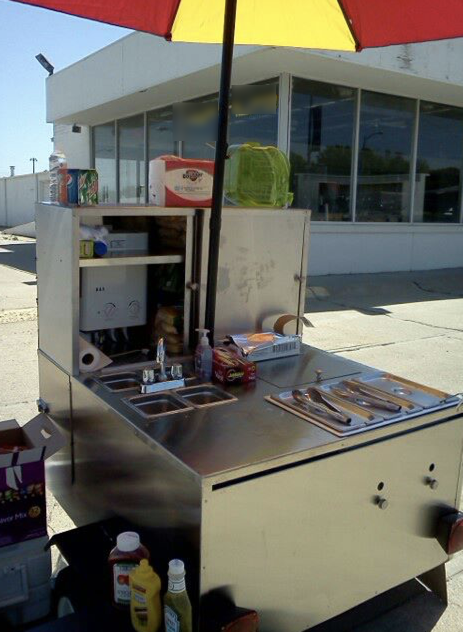 She doesn't even have signs on her cart. No social media, no banners, no swooper flags. It's just her, her cart and her ONE hot dog vending location.
ENOUGH BUSINESS?
I mean really!? Can she possibly have enough business?
How many hot dogs does she sell?
SHE ONLY TAKES 25 HOT DOGS
On the days she opens – she only takes enough for 25 customers.
That's all she wants.
She's usually in & out within one hour.
[NO JOKE – READ HERE]
Cry Uncle – Yet?
This get's better. I haven't even given you the link to the rest of the story yet.
She doesn't work full time, only puts in a about 1.5 hours a day on the days she works and she makes a great income. There are several things working for her here…
HOW SHE SURVIVES WITH ONLY ONE HOT DOG VENDING LOCATION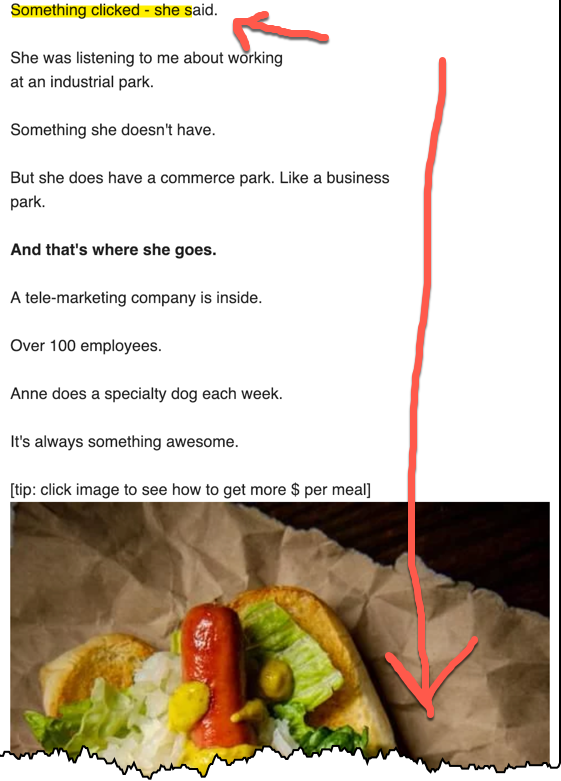 Her location is like fishing in a barrel. There are over 100 people in a call center. She brings enough to feed 25.
It's a first come – first served (when she's out, she's out) – till the next time.
This alone creates a frenzy. A feeding frenzy of sorts.
works inside a business park (just outside the doors to a call center)
carries only enough for 25 customers
has a specialty hot dog each week
is 100% happy with her system and has no plans to do more
ANNE'S STORY
PART ONE – Anne's cart, her sales and her profits daily
PART TWO – Anne's menu, her location, her setup, her pricing (as in how she gets the higher profits) and more.
YOU Can Do The Same!
This ain't rocket surgery. Anne used my tips on locations, she used my tips from the hot dogs saved my life book and she did it.
No magic beans needed.
I've always used the math with a goal of 100 customers a day. This makes for an income over $100k annually. But not everyone needs, nor wants that much. Some, like Anne – are completely satisfied with an extra $30,000 a year without having to work much.
I admire that. She's got a system and it works.
ANOTHER VENDOR DOING THE SAME?