She's serving crawfish rolls, why can't I serve other foods from my hot dog cart? Even if – you in the same county?! What can you do?
I know it seems crazy. And if you didn't know it… a hot dog cart is 100% – a mini mobile kitchen. Some "hot dog vendors" are doing strictly breakfast and their carts never see a day past 10:AM.
Others are serving soup, bbq, pulled pork, pasta, potatoes, street corn, tacos (read more about street tacos here) and the list literally goes on and on. So why can't you serve other foods from your cart?
YOU CAN!
Yup. You absolutely can serve other foods. In most states, via "catering" and drop-off catering. I cover that here. But what I'm talking about now is street food vending specifically.
IT'S UP TO YOUR HEALTH INSPECTOR
Your health inspector rules the roost when it comes to your hot dog cart. But their word isn't always final. See this. Often it comes down to their leniency. (how much wiggle room they give you)
And leniency – it can be gained over time. I explain all this in the video below.

AND DON'T YOU DARE – MAKE THIS MISTAKE!
…but… but… but… Dorinda down the road is getting to serve Nachos with meat – so how come she can?!

~ignorant ramblings to an inspector
Don't ever throw a fellow vendor under the bus. It never works out in your favor. It's not like the inspector is going to say… "oh… my – well, I didn't know you knew about Dorinda so I'm going to let you also."
Nope! That's not how that ever goes.
VIDEO: WHY CAN'T I SERVE OTHER FOODS FROM MY HOT DOG CART?
Just like so many other hot dog vendors do…
Cater Pro Hot Dog Cart – The Perfect Mini Mobile Kitchen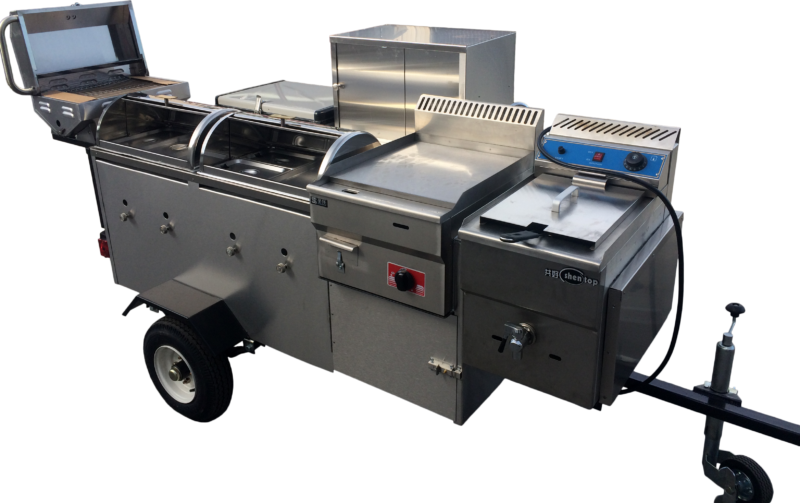 Is this helpful? If yes, share it so we can help more vendors…