Once you get paid for a hot dog cart catering gig – you'll probably catch the bug and never street food again. I've seen it happen over and over. Not really hot dog cart catering but really: mini mobile kitchen catering. Success is addicting and this success comes pretty dang easy.
THE BIG CATERING COURSE [DOWNLOAD]
Catering
full-time income / part-time work
I've been operating carts (hot dog carts and mobile food carts) for years now. Back in 2007 I lost everything, was bankrupt, lost our homes, cars and a 100-acre farm. I started all over, from food stamps to a very successful mobile vendor with a piece of crap, poorly constructed hot dog cart.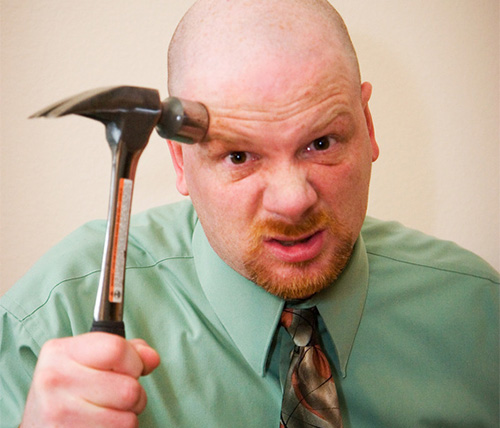 I began teaching others what I was doing and eventually created the largest resource website on the internet for street food vendors.
[note: I put a link to my big catering course/pak above – It's for sale for $37 but you are getting it FREE!]
Just over three years ago I began teaching or more like beating over the heads anyone who'd listen about the UNBELIEVABLE income opportunities with catering.
My customers all had hot dog carts and now with some hillbilly magic I began looking at them more like what they were… MOBILE COMMERCIAL KITCHENS.
This "new" opportunity was taking vendors from the more competitive market at 5th & Main Street to an un-tapped and super lucrative side of the business that made them much, much more.
NOT YOUR typical CATERING
Be honest. When you hear the word catering, what do you envision?
White linens
Tables
Fine china
Oodles of staff dressed to the hilt in tux attire
A full kitchen for prep
A plethora of organizing and prepping and preparing
Yea! Exhausting!
That's what I saw at first too. And that is a just one form of catering and one I'd like to leave to those who love the headaches and nightmares that come with all that.
WE-STYLE CATERING
Still got your "envisioning" goggles on? Great! Envision this… we purchase pans of ready-made food, say a pan of mac and cheese, a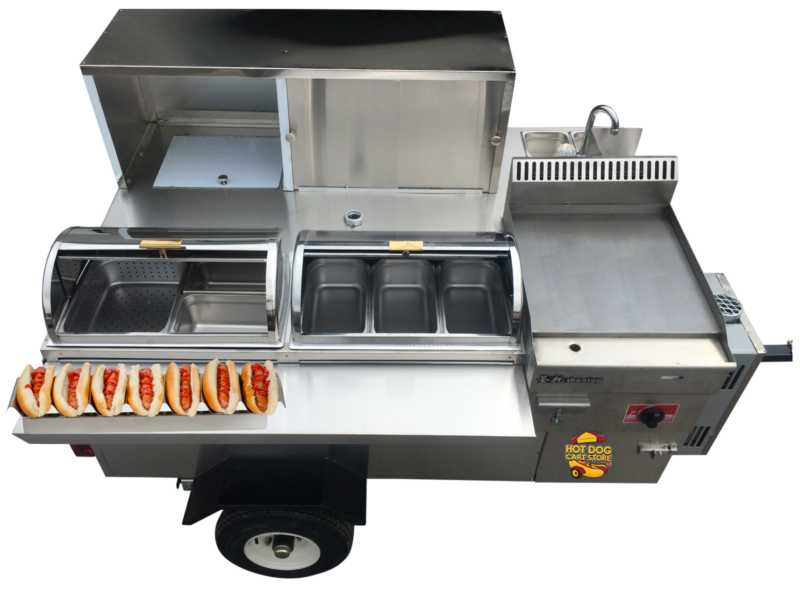 pan of pulled pork or two and pans of baked beans and potato salad. We grab some buns, bbq and some paper plates and plastic utensils.
We show up, spread it out and leave.
That's drop off catering! My favorite! (more on that in a second)
Another method is we do the same and stay, we serve and we leave. No "oodles" of tux wearing staff, just me and one other in our blue jeans and chef coat. I of course wear my floppy cowboy hat too.
We are there 2 hours and we've made just over $824 DOLLARS!
The first time I did catering I didn't even know it was what I was doing. I got called to see if I could bring my cart to a land auction site and serve folks.
The auction company was paying and they said for me to bring at least enough for everyone to have 2 hot dogs, drinks and chips. I quickly realized many companies need catering and most either are too small to have some big catering outfit come or are sick of the options from local restaurants.
I mean like, Taco Bell, KFC, heck even my grocery store advertises catering.
Truth is, they all do it the easier way. They deliver great food, set it up and leave. Most everything is in disposable pans.
But unlike Taco Bell or the local Chinese Restaurant, I can bring my cart, keep it hot and I can also
OFFER ANYTHING THEY WANT!
And unlike street food vending, catering is easier to start, has less hoops to jump through to get licensed and makes more consistent money.
In fact, you're guaranteed your income, before you even arrive.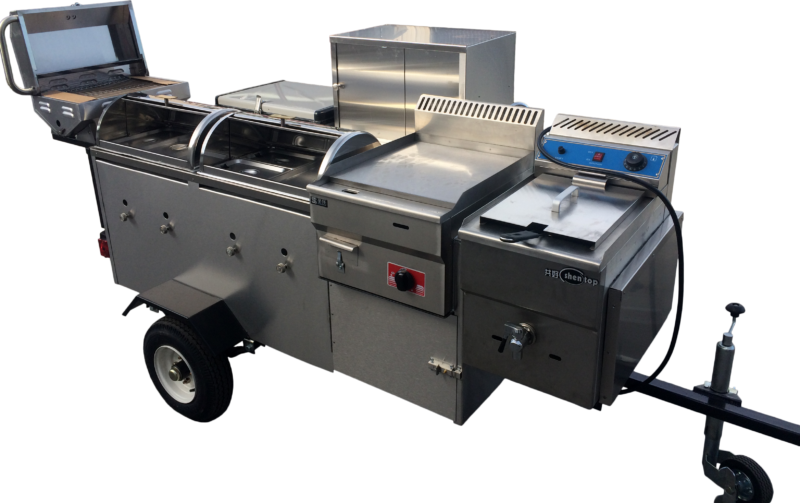 "Ben, I'm now booked for 4 months, every weekend for private gigs. I will make over $8,000 this month in just 3 weekends." *of course that was 3 weekends but multiple drop-offs. 
Before I head off into drop off catering, let me show you just how easy this is.
Simplified hot dog cart catering
I know you're thinking, oh my, they are gonna love granny's sweet potato casserole. And that's great and all, but there are some things to consider before getting all bright-eyed and bushy tailed with grand ideas of making your signature banana pudding or those rocking brownies from your great-great grandma's second cousin twice removed.
The only BURN OUTS I see are from vendors trying to be everything to everybody. DON'T!
Instead start simple.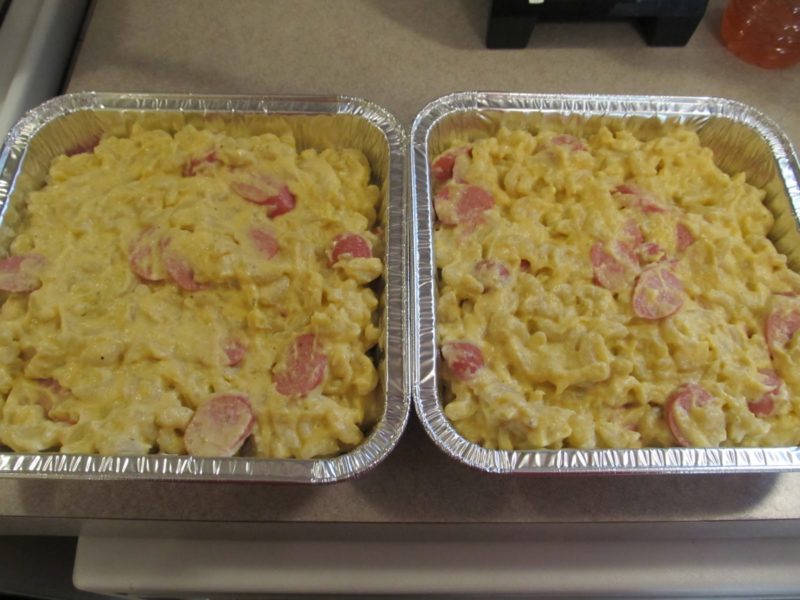 Source the foods you're going to offer and even on those, keep it to just a few options. For example.
The Pasta Passover (compliments of Jason Brown / Love Food Truck Co.)
Your choice of our signature spaghetti and meatballs or our creamy chicken alfredo
Your choice of the All-American Salad or the Simply Cesar
Vegetable medley with fresh garlic and real butter
Fresh rolls
[NOTE: WE DON'T JUST CALL IT STEAMED VEGGIES]
They provide the drinks and flatware and you bring the food. $14.00 per head, 50 heads, you just made a cool $500.
Drop off would be about $400 profit.
That's just one menu.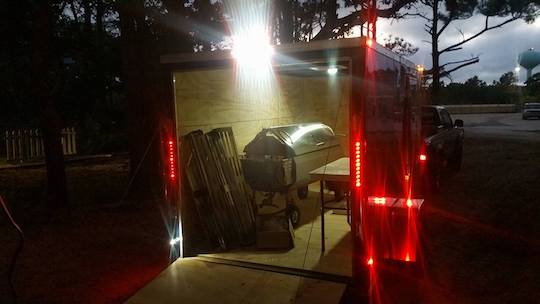 Imagine doing a lobster mac and cheese, a pulled pork, a chicken wing, a soup, a potato bar, a taco spread… (taco spreads are profit maximizers).
Add a second entrée and add even more profit. From parties, from small gatherings to employee appreciation events… this kicks butt.
Recently, I delivered my pig roaster machine to a real estate company. I loaded it with a fresh hog (20 minutes) and delivered. Hours later I returned and picked it up.
My net profit: $566
FREE DROP-OFF CATERING COURSE
Michael Attias was our guest on Hot Dog Vendor Radio awhile back and gave us all access to his course on drop off catering. You can grab it here. Cater or Die! 
SOURCING YOUR PRODUCTS
Now as I mentioned earlier, you wild eyed bushy-tailed freak, you can make everything, but let's start simple. Bear with me here.
Why would anyone take on extra work in the beginning? Get your feet wet first, get started, start making some great money and then… and only then would I suggest making Nana's super secrety special blah, blah, blah.
For now, let's source this stuff. Let's make life easy peasy.
Sam's Club, BJ's, Costco and then there is food distributors like Sysco, IJ, PFG and others. Bottom line, you want a bulk provider of good food. You can search: broad line distributors near me – on Google and get some great products at better pricing than most big box retailers or National food distributors.
Now this doesn't mean you can't jack it up a bit. I took Sam's Club mac and cheese, dumped it into a restaurant pan, added sour cream, Mexican cheese and some pulled lobster and created my very own lobster mac and cheese.
I transferred this to disposable steam pans and delivered it.
Why Source?
Sourcing sometimes prevents you from having to have a commercial kitchen.
For example. Some states only require a vending/vendor/food service license if you are prepping from home or a commissary. Most states require you have a commissary (fancy word for commercial kitchen) if you prep anything… so why at first, would you not just by stuff that is already made.
Three weeks ago, a small company, roofing company wanted me to do a whole hog. Forty people, that's staff, spouses and kids. They requested that I bring some kind of baked bean casserole.
I don't have a commissary currently and nor do I want one, so I called a local restaurant. They sold me two full steam pans of their "signature" baked beans for $28.
I added $2.00 to the per head count. That's 40 x 2 = $80. I made $80 more dollars just by taking those already done baked beans.
My total profit for the day… pig and beans… $483
Some States Are Soooo Easy – start today
In Tennessee, you can cook from your home, cater from your home, serve anything you want and don't need a health department license at all.
In North Carolina, I can do anything I want as long as I prepare and cook on site.
Some states, no matter what, require you have a commissary (commercial kitchen).
Either way, doesn't matter. All easy to do.
Here's a link to finding a commercial kitchen, a commissary for free.
https://learnhotdogs.com/?s=commissary
Be sure to click "next page" at the bottom too.
So what all do you need to do to get started?
STARTING A CATERING BUSINESS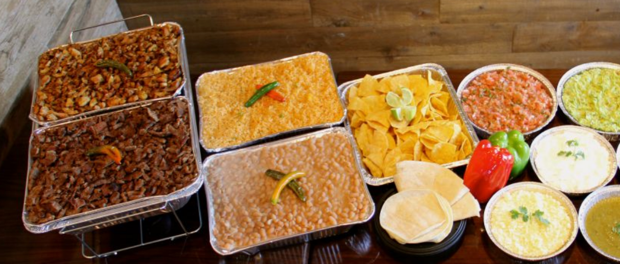 You can literally start on a shoestring budget, but as a pro vendor, a vendor that's helped ten's of thousands of others get started and from someone who knows every single tip, trick and method for making the most money, you can mark my words when I say… the best thing you can get, the most profitable, useful pieces of equipment that you can imagine, is the Cater Pro Mobile Kitchen® or the Big Dog® Cart.  I say this because not only are they both versatile, both loaded with features for making money and both mobile enough to go about anywhere easily, but they are relatively small investments for years and years of consistent income.
Don't get me wrong, you can start with literally some pans and a hot plate or like Chef Jose with a Crock pot, but the doors to instant income open up the moment you serve from something as nice as either the Cater Pro or the Big Dog.
STEPS TO START:
Contact your state Agriculture office or State Health Department, tell them you want to find out about private catering.
Contact your town office about a business license.
Set up a menu selection, maybe 3 to 4 entrees with sides.
Source your items and adjust menu if needed for easy access
Source supplies, like racks and chafing dish wicks: http://amzn.to/2zadsr3
[NOTE] Webstaurantstore.com is going to come up first on most search engines but they suck. They have the customer service of a rattle snake on crack and have a history of pissing off many of our vendors. I would use with caution.
I use Amazon almost exclusively and if you have a Prime Account, it's cheaper, and includes free shipping.
Link: Amazon Catering Deals
My second "go to" place is www.katom.com because their customer service is impeccable and they aren't assholes.
SOME HELPFUL ARTICLES ON CATERING
GETTING MORE BUSINESS THAN YOU WANT
I know many courses tell you how to start this or that but they fail when it comes to telling you how to actually get the business to make it happen.
Doesn't really matter how good your rack cards or business cards (see marketing info below) look if no one knows you exist.
Right?!
I've learned some amazing ways to get customers and if you use them, I can assure you, you'll have more business than you know what to do with.
I turn down work every single week because I don't have time to do every request I get.
Once I share this with you, you'll be amazed. There is NO MAGIC BULLET, no secret sauce… it's simple, free stuff that you can do to get your business started with very little effort.
Done like I show you and you'll start getting business immediately.
Are ya ready?
FACEBOOK
In your town, your community are Facebook groups. There are groups for parenting, PTA, soccer moms etc… But something that's always there and always active are local community groups.
These groups are excellent places to post your new service.
My wife posted for me and then the second time one of my daughters posted. The post read…
OMG! Look what my dad is doing!
No number, no contact info… just simply what you see above.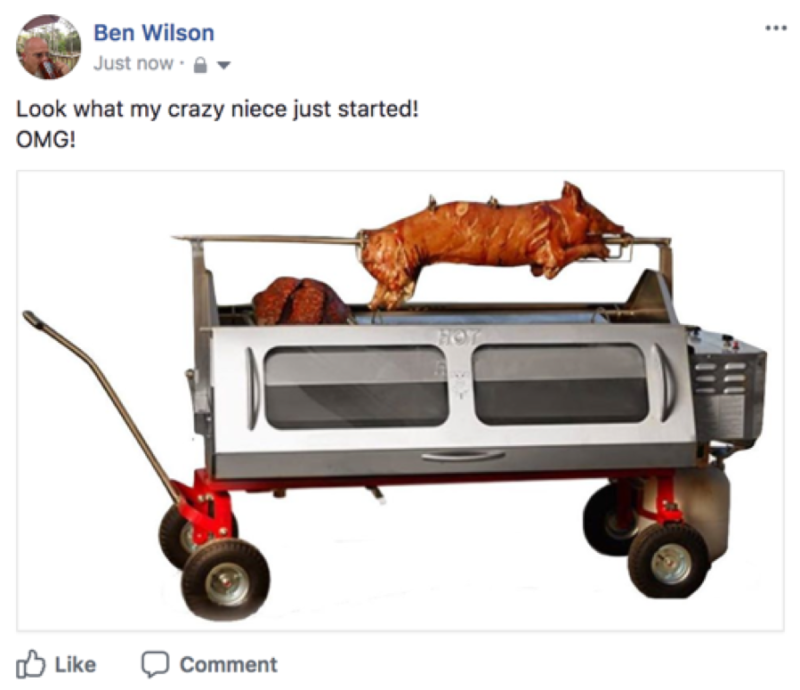 I was deluged with requests. How much, can you, will you, when…?
After the 3rd person booked, I had my wife delete the post. Just with that one post I was still getting other requests from people they had told.
Now keep in mind… I started out doing this for my daughter and ended up doing it all. I don't really have the time but it's fun and I love the extra money.
I'll soon buy a piece of land on the river in the Smoky Mountains just with the money I'm earning from the pig gigs.
I answer over 100 calls on average daily, 7 days a week.
I can do a couple hot dog cart catering gigs a week but they need to be drop-off gigs to keep me from spending too much time.
So far so good, but I wanted you to be aware that I'm not really full-time, yet I'm making extra money – weekly working part-time.
Every day I hear from vendors who are rocking it. Some slowly eased into catering and others just went full on.
"…I guess Ben I should have done this when you first told me. I'm working less than 3 days a week now."
CRAIGSLIST
Although Facebook is now my go-to place to market for free, Craigslist.org is certainly a huge asset still. Just this weekend, Jose posted up on Craigslist and got a gig almost immediately. He posted about it on our Facebook page and he made just shy of $2,000. There is a link on the blog at www.learnhotdogs.com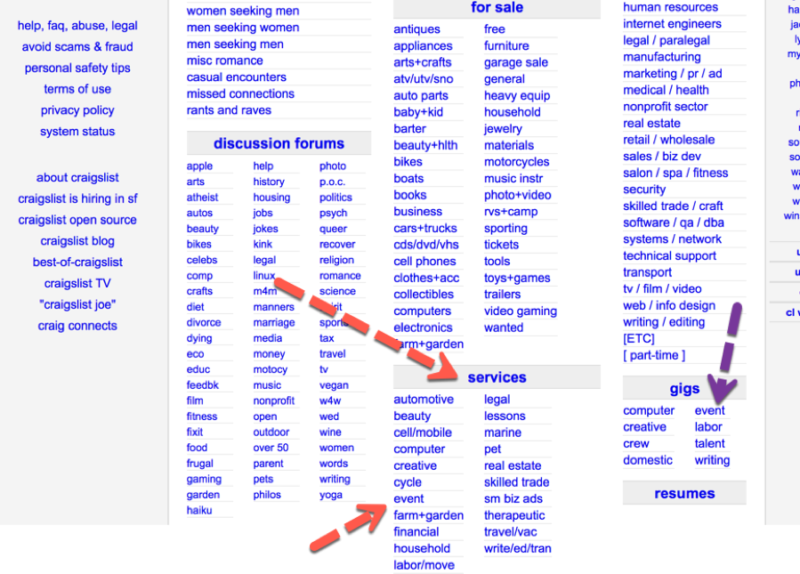 Your Craigslist ad should be listed in the services area but I've had some vendors list in the general for sale category too.
Red arrows indicate where to find the listing section you'd want to use. Purple arrow under "gigs" is where you can find gigs people are hiring for.
Once at Craigslist.org, type in the search box: catering and see what pulls up. You'll get an instant read on the local offers from others who are doing catering.
These are almost always the "big" guys. Big catering outfits who do the complex catering. I steer clear of those jobs completely. It's why wanted to share what we smart vendors do: hot dog cart catering
You can work less, make more and avoid the headaches that come from doing catering like they do.
USE PICS IN YOUR POSTS
Like I stated earlier, my wife simply posted a pic of the pig roaster. No fancy ad, no "pitch" – just a picture.
One tells another, then another and so on.
You've heard it before, "a picture is worth a thousand words". Well in this case it's worth more than $1000 a week.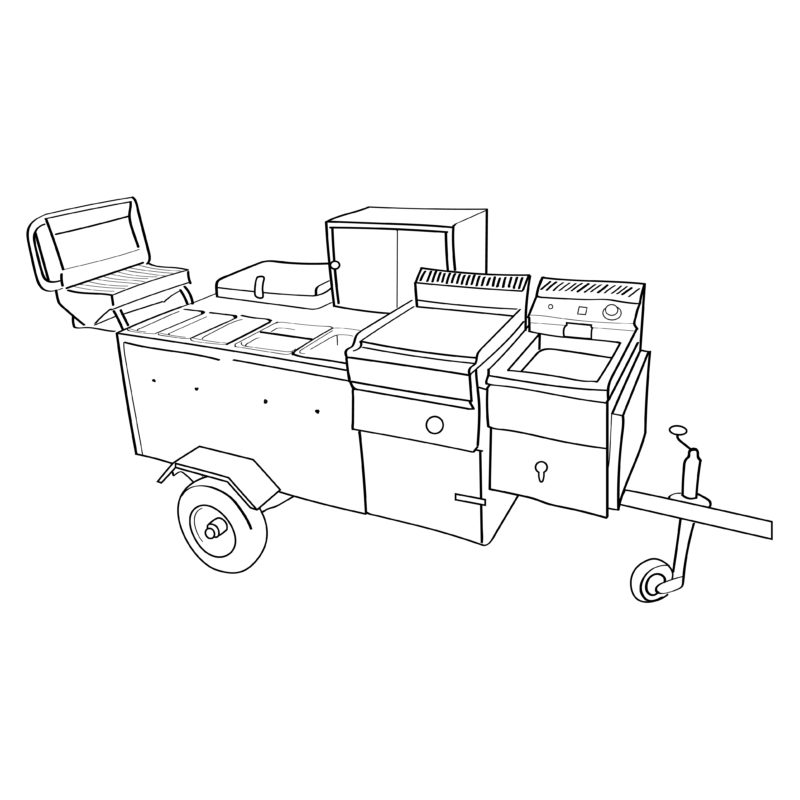 I'm not saying you can't start marketing with pictures of the foods you offer or of happy smiling people eating, that works too.
Using the cart in the image post – is incredible. It's something most have never seen and it gets their interest up. They want to know more and so they click.
I have them go to a free Google Form. This is free and costs me nothing. Recently though, I updated the process now that the money is rolling in.
A FULL-BLOWN MOBILE KITCHEN – THE BIG DOG
I get calls daily about which cart to get. People want to start this drop off catering or simple catering plan and for 9 years, the number one question on the top-10 list has been: "which cart should I get".
Today if I was to start all over, knowing what I know now… you can bet your bottom dollar I'd do catering exclusively. I'd grab a cart with steam tables and go at it.
It'd be the Big Dog, no question. I'd invest $3,000 or so and I'd have one sexy mobile kitchen that can do just about anything. The Big Dog can steam, boil, grill, warm and dry roast. You can do soup, wings, tacos, buffet service, burgers, pasta and more.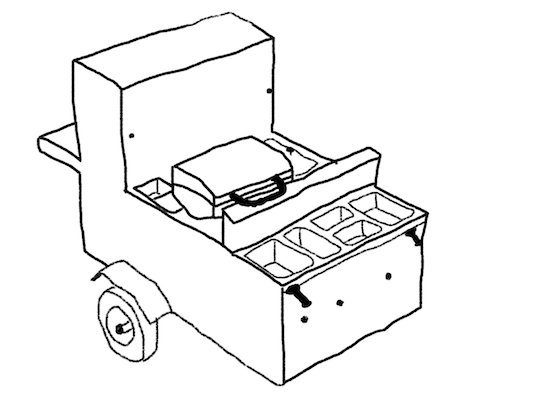 The Big Dog is the #1 most sold cart in the U.S. for a reason. Although most use it for hot dog vending, as I stated earlier, I would start in hot dog cart catering and doubt I'd ever street vend.
There is no question for me. I recommend the Big Dog. Period. I know I'm a bit biased but feel free to get on our Facebook page and ask thousands of others what they think of the Big Dog.
CAPTURING LEADS AND THE SUPER SOFT SELL
You don't need to be a salesman to get catering gigs. When people want it, they'll come if they know about you. So, the object is just to let them know you exist.
CREATE A FACEBOOK BUSINESS PAGE (5 MINUTES) good instructions here: https://www.youtube.com/watch?v=4ccKTz3fTmU
Add some pics from the internet, Google Images is a great place to find some cool pics of stuff related to what you're doing. I would add a minimum of 12 posts with a photo. *don't add all photos to one single post, create separate posts
GET A DOMAIN NAME (5 MINUTES) I USE namecheap.com – you're not buying a website or hosting, just the domain name.  While you're getting your domain name, setup a redirect. How: https://goo.gl/jxyZkq  that will forward your domain to anywhere you want. See next step…
CREATE A GOOGLE FORM – you can use Google's free form creator to quickly and easily setup a lead capture form. Here's my old one before I created one on my actual website.  Quick video on how to create a Google form: https://www.youtube.com/watch?v=fhA1A5T-Zc8
Your new domain should forward to your new Google form you've created.
[logic: customer sees your f/book post, then visits your facebook page, sees button or link to your domain, domain redirects to your Google form – you get notified of new quote request]
TIPS ON FACEBOOK MARKETING
Every city, town, county and area has Facebook pages/groups etc… for the locals. My little town has about 17 of them. These are excellent places to throw up a post or share a image from your own page over to the group.
Some yard sale sites on Facebook will allow you to post up something as long as it's not advertising anything.
Have a friend, co-worker, family member or anyone post up the picture with something non-commercial in the wording. Having them do it for you avoids it appearing as you're posting ads to a group that may have a rule against it.
Note how there is no link, no website, no nothing. Just a picture of the cart and a basic worded post.
My first post like this got me 3 quotes instantly.
How?
Easy… people commented and asked and one private messaged my wife. Then and only then, you would have said posting friend respond with.. "oh, I think it's xxxx.com (your domain or facebook page) or something like that.
Now you've just created an easy way to market your business without cost and a few of these and you'll have more interest than you know what to do with.
One lady I was helping, she didn't follow the instructions and instead just posted up her picture herself along with a link to her own page. The response sucked! It didn't get taken down but doing it differently in hopes to shortcut the method I've shown, will not get you the results you want.
I posted up one and said: LOOK WHAT MY DAUGHTER IS DOING… (it had food loaded up in the cart).
That was it. Immediately I started getting comments and the image got shared with others in the locals only group.
You can spend a little and get a lot – if you want. Facebook pages are eligible to run ads. You can create a real nice looking ad or in my case, for testing I used a video ad. I spent $12.50 a day (you can set your budget) and I let Facebook put it on local people's news feeds.
You've seen those ads, they say: sponsored
That means someone is paying Facebook to market for them.
Although a little trickier, you are ALWAYS better off using Facebook's Ad Manager than to simply click the "BOOST POST" button.
Here is a tutorial on using ad manager.
https://www.youtube.com/watch?v=U84yglrqQfQ
(it's about 50 minutes but will save you time and money with ads)
A LITTLE INVESTMENT GOES A LONG WAYS
There are jobs out there, where you pay to be considered. So, what if you were offered a job making $118,644 a year, you got to pick your own hours and you got to be 100% your own boss?
But you had to spend (invest) $20,000 upfront… would you do it?
Most of us, if we had the $20k would jump on this all-day long. Well for far less, you can start a business making more than $118k a year and be your own boss and make your own hours.
Not to mention the free time you'll have.
Hot Dog Cart Catering:  PRICING
You are providing something unique, something simple AND something affordable. Why not take advantage of the maximum income possibilities?
Got friends coming over, having an office party, family reunion… usually the options are limited. Not enough people to get a big catering company to come (most have 50 person minimums) and certainly wouldn't be affordable either way.
You can also offer drop-off catering (see below) and make even more while spending less time.
Go online and Google local caterers and look at their prices. Around here, they charge for a pulled pork basic setup with some sides and rolls, about $22/per person.
You want to see what your market area is already doing.
DROP OFF hot dog cart catering
*more in file download above
I saved this for last because it's got to be my favorite way to make quick easy money.
Susan calls, she's got a small family gathering and doesn't want to cook. She wants hot dogs, chili, slaw, drinks and snacks for 21. Hardly worth a traditional catering setup.
Instead I offer her drop off service. I'll deliver the food ready to eat with all the condiments and sides. I charge $9.50 per head, my cost is about $2.18 per head including my disposable pans and drive time. I clear about $140 for something that took me about an hour.
No pick up, no clean up.
Donna fills out my online form. They want a whole hog and they are providing all the sides. They don't need me to do anything but deliver a whole cooked hog.
I quote $12/per head and I clear $312.
I cooked the hog, delivered the hog and I left. Actual time spent, 1.3 hours.
Imagine doing pulled pork.
The possibilities are endless. You can create whatever package your client needs. A restaurant doesn't have the ability to change everything on the fly. We do.
Recently one of my customers got a call from a group who wanted nothing but deserts. She called a local baker she found on Craigslist. She gave her client a list of packages…
They went with this…
2 chocolate cakes
2 pies
3 dozen cookies
1 gluten free upside-down cake
She priced it at double her cost. She baked nothing but got all the credit and only had to do a drop off.
I did a graduation party with my friend Jason. Sixty people with pulled pork, potato salad, normal salad, strawberry shortcake, baked beans and rolls. We dropped everything off and came back later and picked up our pans. Net was over $600 and Jason and I didn't cook hardly any of it.
Once the word starts spreading, you'll be overwhelmed with gigs and you'll begin to be super selective and your prices will probably increase a bit.
IN CONCLUSION
There are many ways to become independent and work for yourself. I've been doing it my entire adult life. I've helped tens of thousands get started in vending and because of catering, I've been able to help thousands more start a new business that actually works for everyone.
Catering is probably the easiest, least expensive thing anyone can start and have a real potential of making thousands every month.
This is a real business, a real bonafide opportunity to make a real income without working 40-hour work weeks.
You get to be in complete control of your time.
It's the perfect business.
It allows anyone, from a shoestring startup to a full-fledged entrepreneur, to start, start now and have money coming in immediately.
[that link I promised you: https://cl.ly/2B370N1m3Y26 ] – has 11 different catering concepts explored
Cashing In Big
Did you know you can make money with your cart without even – EVER seeing the cart? You can. It's drop-off catering without the food. But there are other ways too: