Here's an update from Dragon Wieners and Catering! Starting a business takes a lot of planning and due diligence, and she's taking care of the health department, licensing, menu planning (top secret dirty water recipe!) and pricing, in preparation for opening day. Here's the letter!
Starting a Business: Dragon Wieners and Catering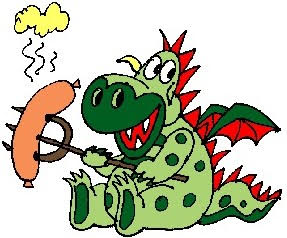 Ben,
Just a quick update along with a brief bio about me.
I am a almost 60 year old Transgender lady and on SSDI (Social Security Disability Insurance) due to not being able to do any of the jobs I have I have done for my lifetime. Also a U.S. Navy Vet (Peace Time), so money is tight.
While looking for ways to make an extra income, or even better — a good income — I came across your story.
You have been a huge help with your answers to my questions that I have asked. Your learnhotdogs.com site and You Tube Channel. have given so much help info that would otherwise take months or even 2 to 3 years to compile if one were to search on their own!
Now for the update:
1) Find out codes and limitations for street food vendors in my state and county/city. Done!
2) Scout locations and determine potential. Done (To many to list)!
3) Obtain equipment for low cost start up. 1/2 to 3/4 done.
4) Figure permits and Insurance for startup. Done and started obtaining various items.
5) Figure out food cost and menu with prices. Suppliers and supplies found.
6) Test product with family & friends. ( I have even created a dirty water recipe! It's top secret!)
A) I suggest using Sam's Club Members Mark All Beef Hot Dogs as they are high quality @ a good price (Just under $24.00 for 10 pounds)
All I have left to do is finish getting what equipment I still need, Health Dept inspection, and permit and Insurance, and supplies. And bingo I will be open!
Each day is closer to opening day.
Also I have some ideas for cold weather vending that I think would help street food cart vendors everywhere in cold or rainy weather.
Again thank you so much for everything, and being blunt about everything and not selling the pipe dream idea of easy money with no real work!
You do have permission to use my name and my story.
Again Thank You.
Start Your Own Business
Want to get your own street food business started? Take the first step!