Street food business comes with lots of freedom, great potential income, and sometimes questions. Luckily, Jason and I have some answers. We ain't geniuses, but we've been working hot dog carts, street food and catering for years, so we have some ideas.
Catering, Hot Dogs, and Street Food Business Information
Here are some of the topics we covered in the latest show.
Michigan food cart rules and permits
Do you need a license if you're asked/invited to serve food at a private event?
Should I take the regular Serve Safe test or get certified as a manager?
What items should I take with me on the food cart? Answer: Checklist for food cart supplies
How to write a quote for catering at an event? Answer: catering prices
How much should I charge to cook food at a private event when they provide all of the supplies? Answer: catering with your hot dog cart
Can I set up my food cart right outside my own home?
How can I get permitted in my town if I'm the first food cart ever?
Why do some food cart vendors do so much better than others?
My town says no street food vendors because they have to protect storefront businesses?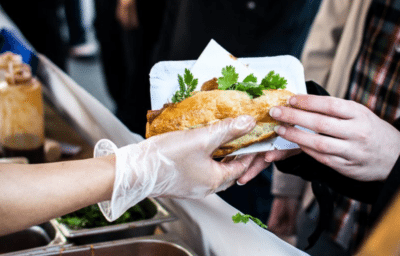 Want to get all the information on starting a food cart business in one easy book? Hot Dogs Saved My Life has helped launch thousands of successful, home-based small businesses. Curious about the possibilities of starting your own food cart? Get the information and make an educated decision.