Big Dog Hot Dog Cart
The Big Dog® cart is the most popular hot dog cart in the world.  And that is saying a lot!  There are many hot dog carts but nothing as popular or widely used as the Big Dog®. Not just because of the standard features and options but the fact that it can outperform the most experienced vendor.  HotDogCartStore.com is the manufacturer and the only place you can get one.
Steam Table Description
The steam table on the Big Dog® is a custom size designed to be able to cook, boil and steam all at the same time. This feature alone allows for a larger menu for customers and gives the operator more cooking options. You can see a complete demonstration and pan options on this video.
Not Just A Hot Dog Cart
The Big Dog® is really a mobile kitchen.  Its uses for catering almost exceed its hot dog vendor and street food uses.  As a hot dog cart it's amazing, but for years now I've been teaching vendors about this amazing opportunity with catering. If you love to cook and serve people, you should not feel limited by a "hot dog cart." Catering opens up the possibilities to just about anything you can cook and serve in your own kitchen, except this kitchen has wheels.
What Makes this Cart Great for Catering
The Big Dog® makes the best catering cart because it has:
4 sinks standard (wash, rinse and sanitize plus the hand wash sink)
A large built in cooler for storing your backup food supplies
A customer service shelf with condiment pans built on the rear away from the heat
An oversized bread box and storage area on top
Internal tank storage so your propane tanks stay safely away from others (holds two 20# tanks)
Fresh water and waste water tanks
A 9 foot market umbrella with holder built in (stay cool in the shade)
A removable tongue so that you and your customers can access all sides with ease *exclusive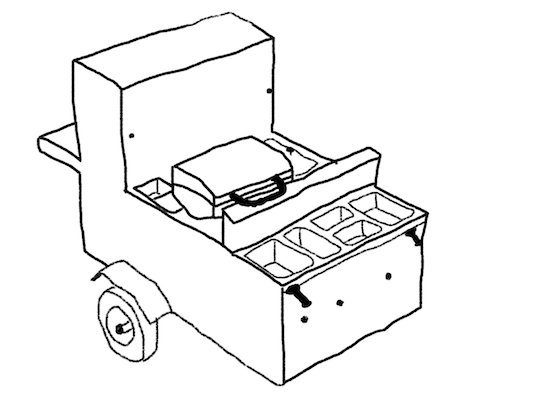 It's a rolling, portable and mobile kitchen that anyone can run with ease.  The Big Dog® hot dog cart is a fully contained and self sufficient kitchen on wheels.
The Most Cart for the Money
Built to last and tough as nails, it was a customer years back that came up with our tag line: "the most cart for the money,"  And he was right!  Some of the additional features that are standard on this hot dog cart are:
The skin is 100% 304 grade NSF/UL/ANSI stainless steel (magnets won't work on real stainless) *hint hint
Built up from a steel DOT highway approved trailer frame that can be towed with the smallest of cars
DOT lighting for safe travel
Light enough to push around after being unhooked from your vehicle.
Doors are solid stainless steel so no worries about sun fading and cracking of plexiglass
Learn more or watch the full feature video here on the Big Dog Hot Dog Cart.  See and talk to other Big Dog® hot dog cart owners: https://www.facebook.com/Benshotdogcarts/. Whether you want to run a street food cart, carnival stand, or catering business, the Big Dog Cart will get the job done!
Curious about how to start a food cart? Click "Start Here."