Talking about vendor income… Holy moly roly poly…
I Saw It! $171 An Hour Vendor Income, For Over 8 Hours…
I had a busy weekend.
From TN to another area in TN, across the mountain – to North Carolina.
Two events and one I went to twice.
Watched a vendor – as he raked in about $171 an hour – just on funnel cakes.
And only because you're reading this will you know about…
The other vendor…
The one who has two homes.
In Two States!
NC & FL
Lives his life how he wants.
Does what he wants.
He's vended now for 19 years.
With a small black open trailer he hauls his kettle corn machine and supplies.
Nothing fancy but very functional.
He does little festivals in the fall and winter in Florida.
Does little festivals in the Spring and Summer in North Carolina.
He's got a system and it works great.
His license is in Florida with the Agriculture Department.
Kettle corn doesn't fall under the Health Dept. there.
North Carolina is a reciprocal state and allows him to vend there with his Florida Ag permit.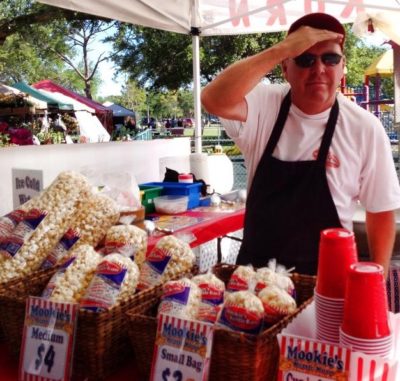 Mookie did something that impressed me.

Something - I only see with real street food pros.


The weather started looking rough about 3PM. Vendors – already having made pocketfuls of cash used it as an excuse to pack it up and go.
BUT NOT MOOKIE'S!!!
He told me… I'm staying.
I'm already set up – so why not.
Sure enough… 30 minutes later, the dark ominous clouds dissipated and Mookie was the last man (vendor) standing.
The crowds stayed and Mookie became the one and only food vendor.
I watched as his line grew.
He scooped fresh hot kettle corn into bags and served the waiting crowds.
Learn more about the Kettle Corn Machine here. KettleCornMachine.com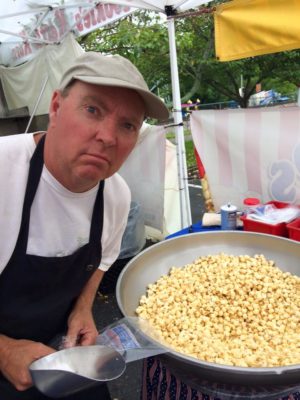 Mookie is an experienced pro vendor.
He only does kettle corn and his recipe is a crowd favorite wherever he goes.
Go Mookie!!!
Before you go, check out this… it's the entire reason I gave ya this bonus info and.
See The Funnel Cake dude and learn how to start a funnel cake business quick…
…with very little money and with loads of profit… awesome way to boost your vendor income.
Just writing this, I can smell the funnel cakes.
mmmmmm….
Thanks a lot – now I'm hungry.
Ben "Hungry" Wilson
P.S.
Did you see this from my last email?
Sybil lost everything. Including her husband, her home and her income.
From homeless to hot dog vendor….(WATCH THIS!)
https://hotdogcartvendor.com/new-hot-dog-vendor-does-big-event/
P.S.S…
Wanna get the best vending locations? Watch This…