Ben's Walking Chili Dog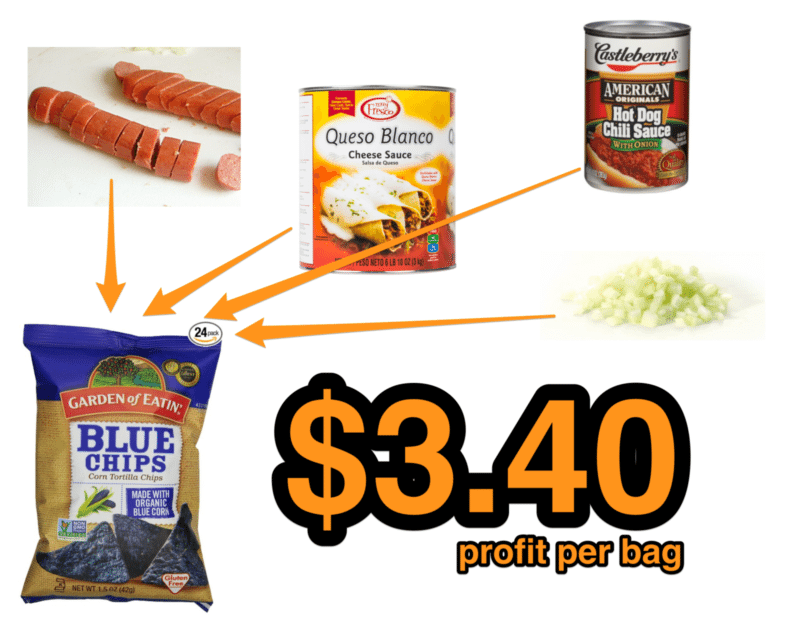 Walking tacos are a crowd pleaser and have a huge profit margin.  I love the ease of serving because I can make 3 to one of these to a Chicago Dog.  No ripped buns, no waste, just fun in a bag with lots of profit.
The walking chili dog is easy and very profitable too.  I used the above and will provide links to where I purchased everything.  You can save money on chips as this was the highest dollar thing I served in this meal.  I wouldn't normally go with organic anything but the customer who booked wanted these chips and I had to get mine at Amazon.
List Of Goods
Garden of Eating 1.5oz bag of organic blue corn chips (about $1.00 per serving)
[note] If your walking chili dog becomes popular, consider buying bulk chips and filling foil bags for each customer
White cheese sauce in #10 cans Queso cheese sauce (you can buy small cans at the local grocery store) 16¢ per serving
Dirty water hot dogs (use your choice) I used a chicken pecker and feet dog for .12¢ each – serving size about 1.5 dogs
Castleberry's chili sauce in bulk or in individual 16oz cans from grocery store .  .21¢ per serving if bought in small sizes
Onions diced – .09¢ per serving
Spork – 2¢ each
As you can see my cost was about $1.70 and profit about $2.60 but I'd pre-sold 120 bags.  You can get your cost down easily by going with a normal chip and down even under $1.00 per serving by buying in bulk.  $1.08 was the lowest I could come up with if I changed my chips and bought chili in bulk.
THAT'S A PROFIT OF $3.92 per bag based on a $5.00 bag.
How To Prepare
lightly crush chips (not to a powder but make some room in bag)
open bag
add chili about 2 oz.
add sliced up hot dog (1 to 2)
pour in about 1.oz cheese sauce
top with a small scoop of onions .75oz at most
collect $5.00
repeat 200 times during lunch shift
go home and count your money
Webstaurantstore.com has some great foil lined wet proof individual walking bags for you to serve in if you decide to buy in bulk and fill each bag with chips.