Well howdy! I've been on the road in my camper, and last week I spotted this Wyoming food truck and just had to stop.
Mr. Torres was kind enough to talk about his Chicago Dog House business in Cheyenne, and I got to try my first Wyoming style dog (hot dog, chili, onions, and jalapenos).
Mr. Torres has been running this mobile food business for 18 years, so he obviously knows a thing or two about the hot dog vending and catering business. Here are some highlights from our conversation, and you can watch the whole thing below.
Interview with Wyoming's Food Truck – Chicago Dog House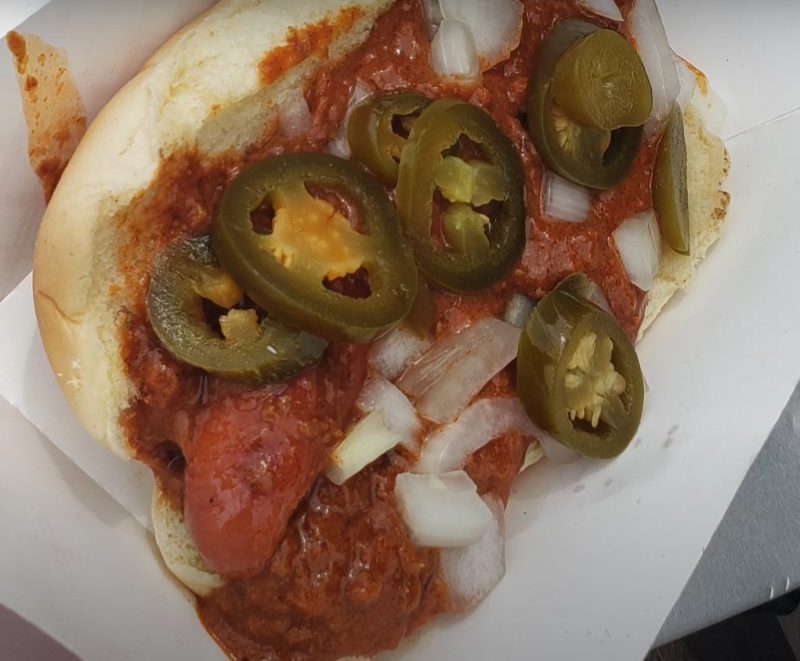 Ben: Hi Mr. Torres! How long have you been doing this food truck?

Mr. Torres: About 18 years now, in the hot and the cold and when it's windy…

Ben: What is your most sold hot dog?

Mr. Torres: It's the Chicago Dog or the Wyoming Dog.

Ben: The Wyoming Dog looks good. That's what I'm gonna order. I've eaten plenty of Chicago Dogs and I love them but I want to try something new. This is a great setup! Do you stay in one place?

Mr. Torres: We have a couple different locations… For instance, downtown. Fridays on the plaza, parade day, Cheyenne Day. And wherever they need us to cater.

Ben: Catering too? That's frickin' awesome!

Mr. Torres: Yes sir. We do parties, birthdays and stuff.

Ben: That's awesome. What would you tell somebody that was trying to get started? Any words of wisdom?

Mr. Torres: A good restaurant background. I got 25 years in a restaurant as a cook.

Ben: So you knew it all.

Mr. Torres: I know everything like garnishing, fruits and veggies and stuff like that.

Ben: And you have a pretty big menu.

Mr. Torres: Yes sir, we have quite a variety. Nachos, super nachos, chili cheese Fritos, we got a variety of stuff.

Ben: I love it!

Mr. Torres: We got icees…

Ben: Cotton candy!

Mr. Torres: Gatorade, water, fountain drinks.

Ben: Dang!

Mr. Torres: It's a good business. I like it.

These are highlights from the full conversation. Watch the video for more!
Thank you, Chicago Dog House!
I want to thank Mr. Torres and the Chicago Dog House out in Cheyenne Wyoming again for talking with me! He's been working his food truck and doing catering for 18 years, and was in the restaurant business for 25 years before that.
He knows what works, and his setup sure caught my eye! If you're out in Cheyenne looking for lunch, stop by that shiny trailer and say hi to Mr. Torres.
Wanna be your best at food trucks and hot dog street food vending? Checkout Vendors United, the biggest community of pro vendors in the world…