Can you get $7 for a hot dog? Sure you can. Hot Dog Mike got $1501.00 (not just once either) – He got $1501.00 on several. But I'm talking $7 dollar hot dogs every day – from your cart?!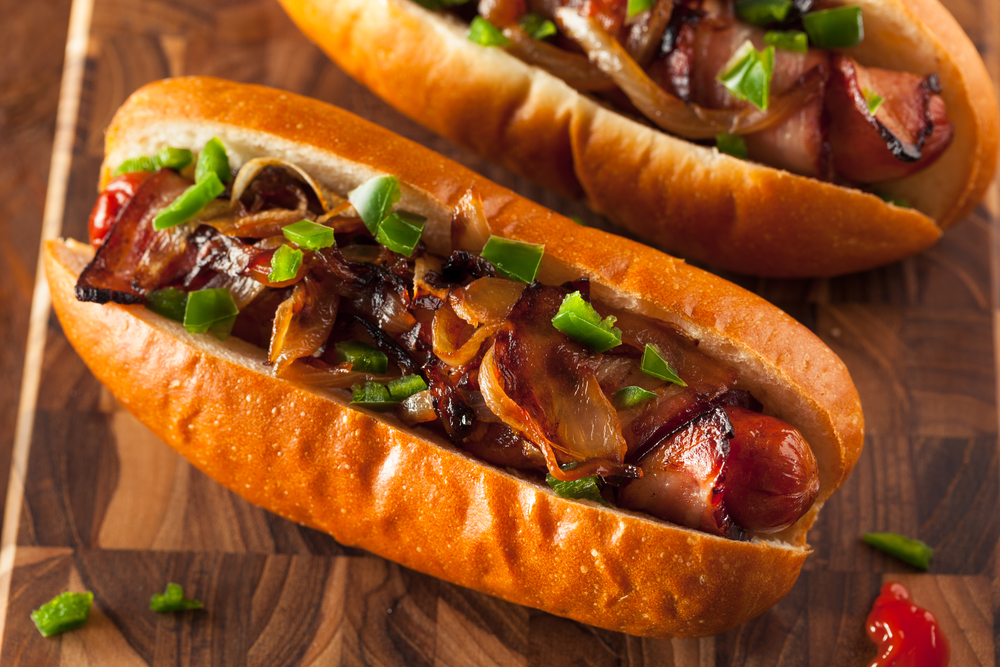 $7 Dollar Hot Dogs – Sounds Cheap
When compared to $1501 or the latest craze… $38 hot dog water (with a hot dog inside) – then a $7 dollar dog doesn't sound that bad.
BUT WHAT IF YOU CUSTOMERS ARE USED TO $2 AND $3 HOT DOGS?
Will folks pay more for the same thing? Yes & No.
There are several variables that come into play though. Odds are if you're in a low economic area and your base of customers can't afford it – then there's no way adding lipstick to the pig is going to get you more money.
In fact – you could lose business and not just because they can't afford it – but because they now see you as some "gourmet" [read: fancy pants] place and they just aren't about "all that".
HOWEVER – if you're customer base is mixed or primarily folks with more money – then by all means.
THIS DOESN'T MEAN YOU CAN JUST
…raise your prices and quadruple your current profit margins. Nope! This requires some effort. However easy – it's still effort.
Recently my old Toyota Tacoma died. Actually the transmission went out. I made an impulse decision [read: idiotic] and Uber'd to a local Nissan dealership. (it was the closest and I was out of town)
I purchased a Nissan Titan.
Now the truth is… any Titan would do it. Any would pull my loaded trailer home. But the bells and whistles – they got me. So I did what human nature demands and got the most for what I could afford.
A stupid move on my part and far harder to stomach [read: buyers remorse] than a $7 dollar hot dog. However – I really do love all the cameras and heated and cooled seats. It's a sexy beast of a truck.
BECAUSE I CAN
Most of us spend more on stuff – not because we need it – but because we can. We can afford it or so we think and we want the best. Who doesn't?

Do you get the regular Hardee's burger or bonus up and get the newest latest greatest super burger they're touting? Arby's restaurants have made a fortune after introducing those new "artisan" sandwiches. They charge more and it costs them very little difference between the normal Arby's® Roast Beef.
HOW DOES THIS HELP YOU?
Simple.
If you have the right crowd, then adding a little lipstick to that pig – will make you more. Here's what I mean…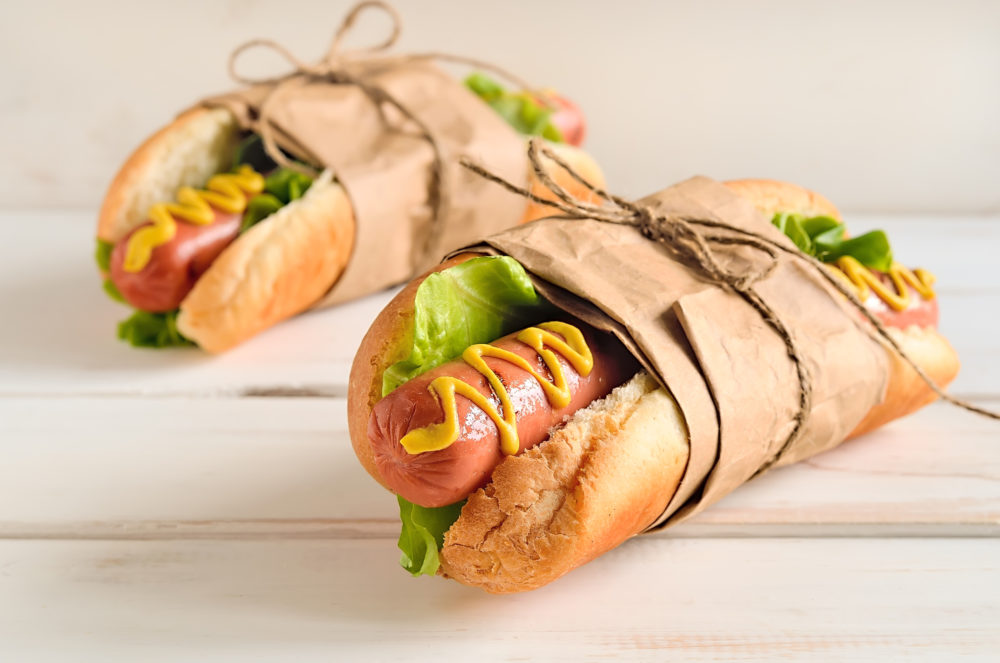 Looks to me like some brown craft paper and twine – a total of .15¢ or less – and you've now got a $7.00 hot dog!
Wow!
Sometimes it's the smallest things – that command a higher price.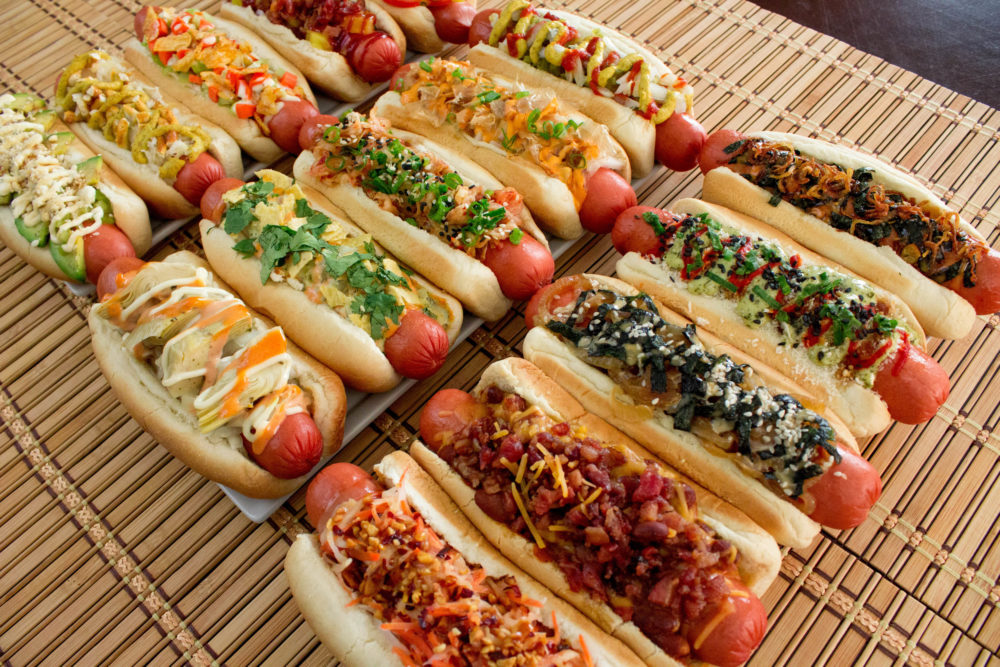 BUILDING VALUE
Above are Japanese Fusion type hot dogs. Regardless they taste – they look delicious. We first eat with our eyes and if the eyes say that the hot dog looks worth $20, then the wallet won't have any problem paying $7 or more.
As you can see here…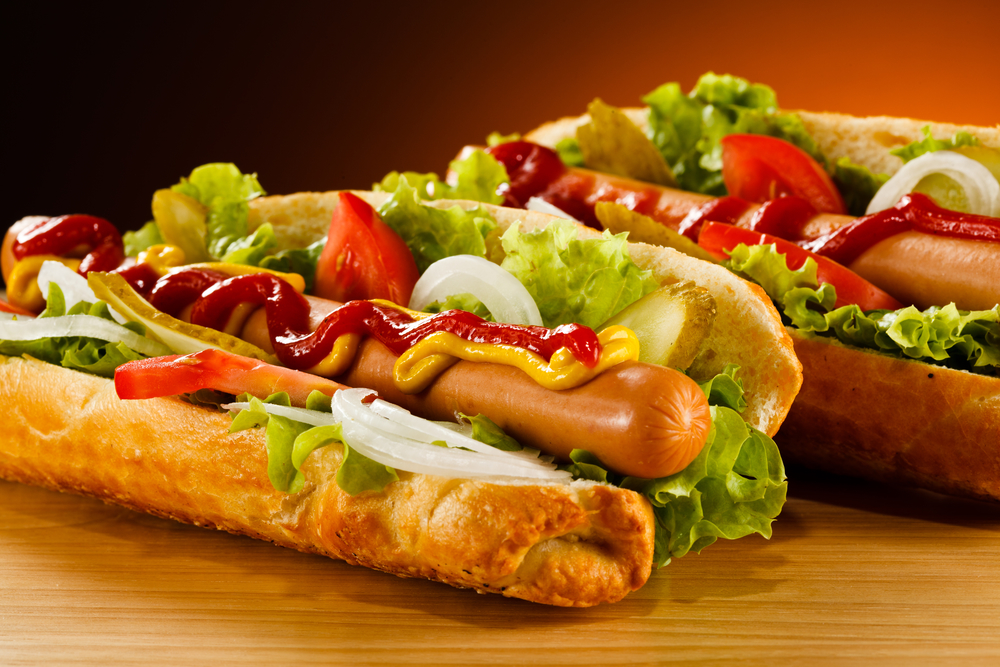 They used a bun that cost them a tiny bit more and they didn't just slop the ingredients on it. Instead they created a little piece of mouth art. An effort that took a few extra seconds will net them 4 to 5 dollars more.
We've seen vendors add craft wrap like this…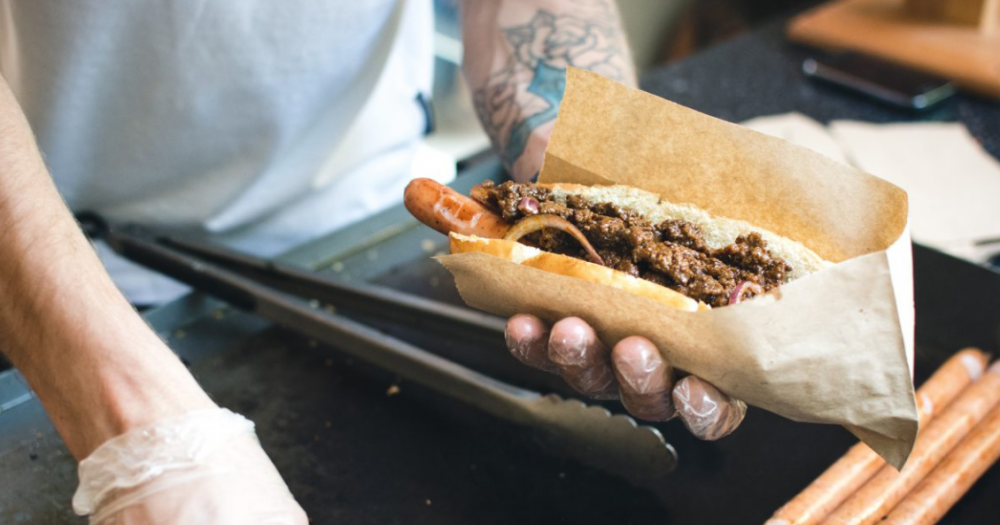 With no change to their product, just simply a craft wrap bag and begin getting more money (all profit) from their menu.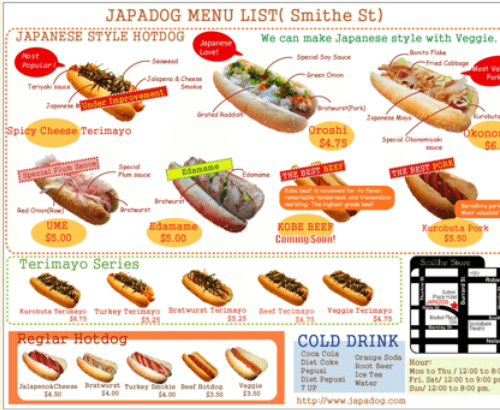 Not necessarily menu changes or the use of gold saffron – you can just present your hot dogs differently.
When the food looks better – it tastes better and those result in more profits and the added benefits of word of mouth advertising.
It's a win – win.
THE BOTTOM LINE
If you are set up in locations where you can present beautiful hot dogs – then why not.
If you're worried – try adding one menu item – one special hot dog that is your signature hot dog. One that you can get $7 and more for. One that means increasing your profits by 6 fold. And of course – keep your current menu going.
We share tips and more with vendors every day on our Vendors United private pages. If you're vending or thinking about it – you'd be wise to check out Vendors United.
Imagine – 200+ vendors helping each other live – every single day.