I got to interview Bryan with Classic Kettle Corn today. He's been popping for nearly 7 years now. He's got a system and he's got it down pat. It works for him – every time.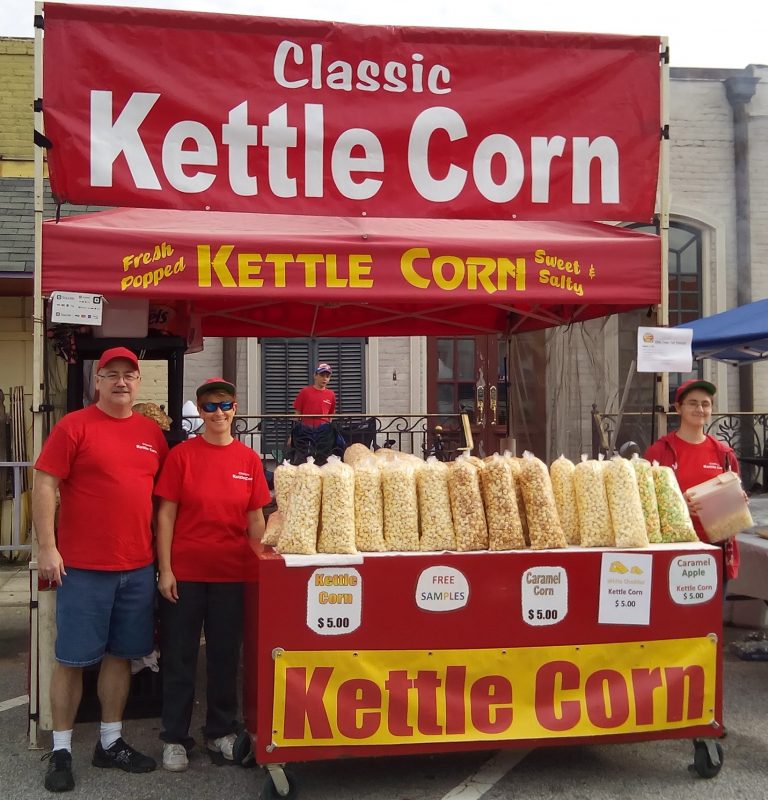 Kettle Corn Interview
Bryan started with a family member and then bought them out. He's now been vending going on 7 years. I'm looking forward applying some of the tips and tricks to my own operation.
SOME EXTRA TIPS SHARED AFTER THE SHOW
Once you have a following you can take just pre-popped kettle corn and setup without the cooker. Only advised when you have to be at two different places at once or if you're wanting two locations at the same event.
Mixed flavored kettle corn is a hit. But pre-pop when planning on doing this because it will take a while to make 9 flavors (all mixed together) – like Bryan does.
The better the kettle corn signs and banners – the better you'll do
Used kettle corn machines can be found cheap and can save you a few thousand when starting out.
Don't buy cheap kernels (let the other vendors do that)
Top 3 flavors Bryan sells: Normal kettle corn, caramel kettle corn and caramel apple
Bryan says he calls on the schools and takes orders too. Some vendors help their schools with fundraisers which is a great way to have 100's of little ones out selling for you.
Hawking Kettle Corn
Free samples in cereal containers is a great way to drum up business. People love free samples and many will turn around after about 5 steps to buy a bag. Bryan says…
Sweet on the lips – easy on the hips!
He hollers out to passerby's and grabs their attention.