After watching Judy and then interviewing her about her kettle corn business – I went all in. I'm starting a kettle corn business. After-all, I'll sleep when I'm dead.
If you get my emails, then you already know. I'm gonna try and post my kettle corn journey and share what I learn and even the mistakes (I'm bound to make) as I go.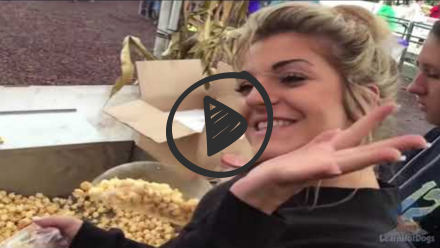 First Step In Starting Any Business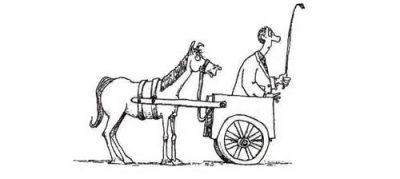 Get a logo! Right?! It's exciting and it's fun. But probably the last thing needed doing right now. So I didn't. For the first time in my life, it wasn't my first step.
Instead, using my age and wisdom (lol) – I took my own advice.
See I teach vendors all over the world how to start hot dog vending which has turned into about every type of street food vending on the planet. Those same steps are required here.
Kettle Corn Licensing And Permitting
Same steps I teach for hot dog vending and so I called the Health Department. Then I called the Ag Dept. Like many states, it's very easy to start here. No oversight by the Health Department. No food handlers permit. Just start cooking.
Of course – use safe food handling practices.
Some states will require everything that any other food vendor would need, such as a commissary and annual inspections. But don't let that get you down. I have it here on this site.
Business License
Most everywhere you start, you'll be required a business license. This is easy and usually cheap. Some cities/towns don't require it for businesses doing agriculture products like street corn and kettle corn.
Kettle Corn Equipment
Now I need equipment. I'm a tad biased though. I didn't look around, didn't shop around and jumped right in by ordering a Lil Slugger – kettle corn machine from the Sweet family.
I already knew I'd love it. And I also knew the family run business would treat me right. So I ordered right over the phone.
Kettle Corn Kernels – which one?
Well to be honest, I was going to use the Magic Mushroom kettle corn kernels as it came highly recommended – but after some heavy duty research (as in hours on blogs, groups and forums) I decided to test myself.
You can ask others but it's like opinions and buttholes – everybody has one. At-least.
So I ordered…
There are some others, but until I see what these do… I have no interest in paying more per pound on some private label that is probably made by Gold Medal or Con Agra either way.
I found some mushroom popcorn kernels for almost 3x the price for 50# bags. And I'll put money on the fact that it's a private label with the same kernels.
If you hang around here, you'll see my testing plus I'll be posting on the YouTube page –  too.  And if you sign up here, I'll notify you by text when I go live.
Kettle Corn Flavoring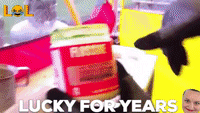 This is where I got lost down a rabbit hole for awhile. Greg Sweet used to use – Flossine to color and flavor his kettle corn. In my attempt at starting a kettle corn business – I started doing my homework.
Depending on which salesman you listen to – you'll hear that Flossine won't hold up to heat. I guess somehow it was magic that Greg used to get his to hold up.
There are actual flavorings made for kettle corn and I'm testing those as well. Just ordered them last night. Along with some Flossine and Flossugar.
What Is Flossine and Flossugar?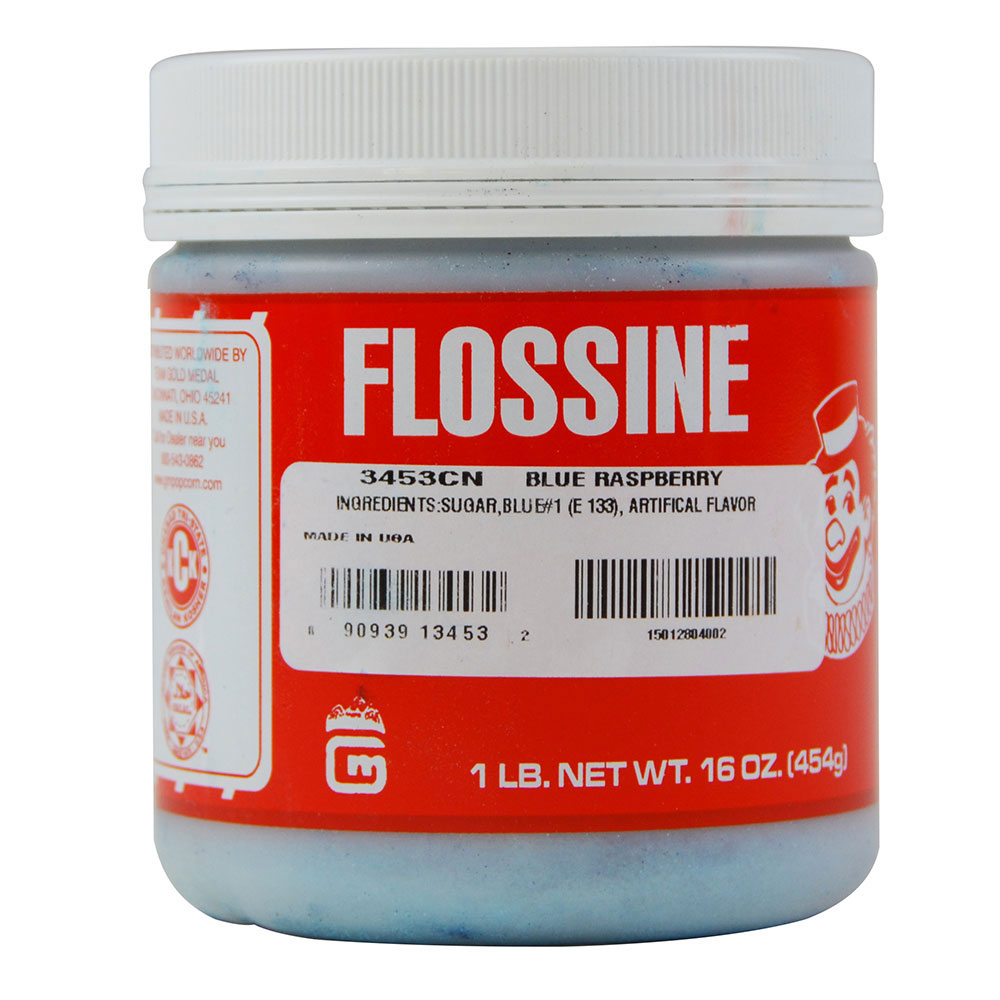 Flavoring and flavoring. One just has the sugar added. Both made by Gold Medal.
Now of course – the time it takes to add a scoop of sugar to the Flossine to sweeten it or the additional work involved – may be worth paying more for the sugar that has been pre-mixed with Flossine.
I bet not though. 
And I will update you here on this blog along with on the YouTube channel about my results. May even go live some as I test.
Kettle Corn Supplies
I knew I needed some bags and some clips to close the bags (or ties) and I really wanted custom made bags. You know – so I could put my non-existent logo on there with it all.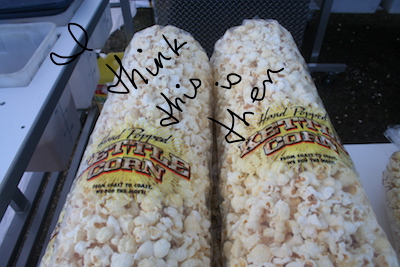 You'll want to read on (as in down below) why all this matters and how I know for a fact I'll make way more money with my super sneaky plan to get free customers calling me.
Greg always recommended PolyBag, LLC for bags (even custom ones) but I still wanted to price around. Now if you visit: http://www.polybagllc.com/ – don't be scared.
They had the first website on the internet when Al Gore invented it – and it's not changed one bit since.
Yes – it's a horrible site, so I recommend you just calling. 253-473-4660 (remember West Coast Time Zone)
For what they lack in website, they make up in customer service. No joke! These people are super nice.
I didn't go with their custom printed bags because…
1 – I don't even have a logo yet
2 – You must order 10,000 at a time and the price on those isn't the best
Kettle Corn Bag Tips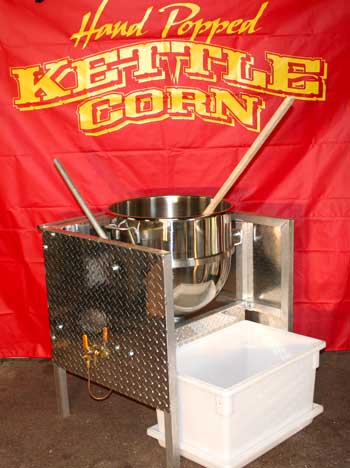 Sure you can buy from 100 different places and all their kettle corn bags look horrible. Except for those from Poly Bag. And I swear – I'm not being biased here. Go have yourself a look around the interwebs. Google image search: kettle corn bags
I'll wait here.
See what I mean? Ugly as the south end of a northbound mule. Or maybe one of those butts on a that ugly but monkey.
Poly Bag has nutritional info already on the bag and a much better image. But don't go to the website to see it… because they don't have any pictures on their site.
Get the medium and large sizes. (see why below)
I ordered 1000 of each. (and yes… I'll put out another blog article once they arrive and I'll even have pictures)
CUSTOM KETTLE CORN BAGS
If you're just starting a kettle corn business then I would recommend getting a generic clear bag and have some stickers made. You know – like labels.
Again, be careful if you want to save money. I found a company called Uprinting which had a little widget on the side to give instant prices. A cool widget that even showed the price per sticker.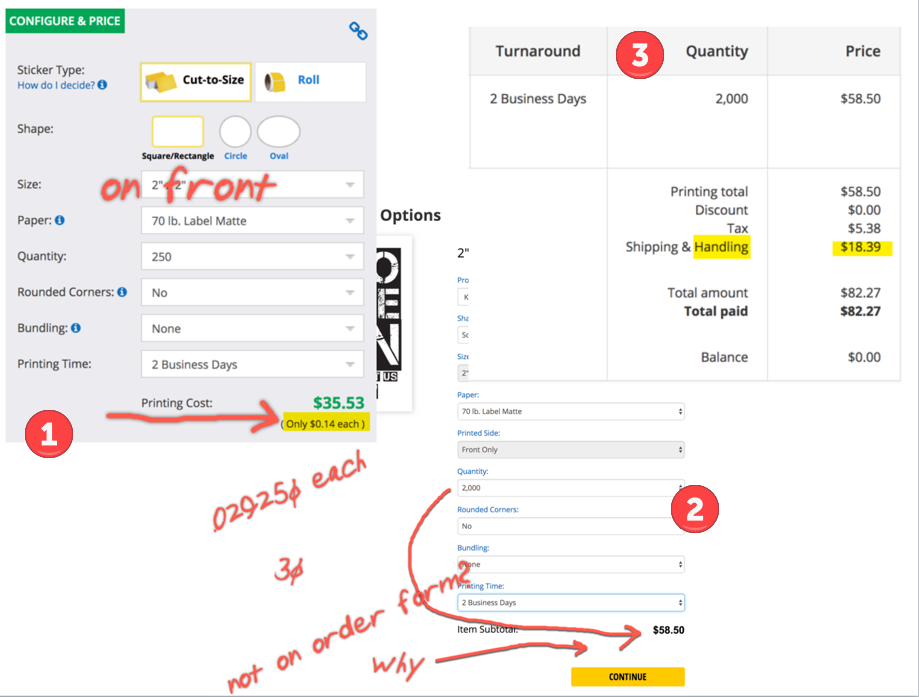 The price per sticker is now – gone – buy why? Well most folk won't take the time to do the math. This is an excellent opportunity for them to get you to the checkout without noticing your pricing went up.
I used their custom editor and created my plane sticker, right there on the site.
I changed the quantity to 2000 from 250 and my price per sticker decreased to approx. 3¢ each. (not bad at all)  Then I went on to the checkout screen and notice (image 3 above) – they have charged shipping AND HANDLING.
And they must have some nice hands.
According to USPS shipping calculator and an educated guess on the size and weight – It appears they are charging me about $10 for handling.
That little increase doesn't sound like much, but it's a 33% price hike per sticker. Now over 4¢.
Still not bad, but I don't like shady crap – and even if it's not intentional – it's not a good way to do business.
A LITTLE DUE DILIGENCE WILL – GO A LONG WAYS
I was in a hurry. I'd already spent 30 minutes or better creating the look I wanted on their custom sticker form and I just wanted to be done. If you have time – then by all means, check around for some pricing.
Here's some companies – I found later:
Printrunner.com 
Allstickerprinting.com
Printplace.com
This all matters because: a successful kettle corn business will go through thousands and thousands of bags a year.
KETTLE CORN BUSINESS DEGREE?
I feel like I should have a degree by now. Maybe just an Associates Degree, but nevertheless – a degree in starting a kettle corn business.
And I haven't even popped my first kernel. I've read, watched videos and learned every day. It's amazing the amount of content available online if you search a bit.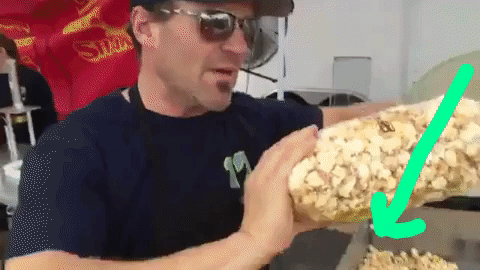 For less money and a lot less bags, I have what will be a custom bag (because of the sticker). I know I needed a way to close these things so again – Greg Sweet's tip is to use the Innoseal sealer. It combines a roll of tape with a paper tamper evident seal on each bag – like magic.
After pricing on Amazon Prime and a few others, even looking at some other brands – I chose the one I know worked for nearly a decade for Greg.
And the best price I found: Polybagllc.com but remember: call them and order 253-473-4660. They even give you thousands of seals with the machine.
A NEW PHONE NUMBER – FOR FREE
A phone number is a must. I simply went to Google Voice and grabbed one. I show how here. And as you're doing that process, which is very easy – type in the search box 2676 instead of the area code it asks for and see if you can get a number with the word CORN in it. I went with a number for one of the ares I'll be selling. I needed the number so I could do the stickers.
Kettle Corn Business Tips (so far)
test multiple brands of mushroom kernels
mushroom kernels are by far the best hybrid corn kernel as they have the most surface area for flavorings
test flavorings on different batches to see which is easier and most effective, efficient and flavorful
get clear bags for bagging
get medium and large because your medium bag should be barely less than a large bag (more profits) – so you price a medium bag for $6 – a profit of over $5.00 – and the large bag for $7 which means more profit and still under a dollar cost. And the pitch: "for a dollar more you can get the large"
get stock bags and not custom at first
get stickers / labels for your bags (will mean more time but for now it's cost effective)
Flossugar is just Flossine with sugar already mixed (and you're paying more for the sugar this way)
get a phone number (see above)
Tell folks on your sticker that you cater, rent or even sell wholesale (more on this later)
Kettle corn flavored oils are just that. They take the hard, hard work out of adding flavor to your oil (sarcasm)
Big Kettle Corn Recipe
Your oil:corn:sugar ratio should 1:2:2. One cup of oil and 2 cups of popcorn kernels. Sugar added should also match with the oil.  All in all, it should look like 1 cup of oil, 2 cups of kernels and 2 cups of sugar. (of course I'll be trying other ratios for fun)
Add salt when done popping.
Things Yet To Learn And Do
I haven't done all the above yet – and I'll post when I do. But there are some other things left on my plate before business can begin.
find the right sugar and kernel containers for my setup
figure out a trailer for my kettle corn machine or just use my enclosed trailer
getting a logo made like I want
doing a really good sticker with all the info I want on it
price out real cost per bag for selling wholesale and retail
find the right broad line distributor (see step 4) so I don't have to pay for expensive shipping from Webstaurantstore
signage e.g. banners and signs (of course I'll get mine dirt cheap through VendorsUnited
still deciding on the theme – as in, do I go rustic and old fashioned looking or do I go more current
should I find an old army tent if going the rustic route – instead of popup type
should I have those little vending machines for free samples
and all the other stuff I'm forgetting at the moment (so stay tuned to the LearnHotDogs.com blog here)
Talk About A Pigeon Hole
After years – this blog has become a street food vendor encyclopedia and bible set. Not just hot dogs, it's grown into a all sorts of street food vending. It's got stuff on starting from broke with donuts and a hotel room to having just a crock pot and a table.
If you're looking to make an extra income or even a full time income that would rival a doctor's or lawyer's salary, then this might just be for you.
UPDATE – It's here – my new MACHINE
Continue here for part two…