Howdy folks, Ben here. As you know, one of the most significant hurdles vendors face is dealing with health inspectors and the myriad of rules and regulations they bring with them.
But what if the information they're giving isn't accurate?
Let me help you with some ideas on how to handle potential misinformation.
The Unsettling Truth About Health Inspectors
Have you ever been told by your health inspector that you can't have mayonnaise on your cart?
Or perhaps they've mentioned that you can't have condiments in the open, or you need a pink mosquito net around your cart?
If any of this sounds familiar, you might be dealing with some misinformation.
Why Would a Health Inspector Mislead?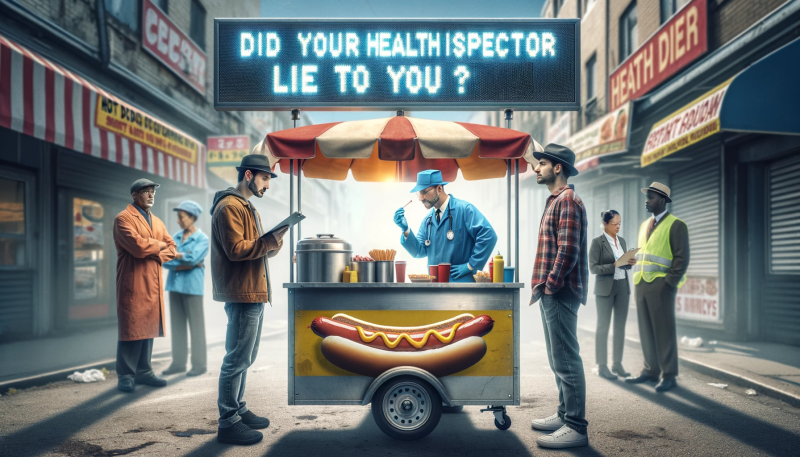 It's a question many vendors ask.
Why would an inspector, whose job is to ensure safety, spread falsehoods?
The reality is, some inspectors might have heard incorrect information from another colleague and simply passed it on.
Others might make things up to discourage potential vendors.
After all, more vendors mean more work for them without any extra pay.
Not All Inspectors Are Alike
It's essential to remember that not all health inspectors are out to get you.
Many are just doing their job.
However, it's crucial to be respectful and maintain a good relationship with them.
If you ever feel like you're being given false information, it's okay to ask questions.
How to Navigate Misinformation
If you're ever in doubt about what your health inspector tells you, always ask for proof.
Ask them to show you the specific code or regulation they're referencing.
You can also check out my article "If Their Lips Are Moving – They're Probably Lying" for more tips on how to diplomatically handle such situations.

Building a Positive Relationship
Starting on the right foot with your inspector can make all the difference.
It might be best to avoid making waves initially.
Give it a few weeks or even up to six months.
Once they recognize you as a responsible vendor, they'll likely be more lenient.
For instance, while one inspector might be strict about not allowing cheese, another might be okay with it as long as it's stored correctly.
Final Thoughts
Navigating the world of vending can be tricky, especially when you're faced with misinformation.
But with the right approach and a bit of patience, you can build a positive relationship with your health inspector and run your business smoothly.
Remember, always be respectful, ask questions, and do your research.
And if you want to take your vending business to the next level, go and get together with the best vendors on the planet inside the Vendors United community.
You can learn about it HERE (it is 100% free to try it out for 5 days!!)…
🧡🧡 Vendors United – 100% FREE 5 Days Trial – Try It Today! 🧡🧡
Happy vending!
You can watch my video here…