Hey there, it's Ben again! Today, I want to address a common misconception: that hot dog vending is a walk in the park.
Let me tell you, it ain't!
I've been in the hot dog vending business for a long time, and I've seen it all.
I've also been teaching folks about the ins and outs of this business for even longer.
The Realities of Hot Dog Vending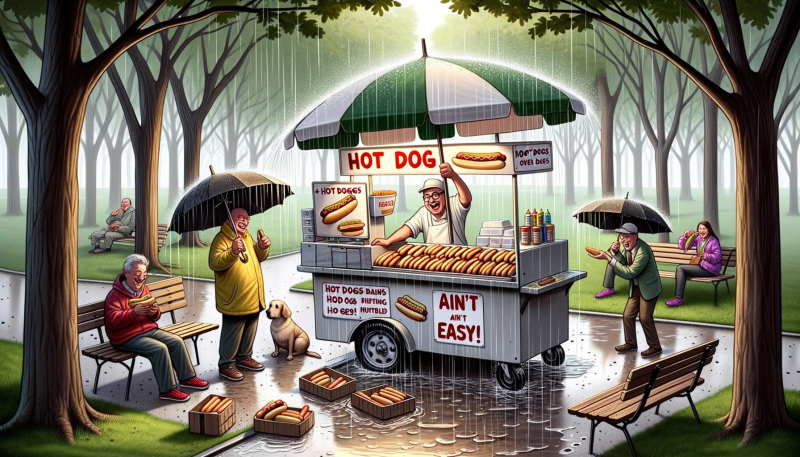 First off, let's get one thing straight: vending is hard work.
Sure, the hours might be shorter than a typical 9-5, but when you're out there, you're working your tail off.
There's so much more to it than just being at the cart.
From sourcing ingredients, setting up, dealing with customers, and cleaning up – it's a full-on job.
The Data Speaks for Itself
I've gathered data from various street food vendors, and the numbers don't lie.
Some vendors work just a few days a month and make a decent living, while others grind it out more frequently.
But no matter how often they work, they're putting in the effort.
The Pros and Cons
Like anything in life, there are upsides and downsides to vending.
On the plus side, you get to be your own boss, set your own hours, and potentially make a good income.
On the downside, it's physically demanding, and there's a lot of behind-the-scenes work involved.
The Misconception of Easy Money
Some folks think that because you're selling food on the street, it's easy money.
That couldn't be further from the truth.
I've been teaching this for years because I felt morally obligated to share the real story.
There are vendors out there making less than others, but they're happy with what they earn because they love what they do.
Real Vendors, Real Stories
I always mention real vendors like Corey Lawrence in Rolla, Missouri, or Jason Brown, Michael Wood, and Donny Hill.
These are real people who've been in the trenches, and they'll tell you straight up: it's hard work.
But they also love it, and that's what makes it worth it.
It's Not About Selling Carts
I want to address a misconception some folks have.
My goal isn't just to sell carts.
Sure, I love selling them, but teaching about the business is my passion.
Whether it's about hot dog vending or cottage food laws, I'm here to help.
All you need is a kitchen to turn your life around –
[CLICK HERE]
I've even helped some of my own family get started in this business!
Wrapping Up
So, to all the naysayers out there, I hope this gives you a clearer picture.
Hot dog vending isn't a get-rich-quick scheme.
It's a legitimate business that requires hard work, dedication, and passion.
But for those willing to put in the effort, the rewards can be great.
Remember, I'm always here to help and guide you on this journey.
And if you want to take your vending business to the next level, go and get together with the best vendors on the planet inside the Vendors United community.
You can learn about it HERE (it is 100% free to try it out for 5 days!!)…
🧡🧡 Vendors United – 100% FREE 5 Days Trial – Try It Today! 🧡🧡
Let's make your hot dog vending dream a reality!
Until next time, keep those grills hot and those buns fresh.
Talk to you soon, big papa!