Howdy vending community! Let's talk about a popular question i get ask about how much change to keep for vending.
Navigating through the world of vending, especially when it comes to managing cash transactions, can be a bit of a puzzle for newcomers.
One of the common questions that pop up is: how much change should you keep on hand when operating a vending stand?
Let's delve into this, shall we?
The Shift Towards Cashless Transactions and Its Impact on Change To Keep For Vending
In the modern vending world, the dynamics of cash and card transactions have shifted significantly.
Nowadays, approximately 60% of sales tend to come through card transactions, while the remaining 40% are in cash.
This is a stark contrast to the early days of vending, where cash was king and card transactions were a rarity.
Balancing Cash and Card Transactions
While it's essential to be prepared for cash transactions, it's equally important to have a reliable and user-friendly system for accepting card payments, ensuring you can cater to the majority of your customers' preferred payment methods.
A Safe Bet: Keeping $100 in Change
A safe starting point for most vendors is to keep $100 in change on hand.
This should be a mix of tens, fives, and ones to ensure you can provide change for a variety of transaction amounts.
The Composition of Your Change
Tens: A smaller portion of your change should be in tens, providing flexibility for larger cash transactions.
Fives: A moderate amount in fives ensures you can break tens and twenties without depleting your ones.
Ones: The bulk should likely be in ones, as these will be the most frequently used when giving change.
Adjusting Based on Your Pricing Structure
Your pricing structure will also influence the denominations you need. If your items are priced to avoid needing coin change, you can focus on bill denominations.
To Use or Not to Use Coin Change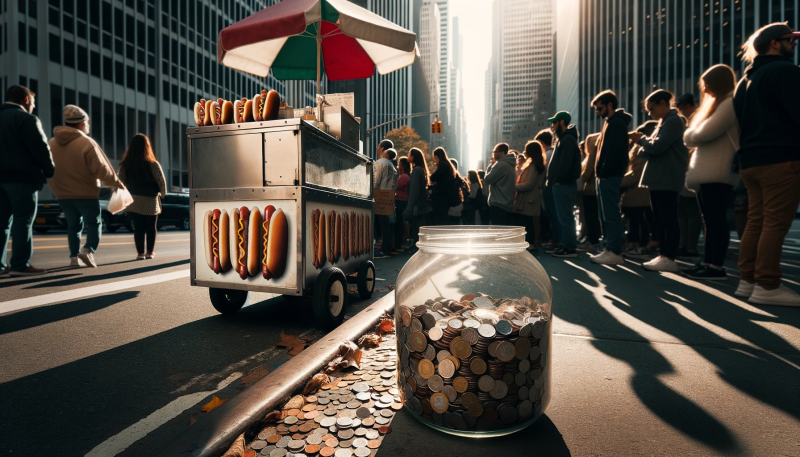 In the world of vending, simplicity often leads to smoother transactions and happier customers.
The Case Against Coins
I personally recommend pricing your items in a way that allows transactions to be completed using bills only.
This might mean adjusting your prices slightly or including tax in the listed price to avoid dealing with coins.
If Coins are Unavoidable
If your pricing structure does necessitate coin change, keeping $10 worth of coins should suffice in most cases.
Be mindful of the denominations you'll need based on your pricing and ensure you have enough of each.
Tight on Cash? Start with $50
If you're just starting out and $100 seems a bit steep, starting with $50 in change can work, especially if you're operating in a smaller venue or at a smaller event.
Adjusting Your Change Based on Experience
As you gain experience, you'll get a better feel for the cash flow at your stand.
You can adjust the amount of change you keep on hand based on your specific needs and the spending habits of your customers.
Be Prepared and Keep It Simple
Being well-prepared with adequate change ensures smooth transactions and a positive customer experience.
Keep it simple, consider your pricing structure carefully, and adjust your approach as you gain more experience in the field.
I'm excited to hear about your vending adventures and remember, whether it's your first day or your hundredth, each day is a new opportunity to learn and grow in the vending world.
And if you want to take your vending business to the next level, go and get together with the best vendors on the planet inside the Vendors United community.
You can learn about it HERE (it is 100% free to try it out for 5 days!!)…
🧡🧡 Vendors United – 100% FREE 5 Days Trial – Try It Today! 🧡🧡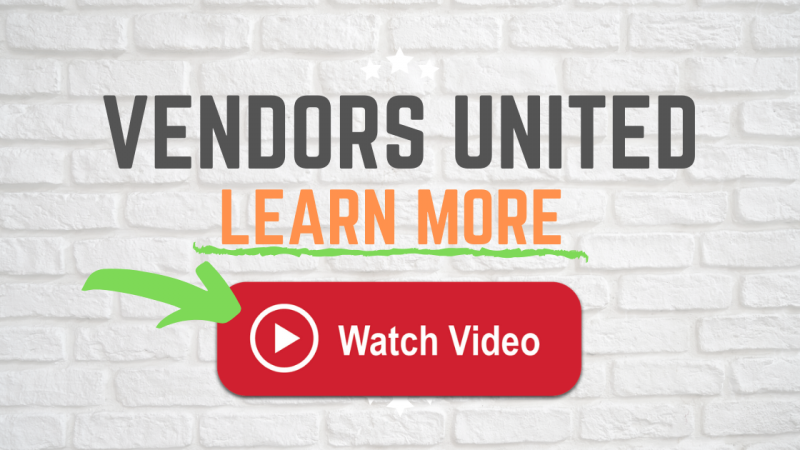 Best of luck, and talk to you soon!