Sometimes, it's good to have a low carb hot dog option for your food cart or catering menu. Also, vegan and vegetarian options are popular in some areas. After sharing Erin's tips on vegan and vegetarian hot dogs earlier, I thought I'd do a video to show some of these in my own kitchen.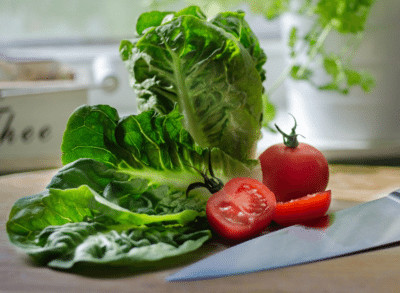 Low Carb Hot Dog on Lettuce
Here I have a few different kinds of hot dogs, some homemade chili with beans, lettuce leaves to use in place of buns, and some fresh tomatoes. You can change the combinations to suit your own tastes or the requests of your customers. Hopefully, these will give you some ideas to try!
The low carb hot dog I show in this video is a basic hot dog, wrapped in a Romaine lettuce leaf, topped with some chili, cheese, and fresh tomato wedges. Getting rid of the bun really cuts down on the carbs. You can make it with less carbs if you leave out the beans from the chili, but I like the beans.
Play with the low carb hot dog idea and come up with your own special flavor. You can change the seasonings in the water (I use onions and bouillion), and use something like beer or spices to season your hot dog water. Then change the toppings (try salsa or slaw) and – bam – you have created a signature dog!
Vegan Hot Dog Option
One vendor says he offers a meatless hot dog by substituting a steamed carrot for the sausage. The carrot goes in a bun and gets topped with salsa. Vegan hot dog! Not everybody will want it, but if there's demand where you are, maybe it's worth a try.
---
Sign up for free chapters from Ben's new book: https://learnhotdogs.com/street-food-catering-business-book/