If you deal with food vending, then surely you're using coolers. That's a fact. So this post is for you.
Every day I get questions about the best way to set up a hot dog cart, what to put on a menu, how much to charge, and how to handle drinks (get answers to these at Vendors United).
I recently gave some advice to Art who runs Mac Daddy's Dawgz & Catering (see his tips and setup here).
Jason and I watched Art's video walkaround of his lunchtime hot dog cart setup (you can see that video here) and gave him a few suggestions to improve his business and make more money (like adding prepackaged cookies to the menu).
There wasn't much to critique because his hot dog cart and serving table are already organized and clean!
But, what about coolers?…
Coolers on the ground or raised?
One of the things we suggested was to get his coolers up off the ground. Some places require everything to be off the ground except the trash can, and other places will allow coolers to be on the ground.
But it looks nicer and also helps keep your back from aching if you get the coolers elevated a bit. We suggested he build a wooden platform to support the coolers.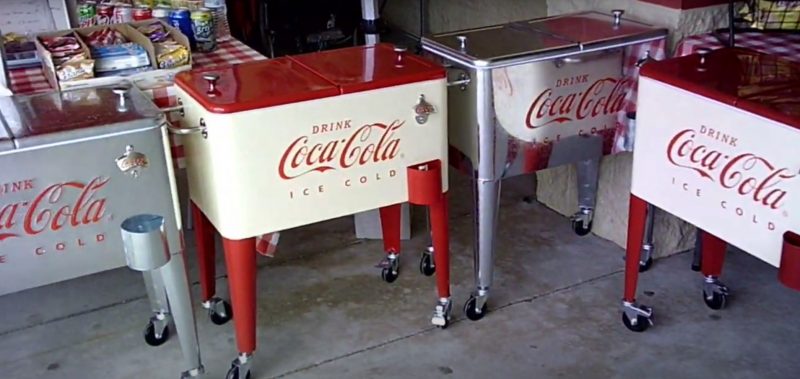 Well, Art went even further, and he sent in a new video to show his super sexy drink cooler solution. Raised Coca-Cola brand coolers! Check out this video.
Those coolers are really pretty!
Besides being much easier to reach (no more bending down), customers can now grab their own drinks, saving Art extra time and work.
And Art has worked out a way to cover them up and lock them with a cable at night, so he doesn't even have to load them up and drive them around every day!
Learn more about pro tips and get together with the best Vendors on the planet in Vendors United…