It's civil court day in Small Town, USA. Misdemeanors, small claim actions, traffic offenses and all civil hearings. And a hot dog vendor goes to court this Friday. At 12:PM on the dot, Judge R. Johnson will break for lunch.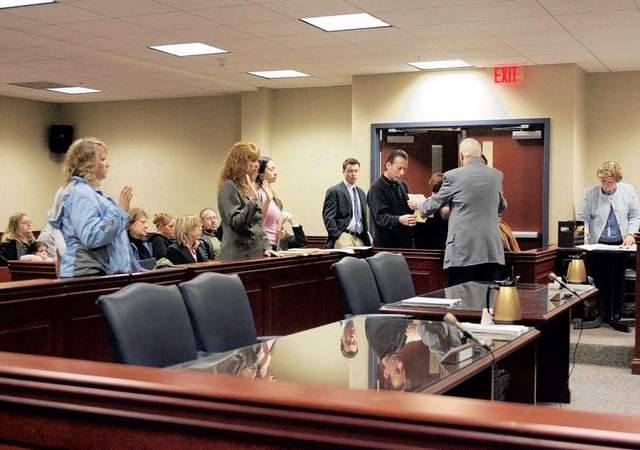 HE'S THE JUDGE & THE JURY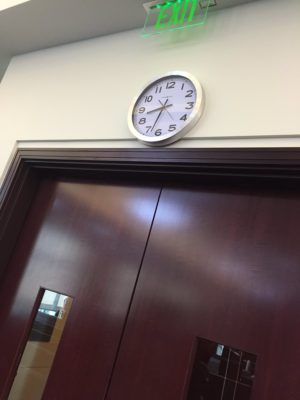 Just before dismissing for lunch, Judge R. Johnson will issue a warning…
My court will return to session at 1PM sharp. If you are not back in this courtroom by 1PM – you won't be allowed in. Then when I get to your case, you will have missed your required hearing and have failed to appear. This could mean losing your case, fines and even jail time. Don't be late. We go by this clock on the wall, not your phone and not your watch.

And Often Closes With This…

Be back by 12:55 PM – doors lock at 1:PM – if your butt isn't in here and I call your name – you won't like the outcome.
For this vendor – it's music to his ears. (more on that in a bit)
See, Judge R. Johnson doesn't call cases in order. He takes a couple civil cases (sometimes alphabetically) then he takes some traffic stuff and misdemeanor crimes. No rhyme or reason.
WHEN YOU HAVE COURT – YOU COULD BE THERE ALL DAY
You could be there and get called up that morning or be the last case heard at the end of the day. It's sorta like waiting on the cable company during their appointment "window" – between 2 and 6.  But worse.
With Judge R. Johnson – your window starts at 9AM and ends near 5PM. And a bathroom visit at the wrong time could spell disaster for you.
WHY WOULD A VENDOR LOVE COURT?
Sounds crazy right?!
After issuing his dire warning (the not so veiled threat) – the Judge – he lets everyone head to lunch. Down a few blocks are some fast food places. Timed correctly, STARS ALIGNED – you might be able to walk – get your lunch – eat your lunch – AND get back in time.
Sure, most folks can drive their cars but already the overflow parking is full and many people parked blocks away.
Most won't risk it.
It's either finish the day out hungry or take the gamble.
OR IS IT?
Nope. No problem. That is if… YOU LOVE HOT DOGS, BRATS AND SAUSAGES.
Because this vendor, well he goes to court every Friday! He's just outside on the courthouse lawn next to the World War II monument and the two Bradford Pear trees. The smart ones, the ones who don't want to risk fines and jail – well they eat with him.
Ensuring themselves plenty of time to eat and get back inside the courtroom.
He has 3 pans – all filled to the brim. Approx. 270 hot dogs sitting in their dirty water. He has more thawed just in case and boiling water ready to start more. He's loaded for bear. 
In the steamer with a roll top are stacks of hot steamy buns.
The line gets deep (long) quick.
His helper – she goes down the line taking orders and collecting money – and hands them a ticket.
This speeds up the process and ensures that person won't leave. 🙂 (pro tip)
100 Served
200 Served
250 Served
In one hour – just over 400 customers served.
THAT'S 6 CUSTOMERS EVERY 60 SECONDS OR ONE CUSTOMER PER 10 SECONDS.
[note – Vendor in front of the NY Metro Museum has been filmed doing 1 customer every 3-4 seconds.]
Of course they aren't dressing these hot dogs. That's up to the customer and it's why we have a condiment table on the back of the Big Dog® cart and also why many vendors who handle large crowds in a hurry must have some tables or lots of help.
This STREET FOOD PRO from our Vendors United team – he served more than that at an event and they were dressing the dogs for the customers – Chicago Dogs too. Which is a lot of ingredients and slows you down. He did it with help. (see here)
400 CUSTOMERS
412 DRINKS
322 BAGS OF CHIPS
344 HOT DOGS
TODAY… A bit less than last Friday but better than the Friday before.
This is his DAY!
Every Friday (weather permitting) – he's out slinging at the courthouse.
On his worst day – just over 130 hot dogs – all because the rain.
HIS SCHEDULE
He works every Friday he can. That's it. No other days does he work.
In the last 61 weeks – he's worked 44 of them.
He's worked a total of 44 days in just over a year.
But what about his income?
He wouldn't tell me.
But I think I can get close or a rough estimate.
How Much He Makes An Hour / Day / Year
Let's base all the math on his worst day. Approximately 130 hot dogs. We know that drinks "always" almost outsell dogs. So let's be safe, call it 100 drinks sold. Using the latest breakdown of profit margins from thousands of vendors records…
We can take $100 in drink money plus 130 hot dogs x $2.00 = $360 (and that's assuming he sold no chips)
Remember – we're taking his worst day in 61 weeks and using those figures to do our math.
Based on the profit margins on pro vendors – $360 minus 30% = $252 in net profit.
That's for 2 hours of work (including his setup and clean up – along with serving for one hour)
$126 per hour (ain't bad)
Now – we know he w0rked 44 Fridays.  44 x $252 = $11,088
AND BASED ON THIS FRIDAY'S NUMBERS
Extrapolated to every Friday… we would get…
Drinks & Chips = $734
Hot Dogs = $688
Total = $1422 minus (costs) = $995.40 PROFIT X 44 FRIDAYS = $43,797.60 (ANNUAL)
DID YOU GET THAT?
Real numbers because this Friday wasn't by any stretch – his best. I know vendors averaging 500 customers over a 2 hour lunch. In reality, he's working one day a week with several weeks off each year (more than a months worth off) and still rakes in a nice income.
That's what I'm talking about!!!
HOW DID HE GET THE COURTHOUSE LOCATION?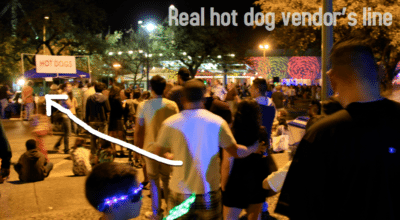 I knew you'd ask. When I shared his story a while back to my email list – I got bombarded with that same question.
The answer – well it's pretty simple as soon as you know the secrets.
He scheduled a consult with me (DON'T GO THERE NOW BECAUSE I'M BOOKED FOR WEEKS) – I've even taken the button down for now. We spent an hour on the phone to which he paid $650 for my undivided attention and expert advice.
We covered a lot during that hour and towards the end – I shared – my get any location secrets.
He applied just one of my secrets and had booked the courthouse location – the only place he works (once a week).
IT'S PROOF YOU CAN WORK PART TIME AND MAKE A FULL TIME INCOME.
YOU CAN GET ANY LOCATION YOU WANT!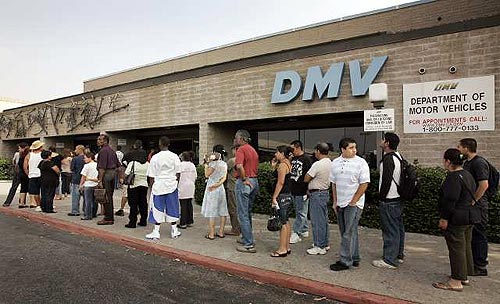 With my Vend Anywhere course – you can apply the tips and the same day be vending at about any location you can think of. It's not rocket surgery. And anyone can do it.
So far – just from this Vend Anywhere Course – Over 260 have gotten locations like…
Federal Courthouse Lawn
Governor's Mansion Visitor Center
County Courthouses
Walmart
Home Depot
Lowes
Hospital
Drivers License Office
State Park
Boat Landing at Lake
On a lake (pontoon boat)
Fire Dept.
Mall
Aquarium
University Campuses
Military Bases
And More!  Those are real. We have real vendors with those locations – all because the information in my Vend Anywhere course.
A HOT DOG VENDOR GOES TO COURT THIS FRIDAY – The Best Way
No one I know likes going to court – EXCEPT the vendors like this one. AND THEY LOVE COURT DAYS. Most all – enjoy a captive audience – folks for whatever reason have court, don't want to leave but WANT TO EAT.
And eat they do.
Watch this video – and you'll see that this is just the tip of the iceberg – IT'S WHAT SEPARATES the successful – from the SUPER SUCCESSFUL.