Hey there, fellow vendors! Ben here, and today I'm going to walk you through Google My Business, a topic that's been popping up a lot lately.
Many of you have asked how to set up a Google My Business (GMB) profile without revealing your physical address.
Well, I've got your back!
Let's dive right in.
Setting Up Your Google My Business Profile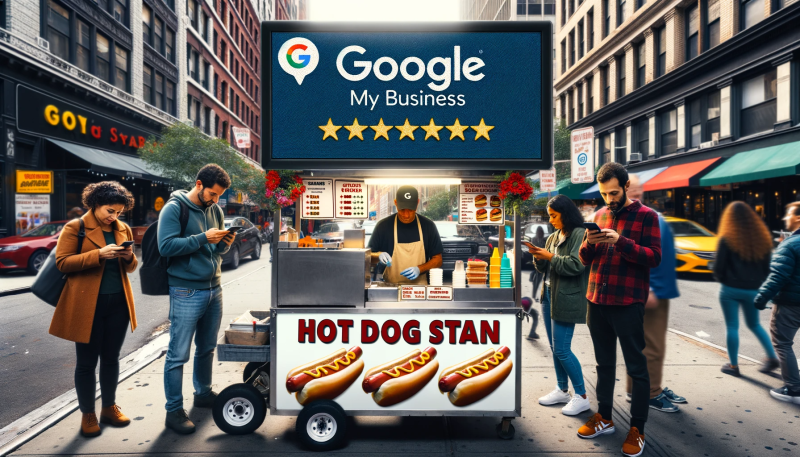 Step 1: Start Off Right
First things first, head over to Google Business and look for that "Manage now" button in the top right corner.
Give it a click!
Step 2: Name Your Business
This one's easy. Just type in your business name.
Make it snazzy!
Step 3: Pick Your Business Type
You'll have options like online retail, local store, or service business.
A quick heads up: if you go with "Local store", you won't be able to hide that physical address.
So choose wisely!
Step 4: Describe What You Do
Here, you'll type in your business category or some words that best describe your vending operations.
Step 5: Where Are You Serving?
Select the areas where you'll be dishing out those delicious dogs (or whatever you're vending).
Step 6: Contact Info
Add your phone number. If you've got a website, throw that in too. It's optional, but hey, why not?
Step 7: The Sneaky Address Part
For Google to verify you, they'll need a mailing address.
But don't sweat it! This won't be shown to the public.
We'll hide it in the next steps.
Step 8: The Finishing Touches
Once you've got the basics down, you can add some optional details.
Think services, business hours, how customers can reach you, a little blurb about your business, and some mouth-watering photos of your offerings.
Step 9: Verification Time
After you've filled everything out, Google will do its thing and verify your Google My Business (GMB) account.
Once that's done, you can make any tweaks or changes you want.
Keeping Your Address Under Wraps on Google My Business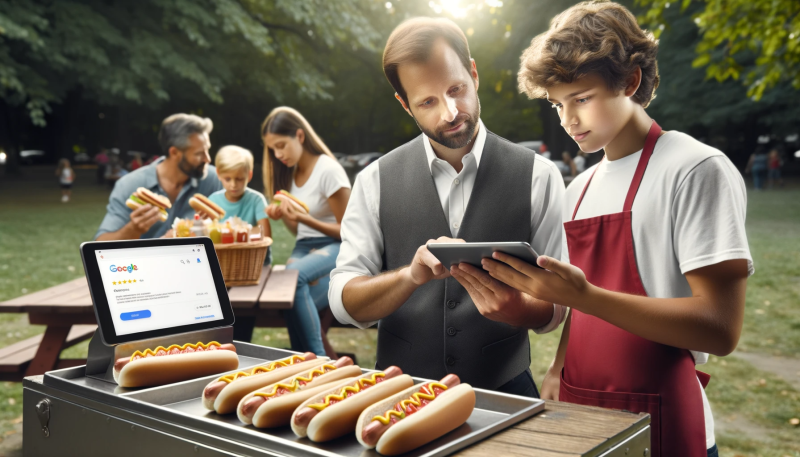 Alright, now that you've got your profile set up, let's make sure your address stays private.
Step 1: Dive Into Your Profile
Sign in to your GMB profile and hit that "Edit profile" button.
Step 2: Find the Location Tab
Once you're in, head to the Location tab at the top of the pop-up window.
Look for the pencil icon next to the address field and give it a click.
Step 3: Hide That Address
You'll see a toggle button that says "Show business address to customers".
Flip that switch off to keep your address hidden.
Step 4: Save and Wait
Hit "Save" and you're done! Just remember, it might take a couple of days for the changes to show up on your GMB account.
There you have it, folks!
Setting up a Google My Business profile without a physical address is a breeze if you follow these steps.
Remember, in the world of hot dog vending, it's all about being savvy both on the streets and online.
And if you want to take your vending business to the next level, go and get together with the best vendors on the planet inside the Vendors United community.
You can learn about it HERE (it is 100% free to try it out for 5 days!!)…
🧡🧡 Vendors United – 100% FREE 5 Days Trial – Try It Today! 🧡🧡
Until next time, keep those grills hot and your spirits high!
Happy vending!