Hey folks, it's Ben here, and I've got a hot topic (no license) to discuss today. I received a question from Troy, and I bet many of you have pondered the same thing.
Let's dive right in!
Do You Need a License Even Without a Cart?
Troy, first off, thanks for reaching out.
You're thinking about starting without a cart, just to test the waters before diving in headfirst.
Smart move!
But here's the deal: even if you're going carless, you're still going to need a license.
Now, I know what you're thinking.
"But Ben, I've heard of vendors starting without one!"
And you're right. Some do.
But there are legal ways to go about this.
Navigating the Licensing Maze
Here at learnhotdogs.com, I've got a section titled "Broke" (as in, "I ain't got no money").
It's packed with legal options to get started while staying on the right side of the law.
If you're looking to set up legitimately, a license is non-negotiable.
There might be a few exceptions, like catering, but those vary by state.
City Permits and Health Department Approvals
Beyond the state license, your city might want a piece of the pie too.
This could be in the form of a business license, vendor permit, or some other fee.
The crucial one, though, is the health department.
They're the gatekeepers, and you'll want to be on their good side.
Starting Without a Cart: The Health Department's View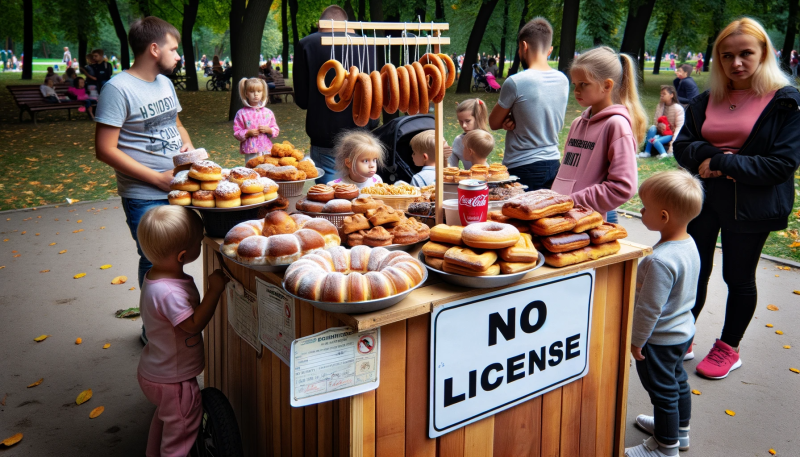 If you're thinking of setting up without a cart, give your local health department a call.
Tell them your plan: setting up like a cart, but with tables, a tabletop burner, and all the fixings to sell hot dogs.
Ask them about the rules and restrictions.
But here's a pro tip: always ask for proof.
Not in a confrontational way, but simply ask where you can find the specific code or rule they're referencing.
Sometimes, they might be mistaken or misinformed.
It's always best to double-check.
In Conclusion
Starting a hot dog vending business, even without a cart, is an exciting venture.
But remember, while the goal is to make money and have fun, it's essential to stay within the bounds of the law.
Do your research, ask questions, and always be prepared.
And if you want to take your vending business to the next level, go and get together with the best vendors on the planet inside the Vendors United community.
You can learn about it HERE (it is 100% free to try it out for 5 days!!)…
🧡🧡 Vendors United – 100% FREE 5 Days Trial – Try It Today! 🧡🧡
And as always, if you have any more questions or need advice, I'm here to help.
Until next time, happy vending!