In true entrepreneur fashion, hundreds of would-be vendors buy before they even know these things. Some of this WILL stop a vendor in his tracks. (or her) – Buying a used hot dog cart for sale is all they see and then it's shoot – then aim.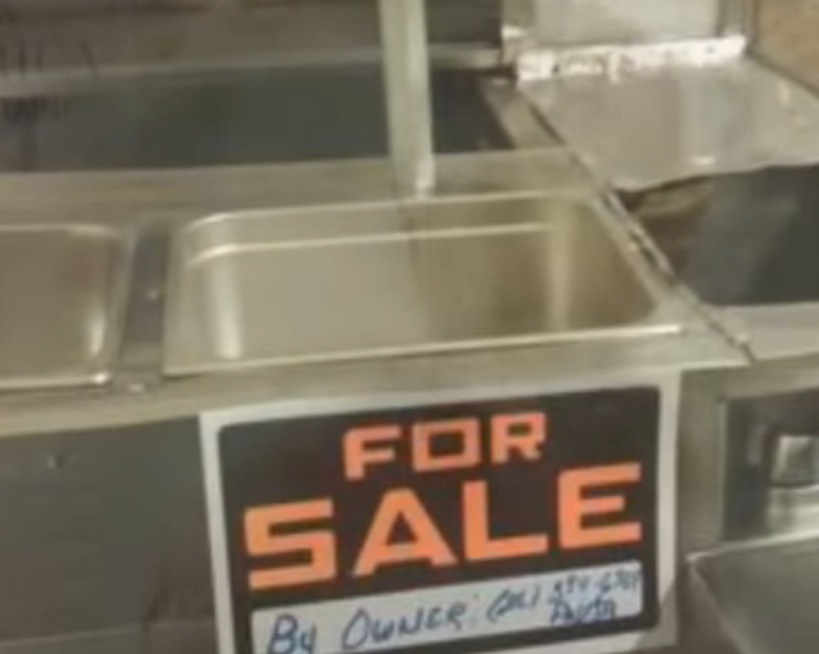 AND I COMPLETELY GET IT
I'm the same way, but I've had to learn to put the brakes on – from time to time. To whoa my horses. We get so dang excited we leap before we look – we shoot before we aim (as in we do none of the due diligence necessary to guarantee our decision)
But taking the time to know these IMPORTANT things will GUARANTEE you a better price than anyone else would get.
USED HOT DOG CARTS FOR SALE
You can check out our private Facebook page for listings of used hot dog carts for sale. You'll find carts, equipment, food trucks, food trailers and everything else street food related. https://hotdogcartforsale.com/
THE BIGGEST PROBLEM
Would-be vendors buy a cart before knowing if the cart will even pass their state health inspection. Your state requires sinks – but the cart you just bought has none.
Your state requires a mechanical fridge – but the cart you just bought doesn't have one and doesn't have the space for one.
What then?
DON'T WORRY – FOR EVERY PROBLEM – THERE IS A…
Solution! And I didn't entice you here to bad mouth or talk down about buying a used hot dog cart for sale.
In fact – just the opposite. I can prove it…
In my course book, in my free training and on 39 blog articles here – I have said…
Buy used first and let the used cart pay for your new one! *from me
Yup!
That's what I've said. Many, many times. Even though I manufacture brand new hot dog carts – I know it's smarter to start with a used hot dog cart for several reasons:
Spend less and have more operating capital for startup and the first few weeks
Be less stressed
Have created a buffer (just in case that first or second location sucks) *see non-sucky locations
You'll be in the "black" faster – as in profitable sooner than someone who spends thousands.
EVEN IF – YOU'VE ALREADY MADE A MISTAKE – I'LL PROVIDE THE SOLUTION
For every single problem I mention – I'm going to provide the exact solution so that you can come out on top of the situation and avoid making another hasty decision – say… getting rid of it because you didn't know you could fix so easily.
SHE CALLED TO BUY A NEW CART
But she already had a used one. She'd bought it site unseen. Not the best move, but I can understand, the haste – due to excitement. I talked her out of buying a new one. Told her how she could fix her used one to meet the codes and $319.74 later – she had a cart that would be approved.
GET FAMILIAR WITH WHAT YOUR STATE REQUIRES
I'll give you a brief cheat sheet first though and save you some time. *applies to open style hot dog and food carts only
Only Tennessee and North Carolina DON'T require hand sinks on a cart.
NC does require a hot dog cart to have a built-in cooler
Florida allows ONLY one sink. If you have more – you must cover them and make unusable.
Most every other state requires 4 sinks on a cart. (it's why they are small)
Most states require pressurized water systems
SC, NC and a counties in couple others require a roll top or flip top cover over steam table area which covers lids
California – all bets are off – each county makes up their own rules
That's the basics.
If that's just enough to get you worried… Don't. I have step by step how in the next 10 minutes you can find out exactly what you'll need on your cart. Click here for that.
Or you can watch this… (it's from one of my paid courses – but free to you)
EXACTLY HOW TO BUY A USED HOT DOG CART FOR SALE
WARNING:
Never! Under any circumstance – buy a used hot dog cart – site unseen. I'm going to assume you'll heed these words of caution and so, below you'll find the exact things to take when going to check out a used hot dog cart – the things you need to check – and exactly how to check each item.
But if you must: Use an escrow company (like the ones Ebay offers to protect buyers)
BEFORE YOU EVEN GO LOOK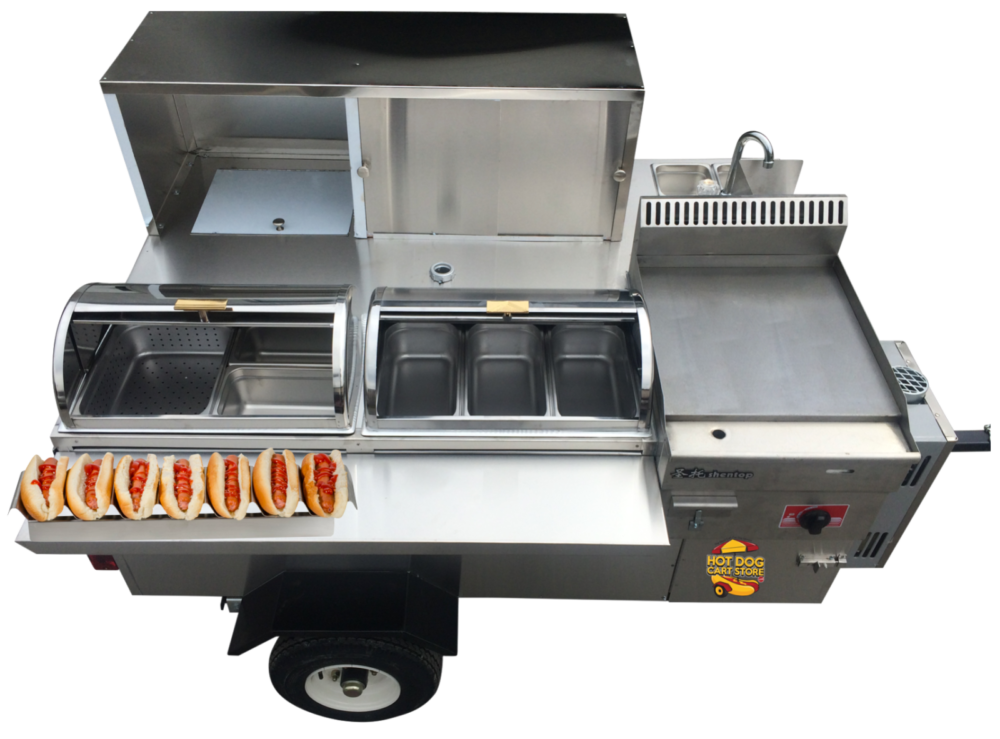 Do they have a title? And if not, do they at the very least – have the manufacturer's certificate of origin?
All you have to do is ask.
A manufacturer's certificate of origin [COO] is the paper any vehicle used on the road must have in order to get it's first title. Some states don't require trailers to be titled and vendors in these states rarely do. But often, the vendor loses or misplaces the COO and now the vehicle can't be titled. (not easily)
Most manufacturers – will not re-issue these as they aren't the same as titles and a manufacturer could be liable for issuing a new one in the event the cart was modified after the original sale. Among other risks.
---
WHAT IF THEY
DON'T

HAVE…

A title but have the certificate of origin: You're in good shape as long as they haven't signed the COO yet. But if they have, they can get a title with it and then you'll be able to buy a titled trailer.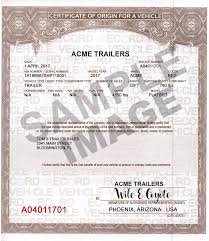 A title – nor the COO: Can they call the manufacturer and get a new COO? Yes! (carry on) No! This makes for a great bargaining chip. You know have leverage to offer significantly less.
And as I stated previously – I'll give you a solution for when you get a great deal on a used hot dog cart for sale that doesn't have a title nor a COO.
A title but used to have one: Easy – have them apply for a new title (in some states you can just get one at the tag office the same day) – If they hem-haw around about that – assume they don't have a title and may be being dishonest.
[NOTE] – Actually 2 notes. Many people finance a hot dog cart. They might not have ever paid for it and the loan / finance company is holding the title as collateral. This seller might (they do sometimes) offer a cart under the pretense that they lost their COO and never titled it.
You can verify this sometimes. You can ask where they bought it. Call the manufacturer and ask if they can tell you if such and such cart bought by (your seller's name) was financed. If they say it wasn't. Then you're likely good to go. You can also double check with the DMV at the state level. Call and give them the VIN number. See if it's in the system. They'll likely know if it's ever been registered. If so, then it's likely the loan company is holding it until paid in full.
Better not risk this purchase. You could be buying something that a lien company could later come and get. Not to mention it's dishonest as hell. – [end notes]
Let's continue.
FIRST SOLUTION
No title, no COO and the manufacturer can't give you a new COO – and you've checked with manufacturer about financing and called the state DMV and everything checks out. (see section in red brackets above)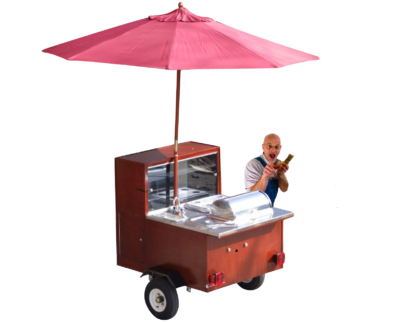 I'm going to type softly here. This may or may not be legal in your state. Check with the DMV first if you'd rather not take any risks. I do not advise going this route unless you speak with the state and explain exactly what you want to do.
CHINA
Most cart trailers are made by 1 of 2 companies in China. I'm talking the base of the trailer. e.g. wheels, tires, axle and possibly a part of the frame (even the companies that claim to make their own – they get the bearings, seals and axles overseas)
These 2 Chinese companies sell to me and about everyone else with utility trailers on the planet. Harbor Freight and Northern Tool have for years. Now, other big box retailers do also.
You could possibly (once you know it's legal in your state) buy a trailer kit from me or about 100 other places. Take the VIN plate and swap it. Putting the new VIN plate on your cart.
Another Warning: You'd want to make sure it's the same company and trailer. Find the VIN plate on the used cart. It will show the manufacturer of at least the base trailer. See if it's the same as the one you might want to buy.
A BETTER SOLUTION
Contact your local DMV. Tell them you have a home-built trailer and you'd like to know what is required to get it registered and titled. Often times it only requires you run by the Highway Patrol office and have them sign off that tail, brake and turn lights all work properly.
An easier solution and much less of a headache.
WE JUST SOLVED THE MOST COMMON PROBLEM WHEN BUYING A USED HOT DOG CART FOR SALE (NO TITLE AND/OR COO) – exactly why I said it's a great bargaining chip in your favor.
ONCE YOU KNOW YOU CAN GET TITLE…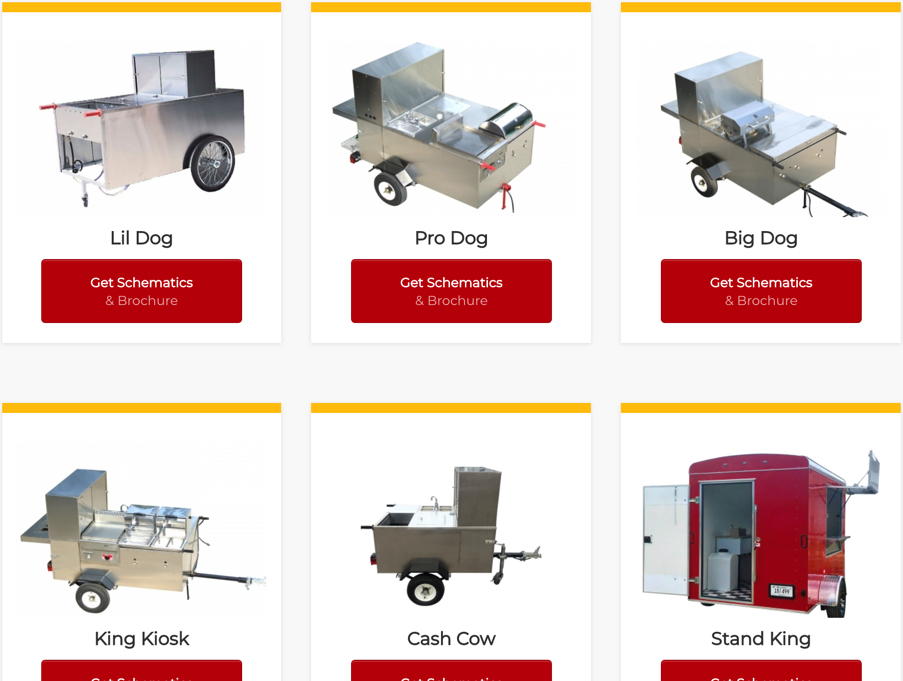 Or at the very least – have a path to getting a title. You now can schedule a test drive cook. BUT you'll need some things. Can't go without these. Gotta test. But since we're calling the seller – either way, why not find out if the manufacturer has their schematics for that cart on the website. Just ask the seller for the manufacturer's name. Most of us keep the schematics on site for anyone to grab.
You'll need these.
WHAT IF THE SCHEMATICS AREN'T AVAILABLE…
Sometimes, the manufacturer is out of business or the cart is so old they never had schematics for it. This presents a problem – albeit – one with a solution – but creates another bargaining chip for you. *Health Inspector will want schematics
PROBLEM: CAN'T GET SCHEMATICS
SOLUTION: Simply draw a diagram. Doesn't have to be to scale. You can check some out here and get an idea of what is required.
WHAT TO TAKE – INSPECTING A USED HOT DOG CART
Now it's time for that test cook. But before you go running off all willy-nilly – you really should take these items:
NOTE: you can ask the seller if they have these items and avoid taking them – but just in case
Spillage pan (used restaurant supply store or new)
Water jug or two with water (at least 2 gallons)
Spray bottle of soapy water
Small 12v battery for hot dog carts (like this but you can get at Walmart) – (often for toys / emergency exit signs / lawnmowers and motorcycles)
20# lp gas tank with gas (propane tank just like you'd have for your grill)
a stick lighter or long matches
a handheld mirror or mirror on a stick
Various sized steam pans (if seller doesn't have them)
Thermometer
Magnet (any kind)
WE'RE NOT COOKING YET
You'll need those items above to properly test the used hot dog cart for sale. And you'll thank me later, but there's an added benefit to doing all this as well. [hint: bargaining chips]
YOU'RE THERE! READY TO TEST THAT CART
MEET, GREET AND WALK-AROUND (THE ONCE OVER)
When I arrive, I'm polite, friendly and make a little small talk. I find out more about the seller and get some insight into the motivations behind selling the cart.
I then begin a walk around. I look it over real good.
I intentionally touch the bad spots. Without saying a word. I'm letting the seller know that I notice – this or that. Blemishes, scratches, dents, rust and any damage I find. These few minutes will have a powerful effect later.
Every time you touch a problem area – the seller notices and subconsciously lowers his expectations.
Magnet
Take your magnet and stick it to the side of the cart, the front and top too. If it sticks – it's NOT REAL stainless steel. Quality stainless will not accept a magnet. *bargaining chip if seller thinks his cart is stainless
A LITTLE BIT ABOUT STEEL
You'll often see manufacturers touting that their steel has a gauge of ______ (usually something high – like 26 or 28).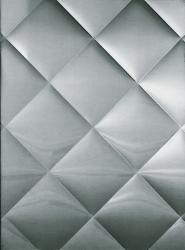 I have folks call me and ask what is the gauge of steel on our carts. When I say 14 – I've often heard, "wow – that's thin". This just shows that they don't understand how steel is measured and what the gauge actually means.
And more than likely, they've been told some high number on a sales pitch at another manufacturer.
TRUTH IS – THE LOWER THE GAUGE, THE THICKER THE STEEL!
26 is thin. 14 is thick. If you see a cart with the diamond pattern or quilted pattern, this usually means that the manufacturer has opted for a less expensive steel that in order to stay rigid has to be stamped or pressed with creases. It's not a major problem, but now you know.
THE MOST COMMON PROBLEMS
The gas system, burners and valves are often the cause for many cart failures. And no matter what you find – remember… it's all fixable. But your finding problems – leads to more devaluing in the eyes of the seller. And rightfully so. There will be a real cost to the repairs and replacements. Even if it's just your time.
Take your soapy water and spray down the gas lines, the regulator, the burners and the valves and knobs. From the tank to where flame would be, spray it down.
Slowly turn on the gas. (but don't turn on the knobs that turn on the burners yet)
Why slowly? Because the Federal Law on regulators makes them shut closed if pressure is passed through to quickly.
Now, begin looking for bubbles. A gas leak will permeate the soapy water creating tiny bubbles in clusters. If you find one, shut off the gas immediately. If it's something you can tighten, then do. If not. Then you won't be able to do all the tests I have planned for you.
But keep this in mind. If there is a gas leak that you can't fix on the spot by tightening, then you must assume (to be safe) that the entire gas system, burners and all don't work right either. (bargaining chips)
No Leaks – Now what?
Make sure there is no gas at the actual burners. If the valve/knobs are off, then there should be nothing there.
With your match or lighter ready, slowly turn on the gas at the knob.
Light the burner(s)
Adjust flame up and down and see if it maintains being lit from low to high.
[NOTE] Carts with only one burner, no matter the size will seriously limit your ability to boil/steam or hold warm – all at the same time. This is a known negative and should be considered into the offer you make.
Turn off the fire.
Take your spillage pan and place it inside over the burner(s).
Add water to the bottom to prevent scorching and to test
Turn back on and light flame
Put on high and just get an idea of how long it will take to boil the water
Place your thermometer in the built in cooler
WHY THE BOILING?
It is common for some manufacturers to use smaller BTU burners. This can mean that it takes your water much longer to recover when adding in frozen or cold hot dogs.
I once visited a vendor in Panama City. He had bought a used cart from an "ALL American" company. It had one single burner and that burner wasn't hardly big enough to heat properly. He struggled to keep up when business was busy and it also limited the items he could offer.
Everything had to be at the
same temperature due to
the one burner. Not ideal but he made do. Because of his slow cooking, his line often went over 30 people deep.
It's not a deal "killer" but another bargaining chip.
[TIP] – Always fill the entire steam table hole with pans so that no heat escapes unnecessarily and you'll be able to get an accurate idea of how quickly it will bring water to a boil.
Manufacturers set burner heights for the perfect airflow between bottom of pans and flame. Too much flame, then unburnt gas leaves black soot on pan bottoms. Testing needs to be done with pans in place.
USED HOT DOG CART BURNERS OR VALVES NOT WORKING RIGHT
During this step of testing, you may notice the burners aren't burning evenly – or some other part of the gas system is not working properly. e.g. knobs don't adjust flame
Again this isn't a major deal.
If you had to change the entire gas system:
Regulator
Lines/hoses
Fuel rail
burners
Even if you did, the most the items would cost you is a couple hundred bucks. And if you hired a plumber (usually they are certified in gas too) you might spend another $200. (That's $400 minimum in deduction in price from seller)
YOUR SPILLAGE PAN WON'T FIT
Some manufacturers cheat the system a bit. They place the burners very shallow so they can create storage under the burners *that they pitch as a unique feature – This isn't the best setup. Shallow burners mean shallow steam pans which means – less product at a time and more work.
Standard depth of a steam pan is 6″ deep and will hold 4″ deep pan inserts. Watch this video if you need help understanding steam pans.
If you find that the used hot dog cart for sale – that you're looking at – has a shallow steam table, you'll want to point that out to the seller and keep in mind that it WILL SLOW YOU DOWN CONSIDERABLY. It's usually not worth the effort to attempt to modify this unless there is plenty of room beneath the burners to move them lower. *but it IS another bargaining chip

Before you turn off the flame – check the temperature in the cooler. See how much heat transferred between the steam table area (burner box) to the cooler.
Most manufacturers don't insulate this area or do a horrible job at it. One cart I used would melt my ice in minutes of operation. I climbed up under the cart to find one of those utility sinks being used as a cooler. To insulate, the manufacturer had placed some foam board and spray foam around it.
What a waste. It had areas that weren't protected at all and the end closest to the burner box didn't have any insulation.
If you have time. Let the steam table run for about an hour for an accurate reading in the cooler area.
It's why we're the only manufacturer that puts a triple insulation feature between the insulated cooler and the burner box.
THE HOT DOG CART WATER SYSTEM
Remember that battery I had you bring? Well if the cart you're looking at is fairly new (as in the past few years) it probably has a pressurized water system.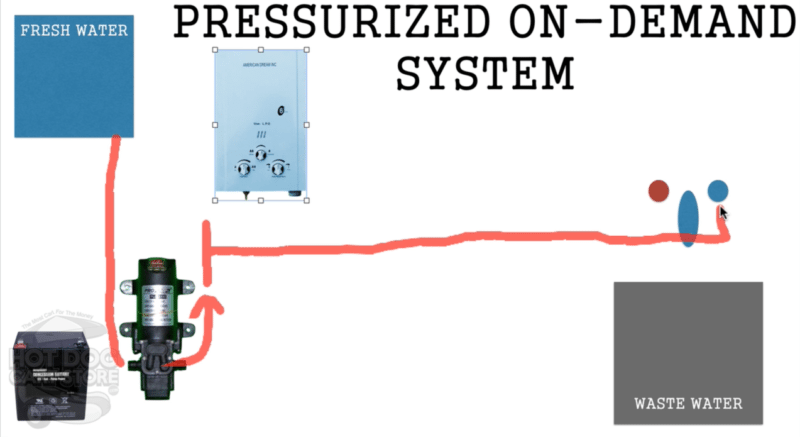 This consists of:
battery
pump
on-demand water heater
faucet
fresh water tank
waste water tank
sink(s)
To Test The Water System
Make sure there is water in the fresh water tank
Make sure battery is wired to pump
Make sure gas line is on going to water heater
Turn hot side of faucet on

pump should come on automatically
water heater should ignite automatically and be hot at sink within 20 seconds usually

If it doesn't, check batteries inside heater (usually two C or D sized)

Turn off hot and test cold side of faucet

pump should remain on as long as water is flowing

Check under unit and around water system parts for leaks
A COMMON PROBLEM
Most people don't properly winterize their on-demand water heaters. Sometimes tubes inside will hold water and during a freeze will burst. If during testing – you find water pouring from heater – turn off the hot water faucet. A replacement heater is about $150 – you can check at store.benscarts.com for even better deals.
THIS CART DOESN'T HAVE A WATER SYSTEM LIKE THAT
If you find that the cart your looking at doesn't have a conventional water heater – it probably has a gravity flow (passive) water system. The fresh water tank installed high in the breadbox area and drains by gravity towards the sink. It's "y" off and the one side goes directly to the cold faucet.
The other side of the Y goes to a tube across the burners. And then it runs to the hot faucet side. Heat from the burners creates hot water. These systems are really out of date although very easy to use. Some states have changed their codes requiring vendors to upgrade to a pressurized system.
PROBLEM: CART DOESN'T HAVE PRESSURIZED WATER SYSTEM
SOLUTION:
Step By Step Instructions Here
TROUBLE SHOOTING ON DEMAND WATER HEATER
INSPECTING THE HOT DOG CART FURTHER
Remember the at mirror I asked you to bring. Well now's the time to check to see how bad you your eyebrows look after lighting the cart.
Just kidding. Kinda. We need to look everywhere on the cart. Similar to that initial walk around we did in the beginning – now you must go in.
DON'T LET THESE SURPRISE YOU
sinks are made from steam pans
cooler is an actual cooler – like a Coleman® or similar brand
Yes, most manufacturers use steam table pans to convert to sinks for carts. Otherwise you're cart would cost about $1,000 more because the sinks would have to be custom pressed and then die cut. I teach how to make your own sinks here.
HOW TO MAKE A SINK FOR A HOT DOG CART
If you can, lift cart up so that you can see beneath. Many carts are open on the bottom and will allow you to view the components inside. e.g. cooler, sink bottoms, drains, gas lines (you should have already found) and frame.
Visually inspect and look for anything unusual or worn.
There are a couple manufacturers who use an axle without leaf springs or supports. Again, not the end of the world but it will make the cart bounce, beat and fram down the road. (is "fram" a word?)
Now's your chance to use that mirror. Look under the cart, around and on top of places you can't see normally. You're looking for water lines, drain lines, etc. Make sure everything looks good and safe.
EVERY USED HOT DOG CART PROBLEM – SOLVED
I don't care if you got a cart with:
a bent or broken frame
the wrong sinks or water system
something on it that isn't allowed in your state
a missing requirement for your state
some other type of damage
a non-working water system
a non-working gas system
Hot dog carts are repairable. Granted, take one and drop it off a cliff and you're probably better off starting from scratch and even building your own rather than attempting to fix multiple major problems.
REPAIRING A HOT DOG CART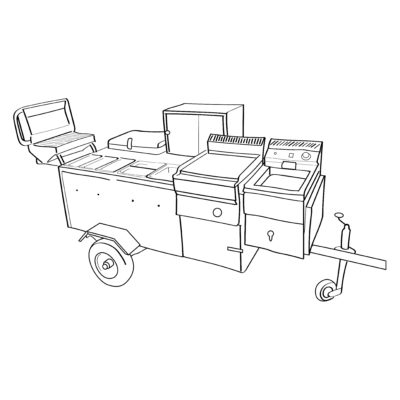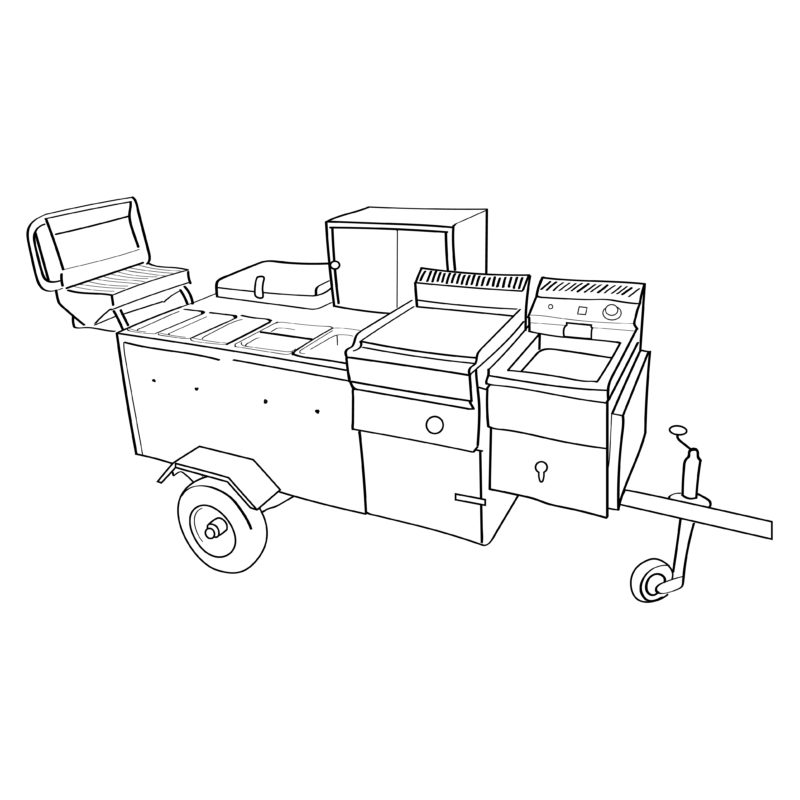 Above I give the information needed to repair gas systems and even completely changing out the water system and sinks on a hot dog cart – but what if the cart you bought or are considering buying needs major metal work?
I'll bet money that there is a steel fabricator near you. Sometimes they aren't even listed as a fabrication shop but it's what they do.
Remember: if it's not something you want to do, call a plumber. They can do the water system and the gas system. I've had vendors find good deals on plumbers through Craigslist.org.
HOW TO FIND A STEEL FABRICATION SHOP
Call around to local Heating and Air companies. They use fabrication shops to make duct work. These companies likely have all the tools necessary to fix or customize anything on your hot dog cart.
You could need a new top cut out so that your new sinks will fit or whatever problem or addition you want to make can be done.
Price shop though. Some will try to "take your head" off on the job, where others will do the work at a fair and honest price.
HOW MUCH SHOULD YOU PAY FOR A USED HOT DOG CART?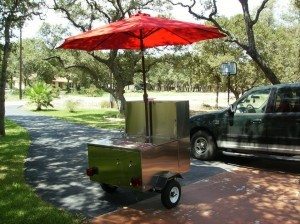 How much should you – pay? Odds are – you've already looked at the prices of new ones. THIS gives you a good reference point. But I've always said: it's worth what someone is willing to pay
Often you'll find used carts for more than a new one! HOW CAN THIS BE?
Entrepreneurs often are Type A personalities. We like everything yesterday by noon. A cart available right now often beats the new one that's 2 weeks out – even if it costs less. We want immediate gratification and the seller knows this. But because you're reading here – you have bargaining power.
A guy out West – for years has been buying about 10 carts a month from me. He sells them for approximately $1,000 more than I do. His buyers don't care. They want it now and are willing to pay the extra money.
BEST TIME TO BUY A HOT DOG CART?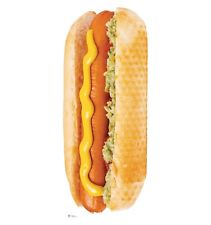 The best time is obviously now. Why put off your freedom and security just so you can save a few hundred or even a thousand?
But if you must – Winter is the best time to find super deals. Folks who never found my free training and never did their due diligence often find themselves with an expensive piece of yard art. Summers over and they list it for sale. Just before Christmas time, I've bought carts from folks trying to raise cash – for less than $500.
$500 dollar hot dog carts – now that's a great deal.
Even if you paid too much!
OMG!!! I GOT SCREWED! I PAID NEARLY $4,000 FOR WHAT I COULD OF GOT FROM YOU BRAND NEW AND SAVED $600!
A real message I got the other day.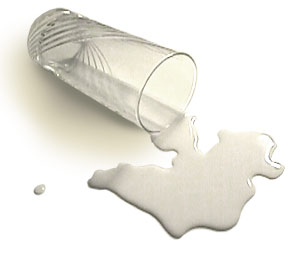 But – whoa Nelly! Spilled milk. You know the saying.
Honestly, it doesn't matter that much. And it's too freak'n late. That cart, no matter what you paid, will pay for itself over and over – and every month – that hot dog cart that you got "screwed" on – will give you freedom. It will bring you in money (lots of cash) every time you go out with it. It will provide security and choices you may have never experienced.
So what's that worth? Freedom, Security – worth $4,000?
It's exactly what I told the person who messaged me the other day.
You're now self employed – which translates nicely to: SELF EMPOWERED!
WHAT THEY WON'T TELL YOU!
You don't have to use stainless steel. You could use any product that is non-porous.

You could replace your top with wood that is finished with a non-porous food safe polyurethane. You could replace with plastic too. You aren't locked into just using steel or even stainless steel.
Health departments require non-porous materials that are easily cleanable. (smooth)
Let's say you did have to replace the top. You could easily cut out plywood and apply a food safe paint or sealer. Then caulk any joints with pure silicone. Pure silicone is food safe and can be picked up at any hardware store. It even comes in colors.
Insulating A Hot Dog Cart
You can easily add insulation. Foam board or spray foam works. Take your time and cover the areas needed – completely. If you're needing something that can withstand high temps, use mineral wool. It's fireproof and can be layered between the walls of the firebox and the rest of the cart.
Now You Know…
Now you know the ins and outs of buying a hot dog cart for sale. You'll not only know exactly what you're getting and what to expect – you'll save money on the purchase.
We have a group for vendors and soon to be vendors – a private hot dog / street food vendor group. It's called Vendors United and I'd love to invite you over. You'll have over 200 vendors to help you 7 days a week. Got a question. They'll help. We all help each other.
Come over and watch this video about the Vendors United® – Street Food Pro Team