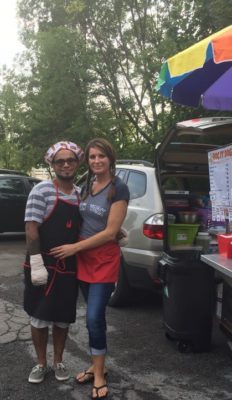 Remember the new vendor who had a setback with broken hands? Well, he's done his first event and is off to a great start!
Vendor's First Event is Successful!
If you don't know the beginning of the story, read it here: Two Broken Hands Didn't Stop Him. Then, read his update:
Hey Ben wanted to give you a update on our first event / concert…

So I posted an ad on Craigslist a few weeks back, offering to vend at events, parties, etc. I didn't think much of it — almost forgot I even posted the ad as time went by — but to make a long story short, about a week ago a venue that was hosting their very first fall fest reached out to me they were having 6 bands, a ton of fun activities, craft beers and much more.

The organizer said they were in desperate need of a food vendor and they've had zero luck finding food trucks to come. Either they were booked or (in my opinion probably scared of the risk of it being a first event for the organization)… I asked for a travel fee and set up fee. They without hesitation paid me for that. I was told there would be one other food vendor. He offered BBQ sandwiches.

I committed to the event. I took all I learned from you and your videos to prepare for this. Me and Kaylee prepared, and I tell you what — we kicked butt! She handled the money and I ran the grill and griddle. After watching your Bow Tie video I added quesadillas to my menu and it was a hit.

All in all we were a couple hundred short from $2000 in sales. It couldn't have gone any better. I had leftovers, but very minimal — nothing I can't sell through at my regular vending location. The venue said we were going to be a part of their upcoming events if we were up for it, and of course we agreed.

We have motorcycle shows to do this week coming as well. I'm so grateful to have found you Ben. Thanks for your unlimited information and your true dedication for helping others.
Thank you Jose for sharing your story! Your story is motivational and inspiring to the Vendors United community and food entrepreneurs everywhere!