Kettle Corn business can quickly generate enough profits to make a positive impact in anyone's life, sometimes…
… a big impact!
For me, it was what i needed to kick me out from a lil camper where I lived for 16+ months.
Let me share my [TRUE] story…
My wife's brother (only 40 something) has all sorts of health issues but his biggest challenge – liver failure.
One of our daughters addicted to drugs.
(after 5 years service in the Army)
She has 2 children. Our grand kids.
But lives near my wife's brother.
In order to be close to all – and get her brother to regular appointments at Vanderbilt liver doctor…
We had to move.
So we put our home up for sale. Bought a lil rv camper and moved into a rv park.
(kind'of reminds me this article i wrote i while back about a trucker that started his hot dog cart business)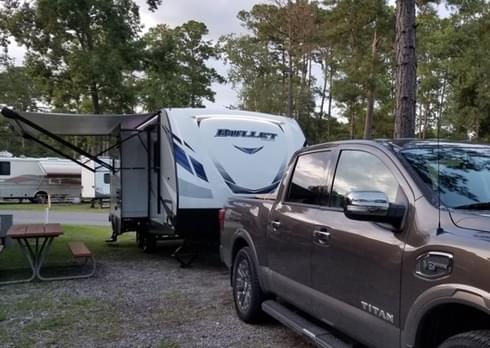 This allowed us to come and go quickly to help the family.
At first it was awesome.
Like the first 2 1/2 minutes.
Quickly I realized that I now lived in a house (rv camper) that was smaller than my master bedroom at the home we'd just left.
Literally… it's tiny.
There's not enough room to change your mind… much less your clothes.
After the 2nd month – my wife discovered an old home along the river.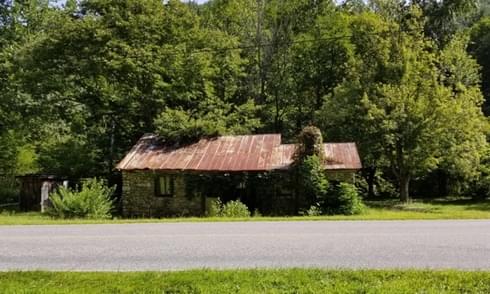 Not sure how she found it…
– or what in the world she was doing way up on the mountain?
But – we found the owner.
We made an offer.
Cheap!
And we bought it.
This solidified the fact that we'd now be stuck in a camper for much longer than originally planned.
Waaaaaay longer.
First world problems – right?
"…my second home is older than dirt and I have to live in a camper on the river!"

"in the mountains"
It's like…
Poor me – my diamond earrings keep scratching my iPhone.
But in my head… I was sacrificing and it was miserable.
– living in an rv.
Clean up began…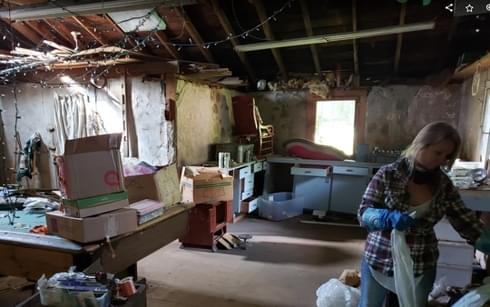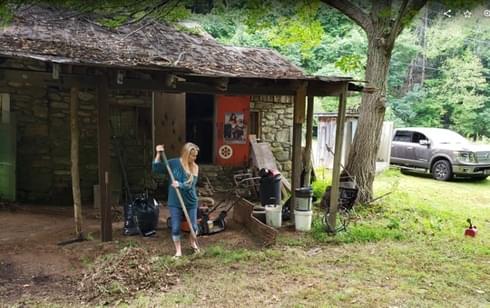 Sort of like straightening chairs on the Titanic as it sinks.
But I had a goal.
Debt free.
And it's really more than that.
I wanted to be able to have more freedom…(Kettle Corn helped)
Freedom to move on a moments notice closer to family who needed us.
Have the freedom to sit by the river and type out answers to vendor questions.
Freedom to fish – every day…
if I choose to.
So we sacrificed.
Sixteen (nearly 17 months).
Buying groceries every two days because the rv fridge was so tiny.
Having to climb on the bench seat just to let my wife go from the bedroom to the kitchen.
Building myself an outdoor shower as soon as we bought the place so I never had to take another shower inside the rv.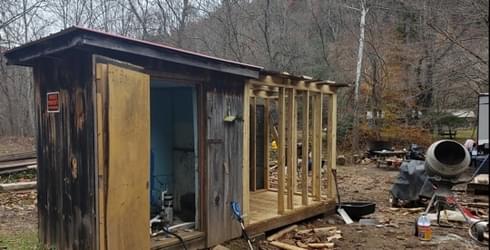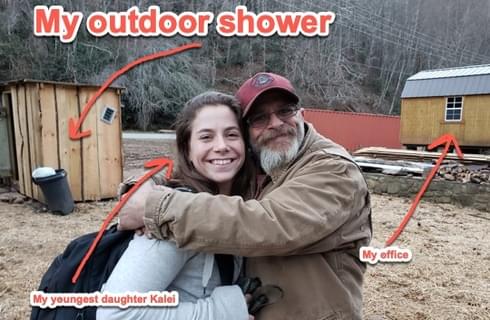 And…
Exactly the same time I started doing Kettle Corn business.
I needed about $3k extra a month to get the house rehab'd and had loaned my hot dog carts out to a couple people I was helping.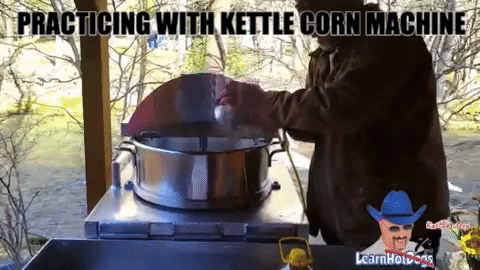 And oh my gosh was it fun.
(click image above to see more)
First Kettle Corn gig… flea market.
Alex from Frank and Steinz was there with me with his hot dog cart.
I could have financed the home rehab but remember – I wanted to be debt free.
Financing all that – would have taken me backwards.
So I did what these other folks did and I kicked some butt with kettle corn. (learnkettlecorn.com)
We suffered a cold snowy winter in that camper and I kept on working on the house.
My motivation…
get the hell out of that camper.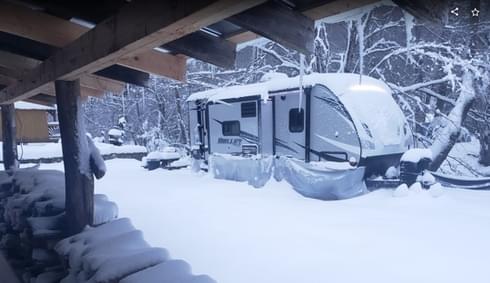 That was a cold winter.
It reminds me of this other article i wrote about how to sell hot dogs in the winter, how to keep profiting even when's snowing!
Coming back to my story…
The furnace quit for 2 weeks.
The sewer tank froze up
– and busted.
The pipes busted.
And still I took my cold butt outside every single day and used my outdoor shower.
Often having to use a torch to thaw the lines.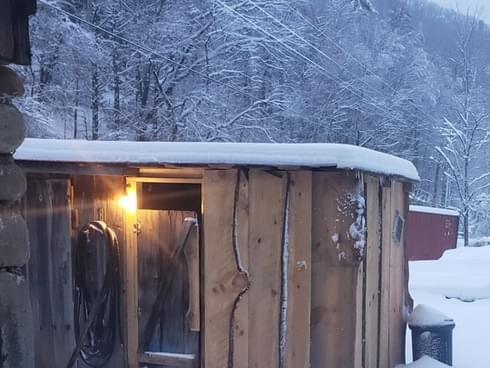 By the end of January…
– I'd made over $7k with my little
kettle corn business. (2 months)
Granted…
I had help and even split an event earnings with someone so I didn't have to be there.
I then leased it to another family in middle TN on a profit sharing model I created back after I tried to own 22 carts.
The old rock cabin
– is now livable.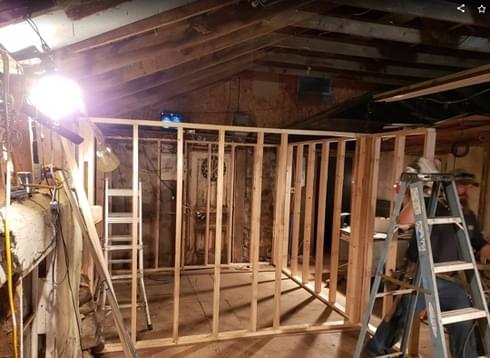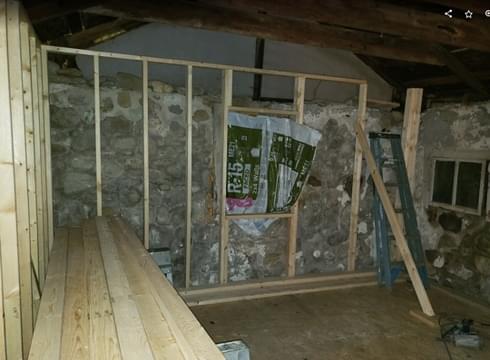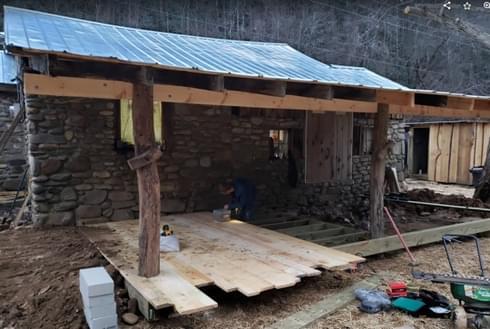 Sure, I could have just gotten another cart from our shop and vended hot dogs…
– but I love a good challenge
And because I'm ADD
– I wanted to do something new.
My kettle corn journey…
learnkettlecorn.com
I used all the same skills and tricks that I teach now at learnhotdogs.com and I did it.
Well – me and some helpers.
All this to say…
WHATEVER YOU WANT
(other than a unicorn)
YOU CAN HAVE!
SACRIFICE!!!
Sure, you can go about doing the same things…
– but real change
– real solutions
– real freedom
Come from stepping outside that comfortable box and into that camper.
And for whatever reason kicks butt in the colder months.
Not that it won't work year round…
but daaaaang!
The winter months
– people love it.
AND RIGHT NOW…
You can get the same Kettle Corn machine I have
– for less money than I paid.
You can see it here:
kettlecorncash.com
But hang on!
and ask for the DISCOUNT!
(Black Friday turned into Black December)
(about $75/mo investment can make you $$$$$$$$)
like it did for me.
Last week we moved out of the camper.
And into our home.
FINALLY!
You can start right now.
Like I did last winter – with Kettle Corn
– and make an entire 'nother income!
And I'll help you.
You'll love the freedom that 3 or 4 grand EXTRA a month will give.
And no…
you don't have to move into a camper like I did.